Date: 1943 Nov13/13
A/C Type: B-24D Liberator
SN: 42-40973
Code:
A/C Nickname: Battle Axe
File: 103
Airforce: USAAF
Sqn/Unit: 44 BG - 66 BS
Mission/Raid: Bremen
1
Pilot
1Lt. Harlan C. Almlie MIA
9
LWG
S/Sgt. John L. Towning Urk
2
Co-pilot
2Lt. William E. Hacker MIA
10
TG
S/Sgt. Frederick A. Robinson MIA
3
Nav
2Lt. Joseph L. Schexnayder MIA
11
4
RO
T/Sgt. Everett E. Permar MIA
12
5
B
2Lt. Walter J. Seiler Urk
13
6
E
S/Sgt. Donald A. Davies Enkhuizen
14
7
BTG
S/Sgt. John V. Lundstrom Hoorn
15
8
RWG
S/Sgt. George W. Iorgov Lemmer
16

After a raid on Bremen came down in lake IJsselmeer (Old Zuyder Sea). 5 MIA.



Daylight raid by the USAAF, 13 November 1943. At 11:15h over sea south of Heligoland island, the bomber stream was attacked by 50+ German fighters. At 11:20 and 11:30h the first two B-24 crashed in the North Sea (6 KIA/4 MIA + 11 MIA). Another 4 bombers crashed on land in direction of the Danish border at village Husum. 1Lt. Lamma in 42-7561 crashed at 11:50 SW of Bremen. At 12:10 a B-17 was damaged in the air in a collision and crashed at Ommen (east of Zwolle). In the fleet were a number of damaged ships and sporadic Flak and fighters made further losses. The Zuyder Sea-area (Lake IJsselmeer) was entered. Three B-24 came down here between 12:30 and 12:45h.

1. B-24H (42-7483 'Big Dog') 2Lt. Marx, 392BG, northeast of Zwartsluis, belly landing in canal Meppelerdiep (7 POW, 3 Evd.)
2. B-24H (42-7650) 1Lt. Hansen, belly landing in front of a remote Luftwaffe Observation Post, SE of Lemmer in the NO-Polder, foot of old Zuyder Sea dyke (10 POW).
3. B-24D (42-40973 'Battle Axe'). Came down in Lake IJsselmeer at Urk. 5 crew washed ashore both sides of the Lake (red dots on map), 5 MIA. Read further below.

Over the North Sea another two B-24 came down. These were at 13:12h 42-63988 crew 1Lt. Claude A. Turner (11 MIA, S/Sgt. Stehnach on the WOM Margraten) and at 13:30h 42-7503 crew 1Lt. Frank Marfia (10 MIA). B-24 42-7540 Lt. Harris got lost on course to Bremen and was shot down at Rotterdam (1 KIA).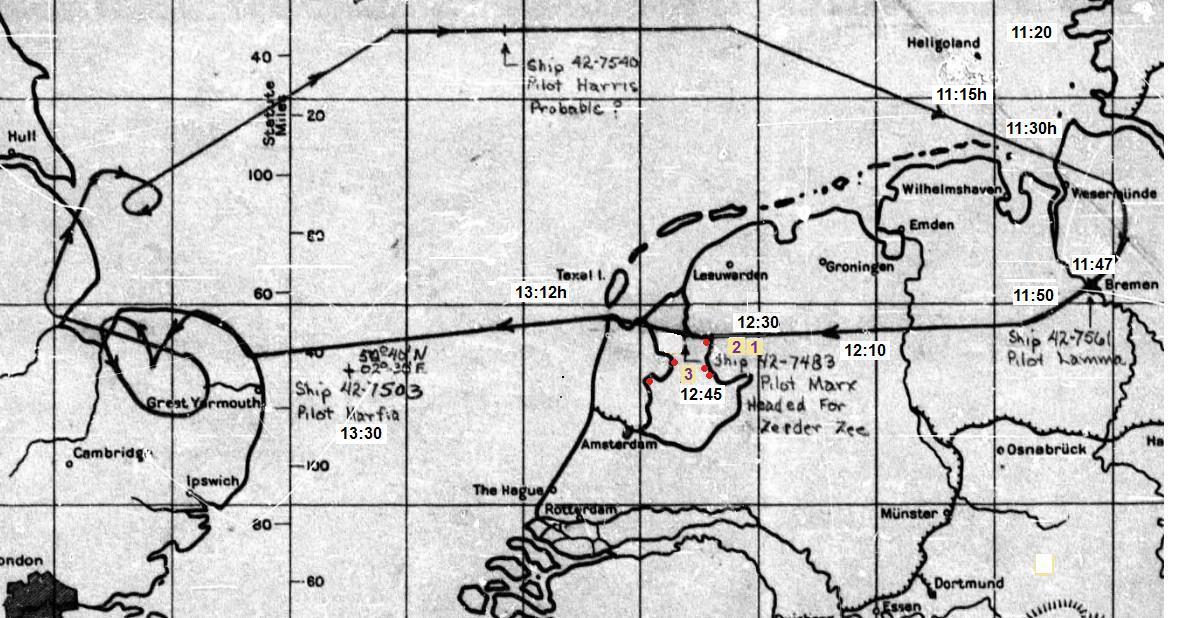 It was long thought that 42-40973 'Battle Axe' crashed in the North Sea, last seen only 20 minutes from the English coast, however, this is not correct. After evaluation of all MACR-reports on 13 Nov. 1943, we conclude that Intelligence Officer 2Lt. William C. Stewart made an incorrect assumption in the endreport that "Aircraft last seen flying in the diamond formation with the Group, while only 20 minutes from the English coast, at approx. 52°20'N-02°40'E, was Almlie's ship '973'. Air Sea Rescue was notified as soon as crews were interrogated here. There were no eye witnesses to a crash or forced landing of this aircraft". In fact it was 1Lt. Frank Marfia's aircraft 42-7540 (10 MIA), 13:30h.

The end-report with error by 2Lt. Stewart in the MACR was copied in dozens publications. In reality Lt. Almlie's aircraft '973' crashed 12:45h in Lake IJsselmeer (Old Zuyder Sea), Holland. German report AV407/44 date 15 November 1943 mentions "13 Nov. 1943 enemy plane shot down in the Lake at Urk, 'Lundstrom, John' died during air fighting, buried Hoorn 15 Nov. 1943". Two to three months later, also Seiler, Davies and Iorgov washed ashore in Urk, Lemmer and Enkhuizen and buried there (red dots on above map). We also found Sgt. John L. Towning back in the Urk-cemetery administration, probably not fully identified then by name.

Because the Germans probably had the crash-location, it is likely they recovered the wreck (first B-24 in the Lake), but did not found human remains. That would mean the five missing are still on the bottom of the lake or washed ashore around the Lake, buried without a name, reburied post war as 'Known but to God' in Neuville-en-Condroz US cemetery 'Ardennes'. Because the Pilot, Co-Pilot, Radio Operator and Navigator were in the front of the aircraft and MIA, it is also possible that the front part is still on the Lake bottom. No recovery documents found so far.




See for files cemeteries mentioned our SEARCH MENU - search on Cemeteries in LCW and LCE.

Sources:

- MACRs 13 November 1943
- burial files Urk 1940-1945
- On Robinson: http://www.basher82.nl/Data/margraten/robinson.htm
- On Towning: http://www.findagrave.com/cgi-bin/fg.cgi?page=gr&GRid=105477415
- On Almlie: http://www.findagrave.com/cgi-bin/fg.cgi?page=gr&GRid=56296297





© ZZairwar (Zuyder Zee Air War)