Date: 1943 Oct 08/08
A/C Type: B-17G
SN: 42-37751
Code: XK-P
A/C Nickname: -
File: 146
Airforce: USAAF
Sqn/Unit: 305 BG - 365 BS
Mission/Raid: Bremen
1
Pilot
2Lt. Wallace E. Emmert wounded, POW
9
RWG
S/Sgt. Theo J. Sysol evd, POW (Antwerp?)
2
Co-pilot
2Lt. Robert W. Fortnam evd 2 days, POW Loenen
10
TG
S/Sgt. Howard L. Newton wounded, POW
3
Nav
2Lt. Ernst F. Shelander evd 2 days, POW Loenen
11
4
B
S/Sgt. Walter J. Fox wounded, POW
12
5
E
T/Sgt. Joseph V. Weiss evd, POW (in Antwerp?)
13
6
RO
T/Sgt. Henry E. Bessette evd, POW (in Antwerp?)
14
7
BTG
S/Sgt. James F. Strange evd, POW (in Antwerp?)
15
8
LWG
S/Sgt. Elton F. Kevil evd, via Spain back to UK
16

On route to Bremen attacked and damaged by fighters. Pilot and bombardier seriously wounded. Co-pilot left formation and turned back, right (starboard) turn over Groningen towards Lemmer. Over Lake IJsselmeer turned left and east to return to land for an emergency landing. Passed low over Urk and made successful belly landing (bombs aboard) in the North East Polder 3,5km NE Urk.

It was known since 1996, thanks to an interview with eyewitness Mrs. Jannetje Bakker from Urk, that this aircraft had belly landed northeast of Urk. She was on bicycle on her way from Urk to Dorp A (later 'Emmeloord'), when the bomber passed low over her and landed a few hundred meters away. It was the first B-17 that came down in the lake IJsselmeer region (Zuyder Sea shore line). In recent years (2012-2015) more and more became known on this crew, who managed to escape the site (with help), the Germans on their heels.

S/Sgt. Elton F. Kevil post war: "On way to Bremen we were attacked by two fighters with USAAF insignia on the side. They flew along with us for a minute, but did not greet us with their wing tips. Then they attacked us and made 4 passes. The first head-on knocked out two engines and shot the pilot (Lt. Emmert .30 bullet in left stomach and bombardier Fox leg mutilated by a 20mm round). A pass from the tail got the tail gunner but he shot down one of the fighters which wounded him. On second pass the engineer shot down a fighter, then third engine was hit. Co-pilot asked for a course home. We pulled out of formation with no. 3 engine on fire. The engineer fired green-green rockets (flares) and four P-47's came down to cover us down to 12.000 ft. Co-pilot ordered us all to the radio room for crash landing. After landing we moved the wounded men about 100 yards from plane. The nav. put his papers on a pile of chutes in the radio room and set the whole plane on fire. Co-pilot said to get moving".

Photo below: the self made fire went out. Only the radio room was destroyed. On below (German) photo the radio room still seems to be smoking.





































More photos: http://www.teunispats.nl/ulm18_pag08.pdf mmm


Pilot 2Lt. Wallace E. Emmert en S/Sgt. Walter J. Fox, WIA, POW.
The crew moved wounded pilot Emmert and Sgt. Fox 100 yards away from the aircraft. A hour later, the Germans and people from Urk carried Emmert and Fox to a house-boat in a nearby canal (probably canal 'Steenbankertocht'). This was used as cantine for workers (prospectors) in the polder that was still under construction. A small flat-top work-vessel (scow), manned by Mr. Joh. Gerssen en Maarten Schraal, transported the wounded later under German guard via canal 'Urkervaart' to near Urk harbor. Emmert and Fox were transferred onto a horse drawn cart and delivered at Hotel Woudenberg in Urk-centre (German HQ). They spend weeks in hospital in Amsterdam (Luftwaffe Lazaret/Wilhelmina Gasthuis) to recover.

When Emmert and Fox were in the care of the first arriving civilians, the remaining 8 crew had dispersed into the reed-fields. Lt. Emmert was so badly wounded (11 months hospitalized) that he was repatriated back to the United States (see his video interview, link at bottom of this page). Also Sgt. Walter J. Fox suffered the consequences of the 20mm round throught his left leg for the rest of his life. In 1995 he was back in Urk for a visit.































A German boat sailed Emmert and Fox over Lake IJsselmeer from Urk to Amsterdam. Via the city center it was a short trip to the Wilhelmina Hospital of which the German Luftwaffe had confiscated a large section. Here every conversation of the wounded Allied pilots was tapped. Microphones were everywhere and some patients were German spies provoking conversation. Lt. Emmert stayed here until end 1943, when he was transferred by train to the central German interrogation center Dulag Luft (Durchgangslager Luftwaffe) in Oberursel near Frankfurt am Main. There captured airmen were processed for three weeks to extract information, often unnoticed, by gentleman English and American speaking interrogators. Lt. Emmert condition prevented that he was send on to a POW-camp. In stead he was moved to a specialized hospital in Obermassfeld, where personnel were Allied doctors in captivity. In September 1944, Emmert was transferred to Berlin and the German Baltic Sea coast. Put on the neutral Swedish ship MS Gripsholm for a trip to Sweden and then the US as part of a Red Cross supervised wounded prisoner exchange operation. Lt. Wallace Emmert lives in Madera, California, is farmer and nearing 100 years of age.


Sgt. Howard L. Newton, POW Emmeloord
The Germans found and arrested a wounded airman in the Emmeloord-barracks. This was tail gunner Sgt. Howard L. Newton (POW after 24 hours). Co-Pilot Fortnam does not mention the name Howard Newton, but tailgunner Virgil Bartels.

2Lt. Robert W. Fortnam and 2Lt. Ernst F. Shelander, POW in Loenen (Veluwe)
Co-pilot Robert ('Bob') Fortnam flew the plane alone when pilot Emmert sat beside him heavily wounded. Fortnam: "Our troubles started shortly after we crossed the enemy coastline (over northern Holland, Friesland province, about 35 minutes before Bremen). We were hit in the first attack from head on. Wallace was in so much pain that he was incapacitated. The bullets also broke the window beside my head (right window). We had fire in No. 3 engine, but I could put it out and feather the prop. In the process of adding power to the other three engines, No. 4 engine did not respond. It had damage to the supercharger as boost power was not available and could not maintain manifold pressure. No. 2 engine seriously overspeeded (ran away). This had to be feathered also. With only 1,5 engines working, I could not hold position in the formation. I had to start descending and turned back towards the coast. Wally had left his seat and lay stretched out in pain on the plank under the cockpit, seriously in need of oxygen which was given right away. He came back in his seat. We decided not to ditch in the sea but try for a crash landing on the drained, swampy wetlands of the Zuider Sea (the new North East Polder). We could not make it further, and we had also two wounded in the rear of the airplane, all needed more immediate attention".

Prior to the belly landing, Ernie Shelander shouted that the bombs were still on board. Fortnam pulled the 'Salvo handle' to jettison the bomb load. He pulled the handle once and subsequently made a successful wheels-up landing in the polder, passing low over Urk. He climbed out through the right window and walked around the aircraft. "The open bomb bay had scooped-up a lot of mud and turf, but I was shocked to see the 12 x 500 lbs bombs mixed-in with the dirt!" Weeks later in prison camp, another pilot told him that the Salvo handle had to be pulled twice; once to open the bomb doors, a second time to release the bombs...

Officers Fortnam and navigator Ernst Shelander teamed up for the evasion to get out of the polder. Alike sergeant-team Kevil-Sysol (read further below), Fortnam and Shelander found out that they were encircled by two wide canals they could not cross, about 3km away from the crash site. Next day (9 October) Fortnam and Shelander were lucky: at the Emmeloord-barracks they were helped over the canal by Bart Vos. He gave them civil work clothes, food and directions where to go. Fortnam and Shelander made good progress. That day they could escape the polder (a 16x16 miles 'island' with guarded exits) via the ferry crossing at Ramspol, but were arrested the next day (10th of October, 15:15h) in a forest at Loenen (7km S of Apeldoorn, in direction towards the Belgian border). This was about 50-60 miles from the aircraft. They looked Dutch, but when questioned by a Dutch policeman could not show identification papers. The policeman was a collaborator and handed both men over to the Germans (POW).

Robert W. Fortnam joined the US Air Force Reserve after the war and served until 1975, retired as Colonel and kept on flying. Contact with Bart Vos was restored already in 1946. Bart received a Commendation from the State of New Hampshire for his brave action to help the two American officers evaded in 1943.


Sergeants Weiss, Bessette and Strange walked away from the crash site as civilians
We have identified 'the three unknown airmen' in this often published story as engineer T/Sgt. Joe V. Weiss , radio operator T/Sgt. Henry E. Bessette and belly turret gunner S/Sgt. James F. Strange. They stayed longest with wounded pilot Emmert and bombardier Sgt. Fox. The 15-year old girl Jannetje Bakker, who had arrived first at the site on bicycle, advised the three to hide in a reed-field behind the aircraft. She was seen talking and that evening she was questioned and arrested in her parents house by the Germans, later released. Upon arrival of Dutch polder-engineer Klazema, she signaled him quietly that there were three men hiding in the reeds. Under the nose of the Germans who had also arrived, Klazema asked Dutch bystanders to drop their civil jackets and hats near the reeds. This was done by Mr. Jelle Pasterkamp and Jaap (Jacob) Romkes: "I gave my overcoat, the only decent piece of clothing I had ever possessed, but in 1946 I received an official Allied thank-you citation for it" (Grade 6).























At the moment the civilians were waved-off by the German guards, Klazema took the three Americans from the reeds. Dressed in civil clothes they walked into direction of Urk. Klazema hid the three airmen on the construction site where he worked: the 'Sluis-put' (Sluice-pit). This was at Urk where a ship-docking sluice was build between canal Urkervaart and Lake IJsselmeer (Old Zuyder Sea). The Germans had informants (NSB-ers) and a hour later they were searching the sluice construction site. Klazema was one step ahead of them and had moved the airmen into a boat moored there, a tugboat-type work vessel named "Argus" (skipper Jan van de Laar). The boat was not searched by the German soldiers...

A week in Urk
Mr. Hielke Vos took the three airmen off the boat and delivered them to shipyard Hakvoort in Urk harbor. Here they were hidden in a dug-out under the band-saw table. Not much later German soldiers rushed in in search of the Americans. They were skillfully distracted by bundles of warm smoked eel... In the week that followed, Sgt. Weiss, Bessette and Strange were in hiding in the cellar under the shop of the Brouwer family in Urk (son Pieter died in 1945 in concentration camp Neuengamme because of this).

Passenger ferryboat Urk - Enkhuizen
By coincidence the 15-year old girl Jannetje Bakker (Zwarte) met her airmen again. She was on the ferry boat Urk-Enkhuizen, hoping to trade smoked eel for potatoes in Enkhuizen. On the ferry she saw the three airmen sitting on a bench, dressed in work-clothes and carrying spades. Carefully they exchanged a greeting. The airmen were accompanied by Mr. Harmen Kramer and his brother-in-law Mr. Harmen Gerssen. Harmen was fishtrader and an active resistance fighter, lived in Zaanstad, near Amsterdam. He was heading there with this (for him) extremely dangerous cargo. Harmen Gerssen was caught early 1944 and shot. In Enkhuizen they walked to nearby Bovenkarspel and took the train station there, because it was less guarded by the Germans. Halfway the train trip, north of Purmerend, the men went 'through the eye of the needle', in a hair raising encounter with the German Military Sicherheitsdienst 'SD' (to be put on website later). No doubt they must have told the story many times back in the USA after the war. These three evaders also heard of the plan to extract them by seaplane (more on this later).

Amsterdam - The Hague - Tiburg - Weelde - Antwerp (POW)
We believe that Weiss, Bessette and Strange eventually arrived on the Amsterdam train station with false papers. In the Coffee-house of the 'NZH Tram Co.' (in front of the Amsterdam train station) they were picked up and helped further by Escape Line 'Fiat Libertas' (Jan Wannée, Karst Smit, Eugene van der Heijden and others, Medal of Freedom winners). Then by train to Leiden, The Hague (safe house), (back to Amsterdam?), Breda and Tilburg. Passed over the Dutch-Belgian border at Baarle-Nassau or Hilvarenbeek/Esbeek to Weelde and Turnhout. We believe they were arrested in Amsterdam or Antwerp, falling in hands there of Belgian traitor Van Muylken and his two female assistants. The three airmen became POW. Underground plan was to deliver them in Brussels at the fish shop of Prosper Spilliaert, the start of the EVA escape line that delivered to the famous Comète escape route, but Weiss, Bessette and Strange did not make it that far.

Another one on the ferry boat
A week after Weiss, Bessette and Strange had made the ferry-trip over the Lake from Urk to Enkhuizen, resistance fighter Harmen Gerssen brought again a crew member of 42-37751 by ferry to Enkhuizen. This airman had escaped out of the Northeast Polder and had reached city Kampen. He was passed back into the polder and via Urk and ferry brought to Enkhuizen. This must have been either S/Sgt. Theodore J. Sysol or S/Sgt. Elton F. Kevil. Only Kevil evaded successfully back to the UK. Sgt. Sysol was arrested somewhere down the line and became POW, possibly in Amsterdam or Antwerp. One of the two (Kevil or Sysol) came to Amsterdam from Kampen by train, the line underneath Lake IJsselmeer (Old Zuyder Sea) via Zwolle and Utrecht-Amersfoort.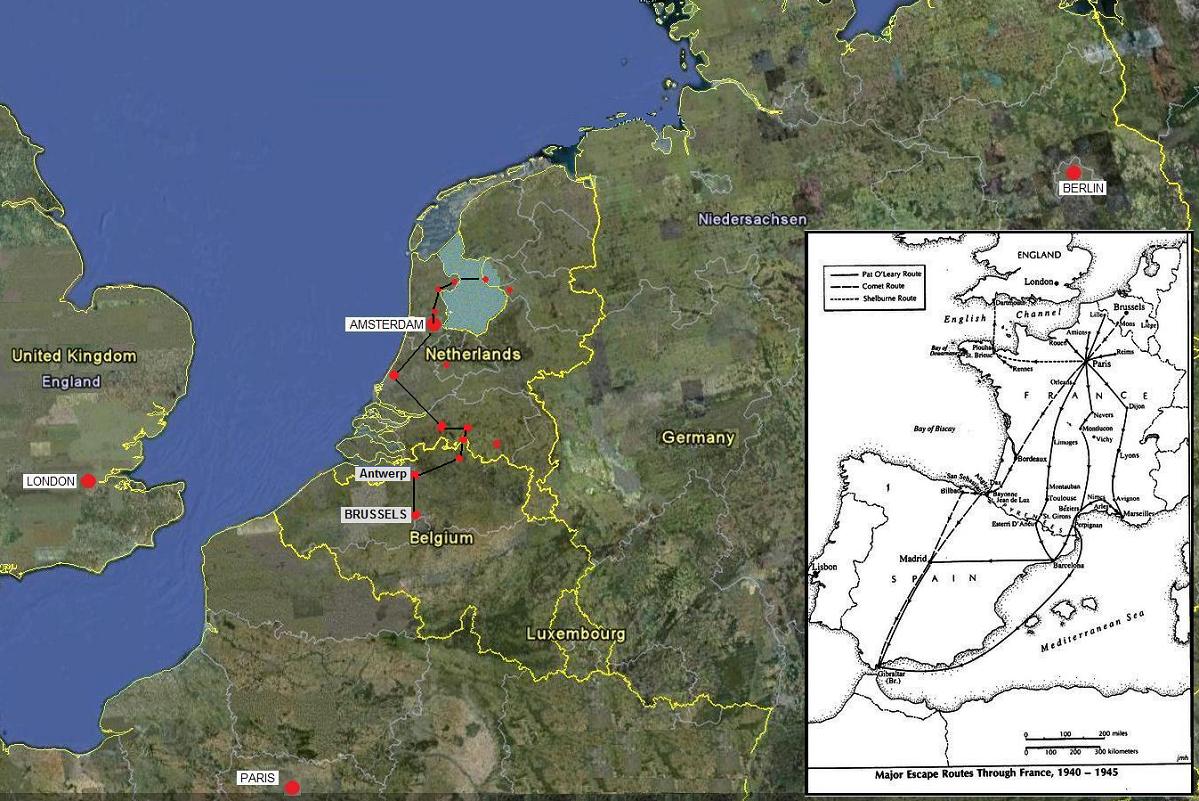 S/Sgt. Elton F. Kevil and S/Sgt. Theodore J. Sysol.
Both waist gunners Sgts. Kevil and Sysol teamed-up to evade the crash site. They faced the same problem as the officer-team Fortnam-Shelander: canals prevented further movement. Fortnam and Shelander were lucky and were helped to cross at Emmeloord, but Kevil and Sysol got stuck. In the late evening of their first hiding in the reeds, they moved from near crash site south towards and into a small town (Urk). A man and woman in a house gave them water at the backdoor, but motioned they had to leave. A bridge over the water was guarded. It was getting light, which meant hiding again in tall weeds and grass. Next day (October 9) Germans were searching the area. They ate half a dozen Horlicks tablets and a little chocolate. At 21:00 the bridge was still guarded and rest of the night was used to search for a crossing, without success. Next day (October 10) a small boat with Dutch people came down the canal but they were too afraid to help. That night they could cross the bridge, on the other side were barracks. These were avoided, continued (October 11) moving through the fields. "The ground there was wet and soggy, had to circle to find more solid ground. Followed southerly course and saw a dyke, slept there". Kevil: "At daybreak (October 12) we went over the dyke, the other side seemed to be the ocean".

Kevil and Sysol's location was in the south-west corner of the North East Polder, under Urk. They were standing on the dyke here (see 6th photo from above and enlarge) and looked over Lake IJsselmeer (Old Zuyder Sea), at a position of today's Ketelbrug-bridge. They walked a path here inside the dyke (Zuidermeer-dyke), Urk towards Schokland where drainage canals were dug out.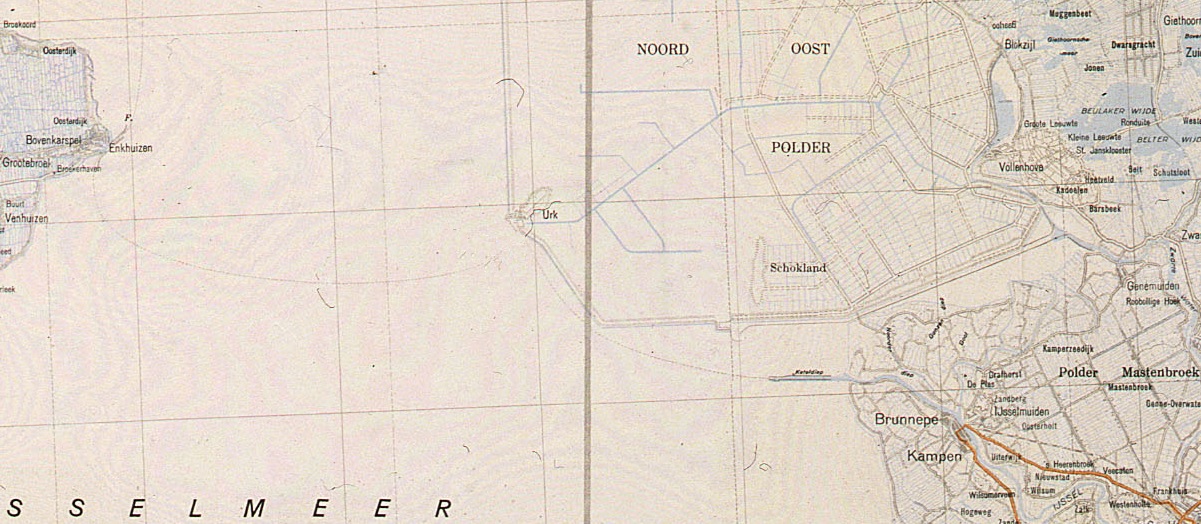 Kevil: "Spoke on the path to a Dutch workman on a bicycle. He gave us his lunch and drinking water. Told us no Germans on this dyke for some 20 miles. We walked about 12 miles. At one point we passed what looked like a small shipping dock" (Schokkerhaven or Ramspol ferry). "(later) six men working in a field showed us on our map our location: 2 miles north of Kampen". "An hour later they brought a man that asked us rank and service no., where we came down, aircraft number and what happened to rest of crew. At dark we were brought food and civilian clothes". "On bicycles to Kampen, in a ladies dress shop, the JS-shop, clean-up and bath".

In Kampen evolved a discussion with a man 'who spoke English like an American'. The extraction (back to England) by seaplane was subject of the conversation (more on this later). It appears that Kevil was not happy with that. Kevil and Sysol were split-up (Sysol later arrested and POW). One of them was let back into the polder, back to Urk and escorted by resistance man Harmen Gerssen on the ferry boat to Enkhuizen and from there (via Bovenkarspel-station) to Amsterdam, possibly Kevil. He arrived at night on the Amsterdam train station at 01:30 and slept in the station. At 06:00 he took the train to The Hague.

Sgt. Elton F. Kevil in The Hague, meeting his crew members in a Safe House. Escape line 'Fiat Libertas' compromised.
Kevil: "In The Hague walked 1/2 mile with my guides, wife came to the door. Then I met the other boys: BT, Eng, RO". In this safe house Kevil saw back his crew mates: Belly Turret Gunner S/Sgt. Strange, Engineer T/Sgt. Weiss and Radio Operator T/Sgt. Bessette. Later guides took them. Kevil: "Man G.C. van Bree told me other would take me to Amsterdam to join other boys, but it was the last I see of them. Undertaker took me to Amsterdam in a taxi".

ZZairwar: Strange, Weiss and Bessette on escape-line were later probably arrested in Amsterdam or Antwerp (POW). Undertaker Gerardus C. van Bree was a traitor. He was a Dutchman working for the Germans as 'V-Man' (Vertrauensmann, trained informant and collaborator). After the war they forgot to shoot him and he got away with a lifelong imprisonment. We believe it is possible that the Germans let Kevil pass down the Fiat Libertas escape line in order to arrest the leading figures. In fact this happened only a week after Kevil left Amsterdam. A few months later also pilot helper Harmen Gerssen and his resistance group in Zaandam were all executed.

Kevil, Amsterdam - Tilburg - Brussels - Gibraltar.
Kevil: "4th Nov. Van Bree, station, go down Belgium border, 2,5 hours in train to Tilburg. Met in station another guide with an English Mosquito pilot". ZZAirwar: this was RAF F/Lt. Archibald A. Mellor, downed 20/21 October 1943, Mosquito DZ519, 139 Sqn, near Assen (came via Peter van den Hurk). Both airmen were guided over Dutch/Belgium border via route Hilvarenbeek (Fam. Eugene van der Heijden)/Esbeek/through border forest to Weelde, or, crossed via Baarle-Nassau to Weelde. Kevil: "Guide Belgian policeman, crossed border, pedal like hell 75 min, met Lt. Horning". ZZairwar: Kevil met Lt. Horning in Weelde (village in Belgium, S of border). 2Lt. Arthur J. Horning was nav. of B-17 42-37737 "Tennessee Toddy" 91BG -401BS, parachuted NE of Zutphen, reached Weelde on his own. Kevil: "With tram to Brussels". This was via Turnhout and Antwerp. Kevil's group was one of the last passed by Fiat Libertas and were one of the few airmen that were not arrested in Antwerp and made it to Brussels.

In Brussels Kevil was received in a police station by Belgian police officer and refugee helper Ernest van Moorleghem (11/1944 executed by Germans). He moved Kevil to his safe house; the house of Mrs. Elise 'Lies' Chabot and her daughter Charlotte "Lotty" Ambach (see kept her fathers name after the divorce) on the no.4, Rue Jules Lejeune, Ukkel, Brussels-south. Next day they went to the assembly centre of the EVA escape line: the fish shop of Prosper Spilliaert. EVA stands for 'Evasion'. Mr. Charles Hoste (a.k.a."Jacques") was recruiter of safe houses and brought Kevil from the shop to an other safe house in Brussels. Kevil was passed further with help of Mr. Alphonse Escrinier (code name "UZH 86") and Mr. Gaston Matthys. Eventually helped to Paris and down to the southwest of France. On 28 December Kevil crossed the Pyrenees Mountains and arrived 31 December 1943 in San Sebastian (Basque country), Spain. He was in Madrid on the British Embassy on 2 January 1944, in Gibraltar on the 11th, back in England 17 January 1944.



Sources/Read more:

- Our file on the war graves on Urk 1945: http://www.zzairwar.nl/dossiers/915.html

- Comet-line France. File Kevil: http://cometeline.org/fiche246.html

- F/Lt. Mellor's (Mosquito pilot). He met Kevil station Tilburg. Evaded together to Brussels with Lt. Horning: http://www.aircrewremembered.com/mellor-archibald.html

- The Fish Shop, Ernst v. Moorleghem & Lotty Ambach: http://wwii-netherlands-escape-lines.com/airmen-helped/articles-about-the-line/dutch-and-belgian-heroism-part-ii/

- Baarle-Nassau/Hilvarenbeek/Esbeek/Weelde border crossing, pilot help. Open de map-pdf and scroll for photos: http://www.oorlogenvrijheid.nl/Pilotenlijn/

- Movie-description on film 'Best Last Hope' on pilot help, EVA (with Kevil, Mellor and Horning mentioned): http://www.pbs.org/lastbesthope/programfeature.html

- Dutch site with good photos on this story "First Yanks in the NOP": http://www.nopinoorlogstijd.nl/yanks-in-de-nop/



Other sources:

- MACR
- Evasion Records Sgt. Kevil

Recommened:
- Interview with veteran pilot Wallace E. Emmert on 26 May 2015: https://www.youtube.com/watch?v=IHnaxMjEo9g

- Files Stichting Urk in Oorlogstijd, Mr. Pieter Hoekstra and Robert Hofman
- Website PATS. When on page: press CTRL + F and type 'Emmert': http://www.teunispats.nl/ongelandt-2.htm
- Local Waterland/Purmer history bits and pieces, interviews.
- Book: Van bezetting en bevrijding - Urk in oorlogstijd 1940-1945. Stichting Urker Uitgaven, 1995.
- Book: Urker verhalen van de oorlog. Stichting Urker Uitgaven, 1996.
- Het Urkerland 1995
- Website WW2 Escape Lines Netherlands








© ZZairwar (Zuyder Zee Air War)