Date: 1943 Dec 22/22
A/C Type: B-24 D Liberator
SN: 42-63969
Code:
A/C Nickname:
File: 149
Airforce: USAAF
Sqn/Unit: 93 BG - 409 BS
Mission/Raid: Osnabrück
1
Pilot
1Lt. Grady G. Hunt washed ashore buried Makkum
9
RWG
S/Sgt Roy Cook w.a. buried Workum
2
Co-pilot
2Lt. Joseph P. Congelli MIA, buried Middenmeer?
10
TG
S/Sgt James W. Bennet Middenmeer
3
Nav.
2Lt. Thomas R. Curry MIA
11
4
B
2Lt. Leslie C. Matthews MIA
12
5
E
T/Sgt Ruben R. Galindo MIA
13
6
RO
T/Sgt George B. Murry MIA
14
7
BTG
not carried
15
8
LWG
S/Sgt Theo A. Blanchard MIA
16

Return from Osnabrück was on high altitude, above a thick deck of clouds. Formation ran into intense Flak and fighter attacks on position 52°38'N-06°20'E. This is in the Netherlands, east of Staphorst. The bomber formation was scattered. Damaged aircraft lost speed and sank beneath the clouds, often again attacked by fighters. 22 bombers were lost from Osnabrück to the British coast.

This aircraft came down in the northern part of Lake IJsselmeer (Old Zuyder Sea). Three, possibly five men washed ashore and were buried. Six men MIA. Investigation and search for this aircraft and missing crew is one of the reasons this website was build. The wreck will be found someday.

Pilot Grady G. Hunt washed ashore exact half year later, just south of Makkum. He was buried there on 23 June 1944 in grave 34. In grave 33 (to the left of Hunt) also an American was buried and to the right of Hunt in grave 35 was buried an unknown gunner without rank buried on 26 June 1944. All three washed ashore here against the foot of the dyke. After the war an American Quartermaster Grave Recovery team examined the three, but only took the airmen in grave 33 and 34 (Hunt) to their Identification Centre in Neuville-en-Condroz (Belgium). the gunner (without rank) in grave 35 still rests in Makkum, because he was considered English and received a RAF gravestone. The two empty graves left of the unknown RAF gunner are well visible today. In 1949 Lt. Hunt was reburied in the USA.

S/Sgt. Ray or Roy Cook washed ashore after 5 months at the Buitenpolder-dyke at Workum. Already 9 washed ashore Allied airmen were buried there side by side and S/Sgt. Cook was buried as last in grave 10. Post war, his remains were exhumed and reburied in US centralization War Cemetery "Netherlands", Margraten and rest there today.

Also on the other side (western shore) of the Lake two airmen of this crew were recovered. Certain is that tail gunner S/Sgt. James W. Bennet washed ashore half year later on the Wieringermeer-dyke at harbor Oude Zeug. He was buried in grave 713 in the General Cemetery of the administrative center of the Wieringermeerpolder, which is in village Middenmeer.

In files of same community is also a man that washed ashore (?) mid November with name described as 'L. JP. SONGELLI'. No doubt this was Lt. Joseph P. Congelli. However, burial location is unclear. Today he is MIA. In our opinion Lt. Congelli's recovery date mid Nov. 1944 (after 11 months) is too long for washing ashore after a Lake crash. We learned that 9 months is the maximum. Possibly fishermen or Germans recovered part of the wreck and landed it in Oude Zeug, remains or personal belongings of Congelli then discovered. On uninhabited 'Work-port' (Utility Port) Oude Zeug is known that it had a yard with aircraft wrecks recovered from the Lake until 1960.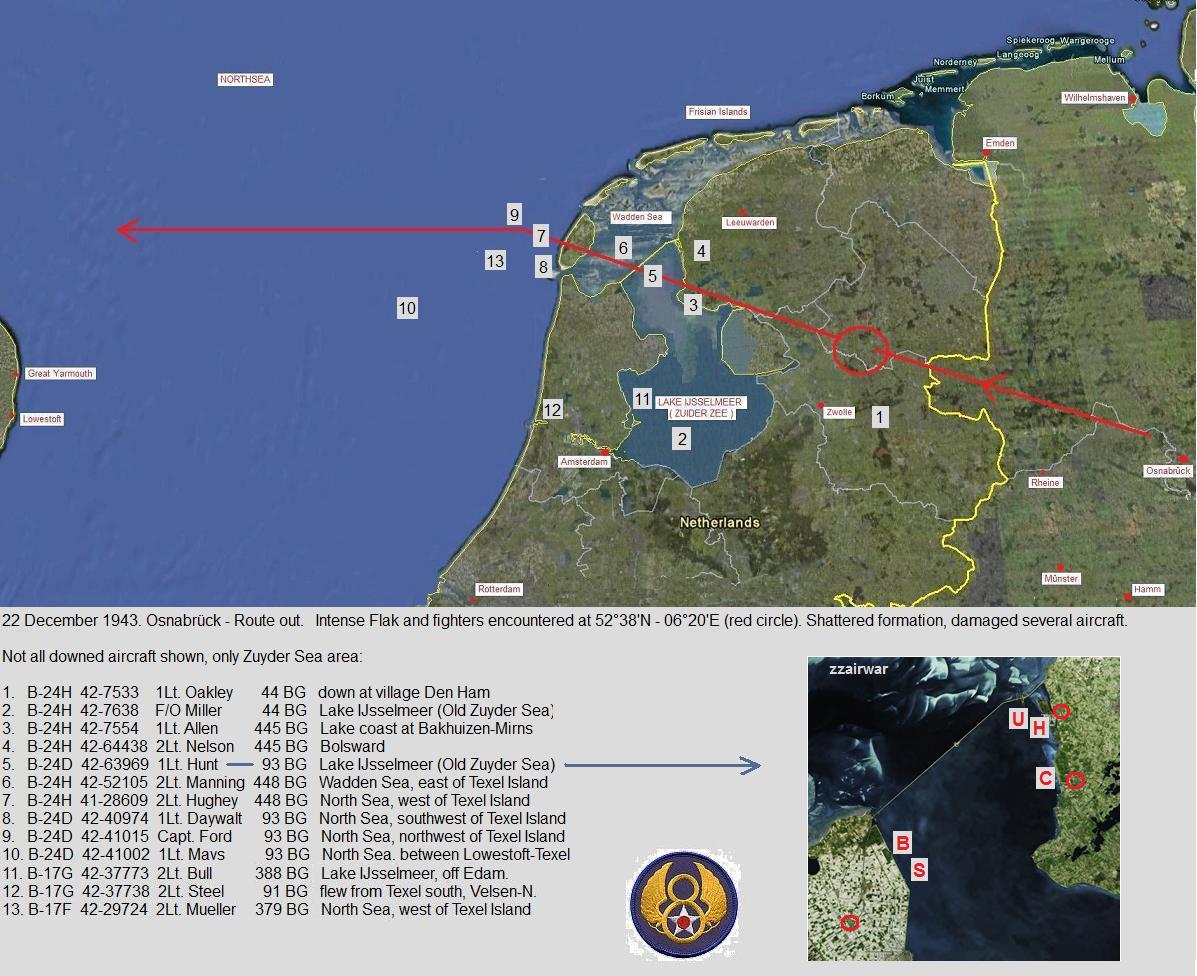 Sources:

- All MACR on the 22 December 1943 raid
- http://www.fieldsofhonor-database.com/index.php/american-war-cemetery-margraten-c/51918-congelli-joseph-p
- Research on the war burials in above mentioned cemeteries.
View cemetery files in SEARCH MENU - Search on: Cemeteries, Lake Area Cemeteries, Lake Casualty Cemetery - Makkum, Middenmeer and Workum.






© ZZairwar (Zuyder Zee Air War)