Date: 1943 Dec 22/22
A/C Type: B17 G
SN: 42-37773
Code:
A/C Nickname: Full House
File: 150
Airforce: USAAF
Sqn/Unit: 388 BG - 563 BS
Mission/Raid: Munster, railroad centre.
1
Pilot
2Lt. Webster M. Bull Elburg-Oosterwolde
9
LWG
Sgt. John F. Rogowski POW
2
Co-Pilot
2Lt. Leavitt P. Hobbs Amsterdam
10
TG
S/Sgt. Thomas G. Wesson POW
3
Navigator
Lt. Albert H. Bendix Volendam-Amsterdam
11
4
Bomb aimer
Lt. Loran A. Gunderson MIA poss. Amsterdam
12
5
Engineer
Sgt. Chester N. Rush Huizen-Hilversum
13
6
Radio opp.
Sgt. Anelo Pasque as unkn in Amsterdam?
14
7
BTG
Sgt. Howard W. Riley Enkhuizen
15
8
RWG
Sgt. Rudolph C. Marsilio Marken-Amsterdam
16

Came damaged from Germany. It appears this aircraft reached the Dutch North Sea coastline, but it became clear that England could not be reached. It turned back inland, losing height, into direction of Edam-Volendam and the Old Zuyder Sea. Here it over passed the dike. Crew used parachutes over Lake IJsselmeer and the plane crash landed in the water and sank off Edam.


Wreck recovered in 1966, thanks to info of an eye-witness. As a child he saw the aircraft come down and fell in the water. The raised wreck was green and had bullet holes in it. Nose pointed in north-eastern direction. No human remains. The center fuselage lay in Edam on the RWS-wharf near Fort Edam for many years.

All crew parachuted out and drowned in the very cold Lake IJsselmeer (Old Zuyder Sea), except gunners John F. Rogowski and Thomas G. Wesson. They jumped first and landed on the dike between Volendam and Edam. Post war Wesson said that the others jumped too low. Most washed ashore June 1944, in the southern Lake section.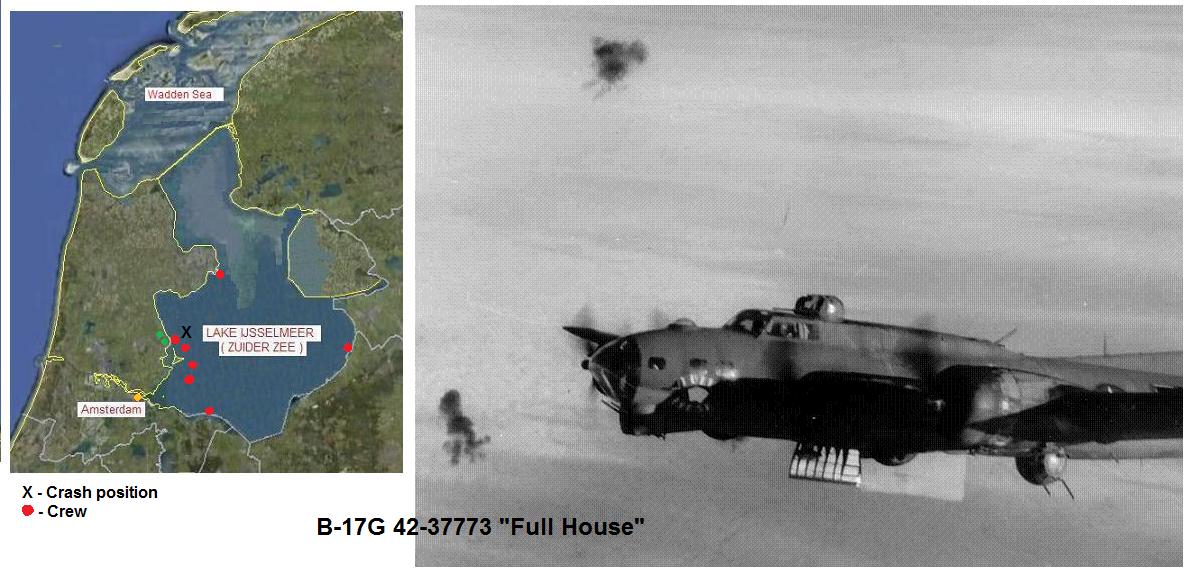 Raid track. The map shows a good example of an early USAAF raid on Germany with carefull (cumbersome) approach to the target (Münster) avoiding German heavy Flak positions in Holland. Not much later this was abolished and routes to a target were flown strait on. Since November 26 1943, Lt. Bull and crew had flown 5 very heavy missions on Bremen (3x), Emden and Kiel, each time with an in/out route over the North Sea north over the Frisian Isles. This time the route was much different. The bomber formations flew over the southern North Sea towards The Hague and turned northeast to 'the Flak Gap' at the Dutch coast near Egmond aan Zee/Castricum. This was probably advised by the British RAF. Over the dunes a 120° course East was set out direct towards Münster, also largely over a Flak-free zone. After bombing Lt. Bull had to leave formation (lost an engine) but sticked exactly to the briefed route out.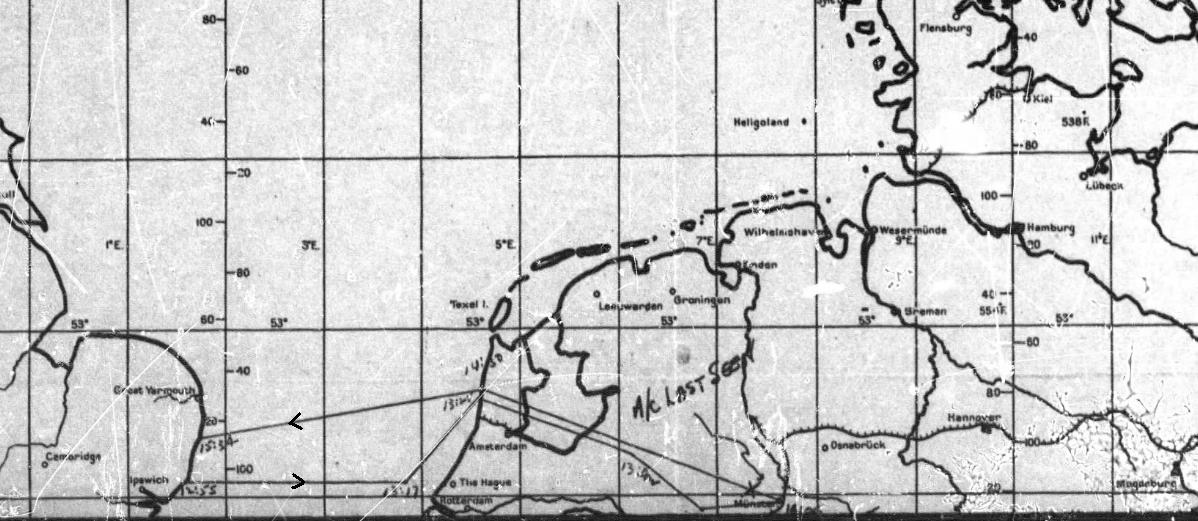 Photo below shows crash location (sea right) and the houses (left) where S/Sgt. Thomas Wesson was given shelter in the first hours.

It remained long unknown who he was. Everybody believed he was English, name unknown. He parachuted down behind the farm of (now) guitar teacher Jan Buys (Jan To). Because he pulled a pistol on the farmer working there in the field, had chewing-gum and it was daylight, we realized he had to be American. Recently we interviewed an older man (79) who saw in a war-time winter an arrested 'pilot' in full gear walking through the W.J. Tuyn Street in Volendam. The older man was then an 13 year old kid. He (and all his friends) walked beside the 'English pilot' for some time. We remarked "Pity you didn't asked his name", "but I did", he said. "His name was Thomas Wesson".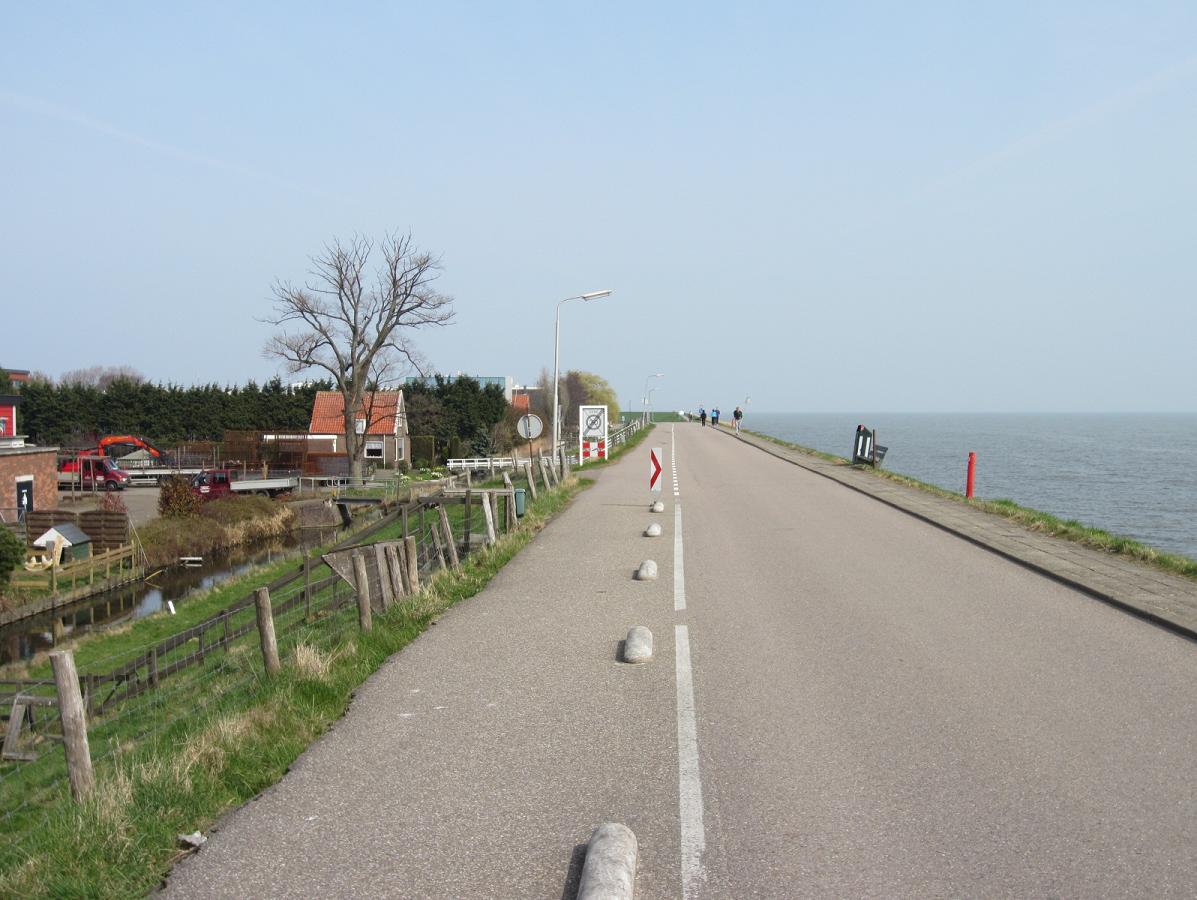 Photo below: The W.J. Tuyn Street in Volendam WW2, a German soldier posing. Nothing much changed here today. Sgt. Thomas Wesson had to walk through here accompanied by local police to get to Edam, to be taken POW. Wesson was in the hands of the Volendam underground resistance in the first hours. The reason why they parted is another story and will be posted later. In Edam he met his crewmate John Rogowski in the city jail. Rogowski landed close to Edam and was made POW direct after his parachute jump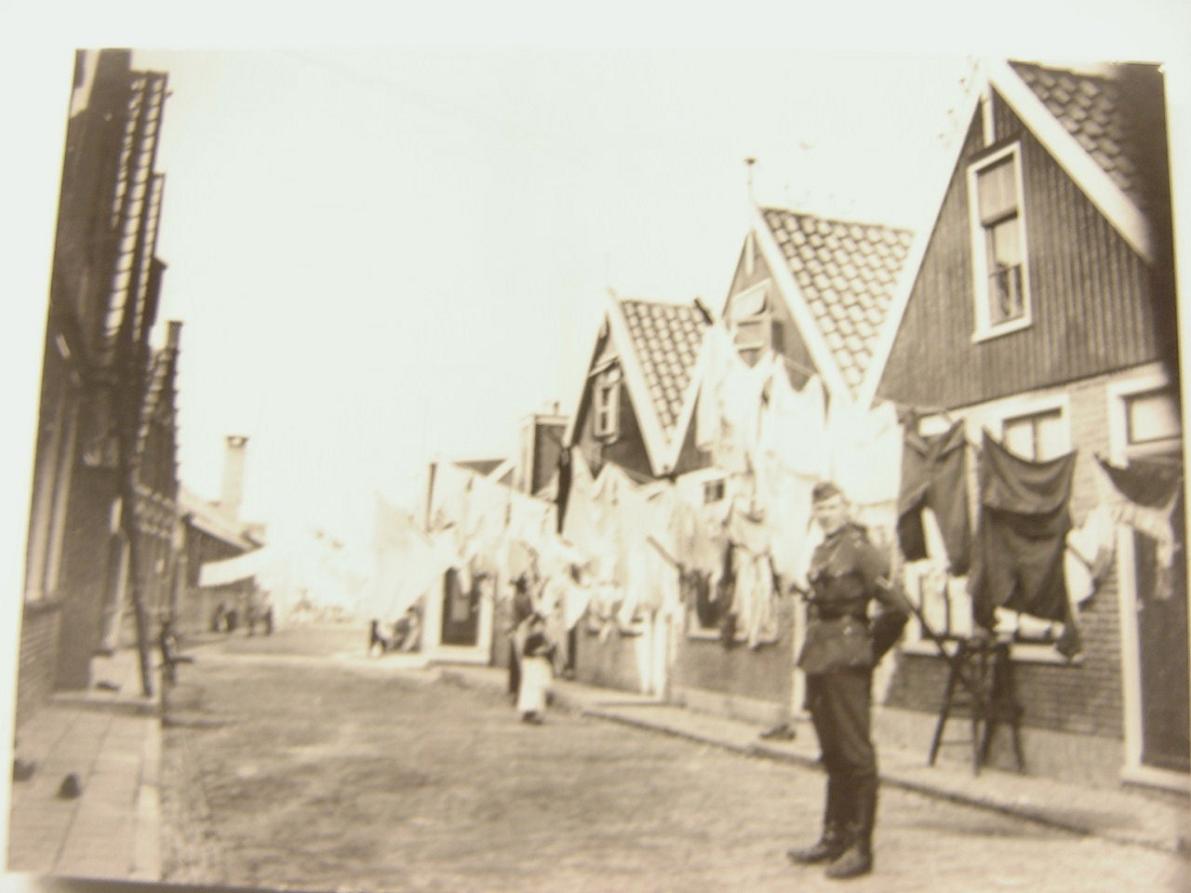 Photo below. Volendam harbor in the distance. The body of navigator Lt. Albert H. Bendix was brought in here 5 months after the crash. He was laid down on the old boat-ramp ('ouwe Helling') and received a coffin there. A day later he was buried as 'Unknown English Airman' in Amsterdam New Eastern Cemetery, which was the designated cemetery for Allied casualties in this area. Near to him also Sgt. Rudolph C. Marsilio was buried as unknown. He was recovered after 6 months by a ship named 'Franeker' near the island of Marken (opposite to Volendam and not far from the crash site).

We also found the Amsterdam burial card of Co-Pilot 2Lt. Leavitt P. Hobbs and an unknown American, possibly in Neuville identified as Sgt. Anelo Pasque. Or 2Lt. Loran A. Gunderson who was never identified and is officially still MIA (this needs further research). All where exhumed in 1947 and transferred to the US identification center and centralization war cemetery in Neuville-en-Condroz, Belgium. Today named American Cemetery "Ardennes" in Neupré.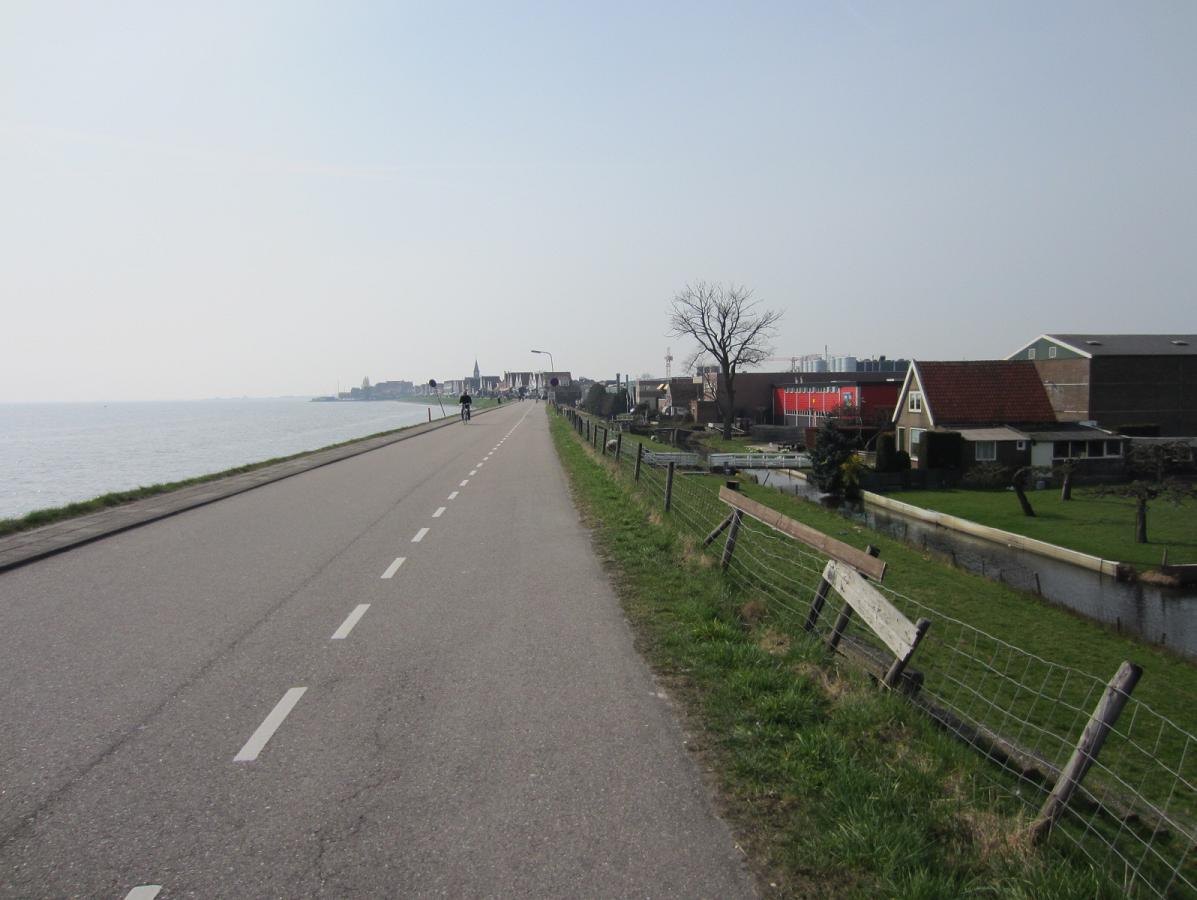 Pilot 2Lt. Webster M. Bull washed ashore and was initially buried north-east of Elburg in Oosterwolde. Riley was buried in Enkhuizen until 1947 and via burial in US Cemetery Neuville-en-Condroz ("Ardennes") Belgium he was in 1950 reburied in Arlington Cemetery, USA (see link below). Sgt. Chester N. Rush washed ashore at Huizen and initially buried in Hilversum. There are still war graves in these Dutch villages, but since the American casualties were exhumed it is difficult to keep their memory alive during local commemoration days. Lt. Bull and Sgt. Rush were also in 1947 reburied in Neuville. Today only Lt. Bull and Sgt. Marsilio rest in US Cemetery "Ardennes", with possibly Lt. Gunderson (and T/Sgt. Anelo Pasque?) as Unknown USAAF airman.






Sources:

- on Riley: - https://airforce.togetherweserved.com/usaf/servlet/tws.webapp.WebApp?cmd=ShadowBoxProfile&type=Person&ID=131993
- on Bendix: http://www.findagrave.com/cgi-bin/fg.cgi?page=gr&GRid=70883510
- on Rush: http://www.findagrave.com/cgi-bin/fg.cgi?page=gr&GRid=96688900
- on Hobbs: http://www.findagrave.com/cgi-bin/fg.cgi?page=gr&GRid=110159004
- on Gunderson: http://www.fieldsofhonor-database.com/index.php/american-war-cemetery-margraten-g/46933-gunderson-loran-a
- MACR
- ABMC
- 2012 research of the Amsterdam cemetery files and reconstruction of the war burials 1940-1945.
- Local intervieuws







© ZZairwar (Zuyder Zee Air War)