Date: 1944 Jan 11/11
A/C Type: B-17 GSH (Radar)
SN: 42-3486
Code: MI-D
A/C Nickname: Invictus
File: 151
Airforce: USAAF
Sqn/Unit: 482 BG - 812 BS
Mission/Raid: Halberstadt, Ochersleben, Brunswick.
1
Pilot
1Lt. James J. Maginnis KIA, buried Harderwijk
9
LWG
S/Sgt. Angelo J. Riccardi KIA, b. Harderw
2
Co-Pilot
1Lt. Roy H. Peterson KIA, found Sept. 1969
10
RWG
S/Sgt. Joseph P. Keane KIA, no ID, Hardw.
3
Nav
1Lt. Clarence E. Blevins KIA, buried Harderwijk
11
TG
Sgt. Harry C. Sutton KIA, buried Harderw.
4
2nd Nav
John J. O'Brien KIA, buried no ID Harderwijk
12
5
B
1Lt. George C. Wylie KIA, buried Kampen
13
6
TTG
T/Sgt. William A. Glenn POW
14
7
RO
S/Sgt. Raymond Rajala POW
15
8
BTG
S/Sgt. Enian C. Mills POW
16

On return to England over Holland, pilot was shot dead in seat by German fighters, attacking head-on. Aircraft stalled and fell-off, smashed onto the water surface of Lake IJsselmeer (Old Zuyder Sea) 10,5km (6,5 M) NW of Harderwijk. 8 KIA, 3 POW. Wreck recovered 3 times.


Over Germany, this B-17 was hit by an air-to-air rocket, fired by German fighters. After that, the situation in the aircraft was horrific. S/Sgt. Mills (POW) describes after the war in the MACR: "On the way home we had a number of wounded on board that could not jump anymore. From the Westside of the Lake came FW-190 that attacked head-on. Pilot Maginnis was hit. In my opinion he was killed in that attack. His reaction pulled the plane straight-up, then it stalled and fell-off". Six men of the crew washed ashore months later and were initially buried in Harderwijk (5) and Kampen (1). Co-Pilot Peterson was MIA until 1969. Four men parachuted out (3 POW), one of them (Riccardi) drowned under his parachute, he was buried in Harderwijk as first of this crew.

Discovery and recovery of the wreck on 'De Knar' in 1944, 1947 and 1968/1969
The crash position was in a shallow part of the lake, on the north side of an underwater sand-ridge named 'The Knar'. Depth was only 2,3 meter (7 feet). The going down of the B-17 was observed and the wreck did not stay unnoticed on this shallow position, next to the shipping lane. We expected the Germans have gathered what they could with their recovery-vessel and transported the for them valuable aluminum by barge (via the Amsterdam-Rhine Canal) to their aircraft-wreck recycling plant in Utrecht (Zerlegebetrieb Utrecht). This was standard procedure.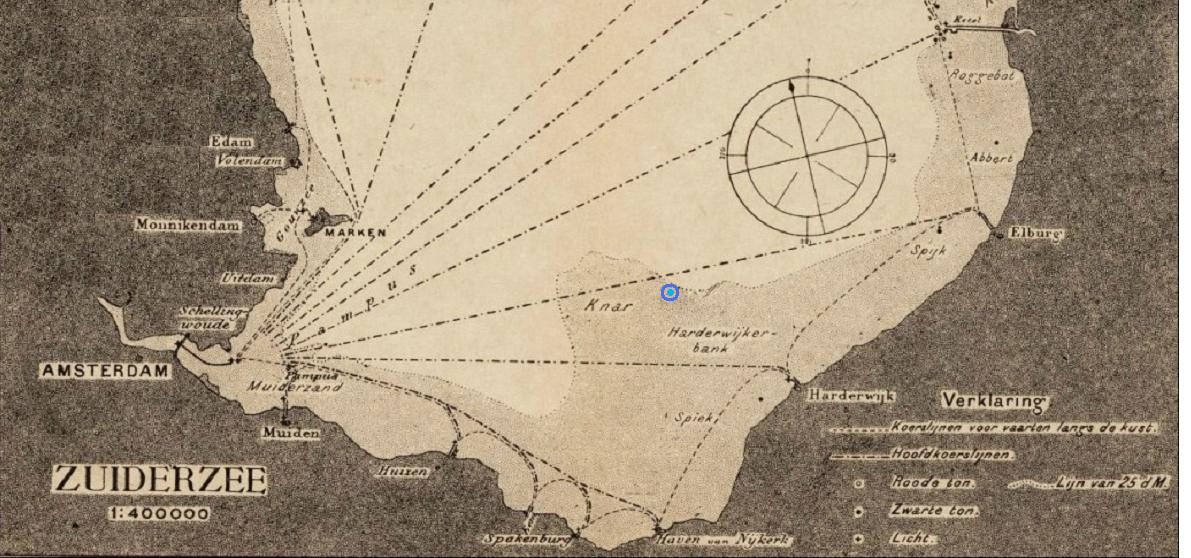 Recovery by Dutch Navy in 1947 and Dutch Airforce in 1968/1969
The Knar and the adjacent Geldersman (to the northeast) were important fishing grounds for the traditional Dutch flat bottom boats ('Botters'), who bottom-trawled this area for eel. The left over debris of the B-17 were in their way. Direct after WW2, fishermen reported the location to the Dutch authorities with request to clear the site. Three locations near to each other were handed to the Dutch Navy, who made the location 'accessable' in 1947. Still most fishermen avoided the spot. The Navy had done what they could, but the primitive diving gear (one heavy standard suit), one hoisting crane and murky water with no visibility, caused that nets still damaged when trawling near this location.

In 1950 a part of the lake was designated to become farmland (polder 'East-Flevoland'). A circular dike was projected and prospectors surveyed the lake bottom searching for solid ground that could function as strong foundation for the new dike. The underwater sand-ridge 'The Knar' proved very suitable and the trajectory of the southern polder dike was planned over it. That dike would be named the 'Knar-dike'. By coincidence the dike would almost overpass the crash location of B-17 42-3486. We believe that in period 1950-1956 the heavy dike-laying barges with their deep flat undersides have flattened the crash site and pushed the remains of the B-17 into the seabed-sand.

Bomb-release image from wreck
When the circular polder dike was closed and water was pumped out in 1963, nothing could be seen of the B-17 remains. Crop-dusting aircraft sprayed reed-seeds over the wet grounds to dry-out the former seabed. Within months huge reed fields emerged. When the reeds were burned down in 1968, the farmer who had purchased this patch of land (Parcel E-6) found aircraft parts and contacted the Dutch authorities. The Dutch Airforce Recovery team lead by Mr. Gerrit Zwanenburg did a survey in 1968 and identified the wreck. They came back half year later with big equipment. In June 1969 the site was cleared. Finds included a dinghy with complete survival kit, landing gear and tires, engines, propellers, machineguns and a bomb-release camera with film that was developed and showed a B-17 flying under them.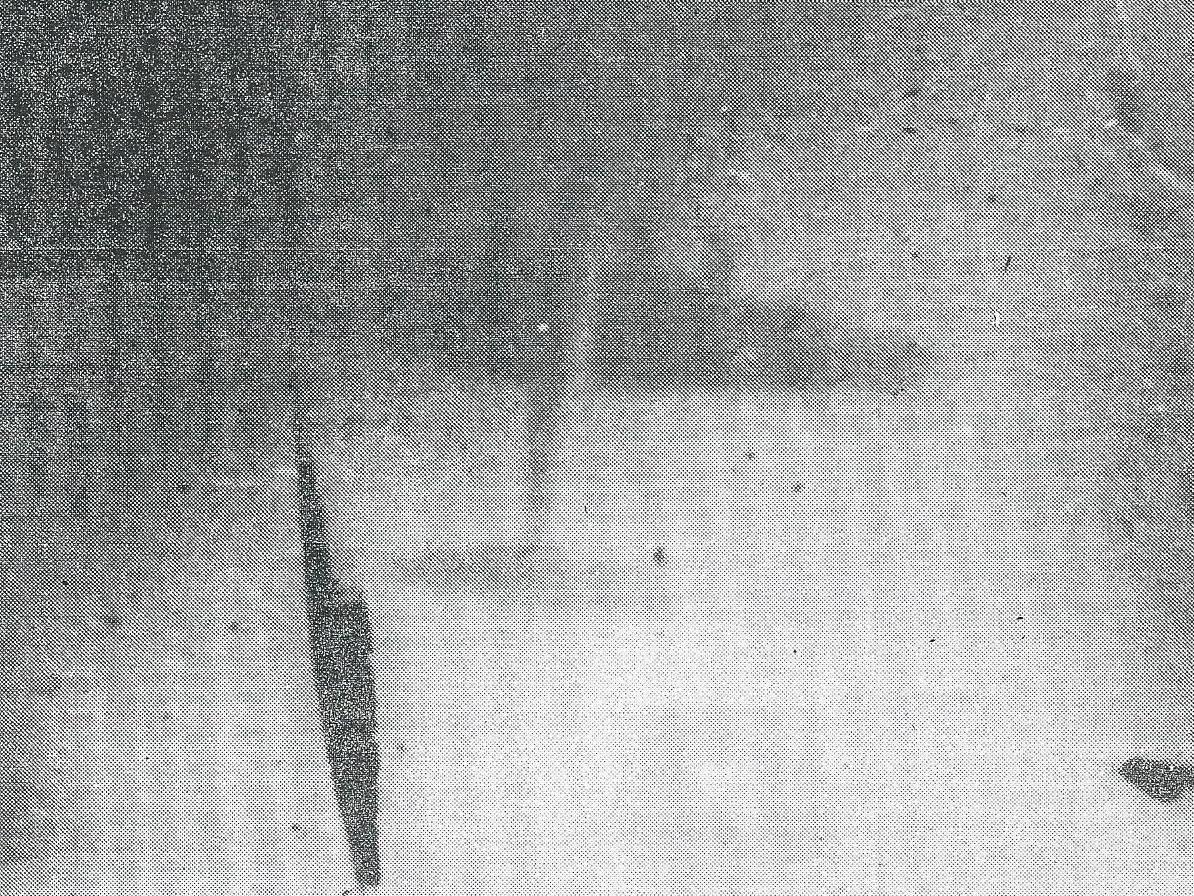 Eyewitness at recovery
One of the (drafted) soldiers who worked on the recovery as digger was Mr. Ton J.A. Hermans from Rotterdam. He made an artist impression of the wrecksite when the reeds were just burned away 1968. This excellent work is like a sonar image of the wreck when it was underwater and (unintentionally) pressed into the seabed by the dike-laying barges. Must see, link: http://www.tonhermansrotterdam.nl/rotterdam29.html



Co-Pilot 1Lt. Roy H. Peterson found September 1969
It was known that one of the crew was unaccounted for: co-pilot Peterson was MIA at that time. They were carefully searching for him during the recovery of the wreck, but he was not found. After the site was cleared in June 1969 and recovery stopped, the responsible Dutch Army Grave- and Identification Sgt.-Major Arie van der Graaf searched on in his own time, without success. Then in September 1969 the farmer plowed his land for the first time and found the remains of Peterson, sunken-in in the soil, still in his flying gear, 500m from the wreck site. He had laid on this spot underwater for 19 years and 6 years in the reed. After the crash his body must have gotten stuck underwater, or entangled with his parachute to the wreck, preventing washing ashore. Lt. Peterson remains returned to the United States, he is buried in Portland, Oregon.

Image below: Sgt.-Major Van de Graaf with empty (unused) parts of the bomb release camera film.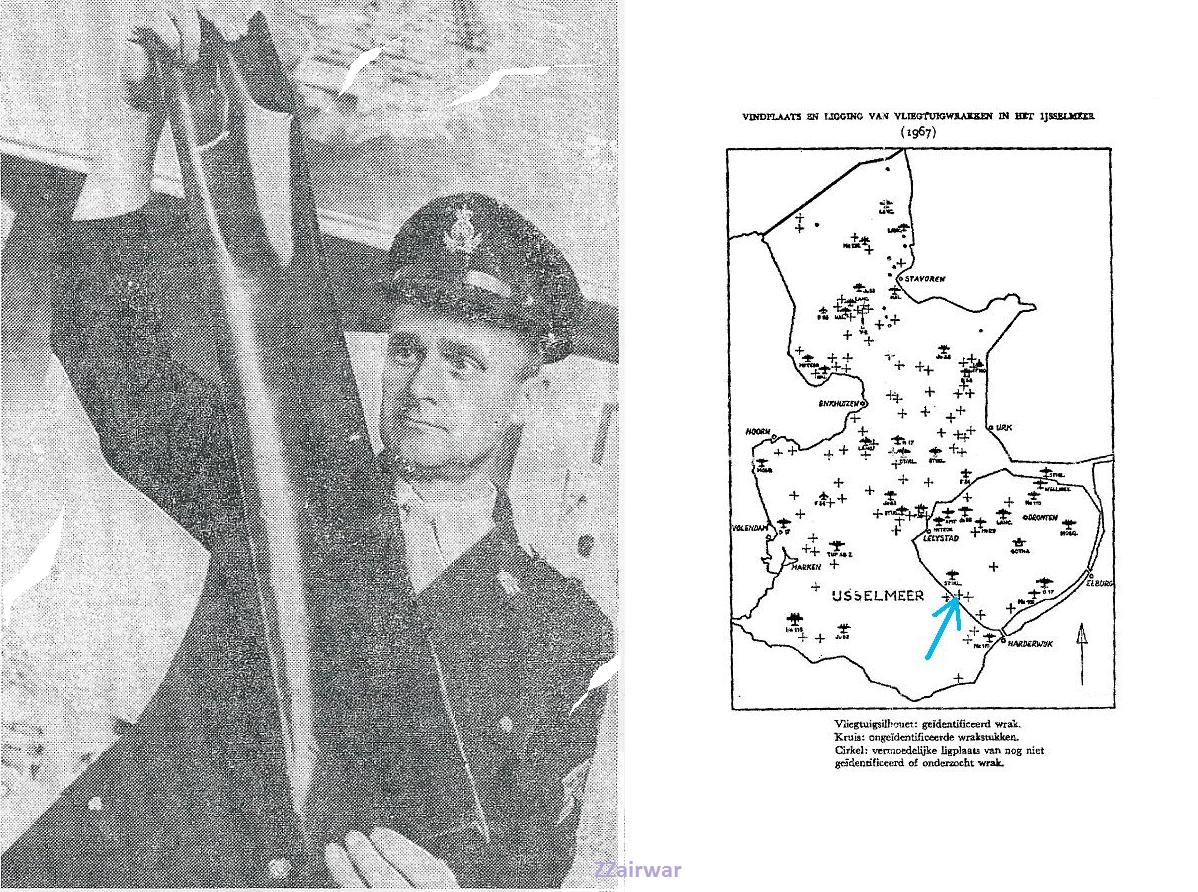 4 men parachuted out
S/Sgt. Mills declared that four of them jumped out when the aircraft went down: himself, Rajala, Riccardi and Glenn. He (Mills) and Rajala were rescued by a boat, but S/Sgt. Angelo J. Riccardi drowned under his parachute. He later saw the Germans carrying away Riccardi's dead body. T/Sgt. William 'Alvis' Glenn landed on the shoreline east of Harderwijk. He landed on a shed in a duck farm and severely wounded his back, troubling him for the rest of his life. Germans took him POW.

Photo below. Harderwijk Cemetery, initial burial positions of crew 42-3486.
On 21 March 1946, the American casualties in Harderwijk (not only this crew) were exhumed by a US Quartermaster team and transferred for examination (final identification) and reburial in Neuville-en-Condroz, Belgium, in US Cemetery "Ardennes" (Neupré). Five of this crew still rest there today. The emptied US graves in Harderwijk were never used again and the empty spots are well visible between the graves of the other Allied airmen today (plot 2). See also our article on the Harderwijk war graves and the Harderwijk bomber memorial in our Search Menu 'Cemeteries' on this website.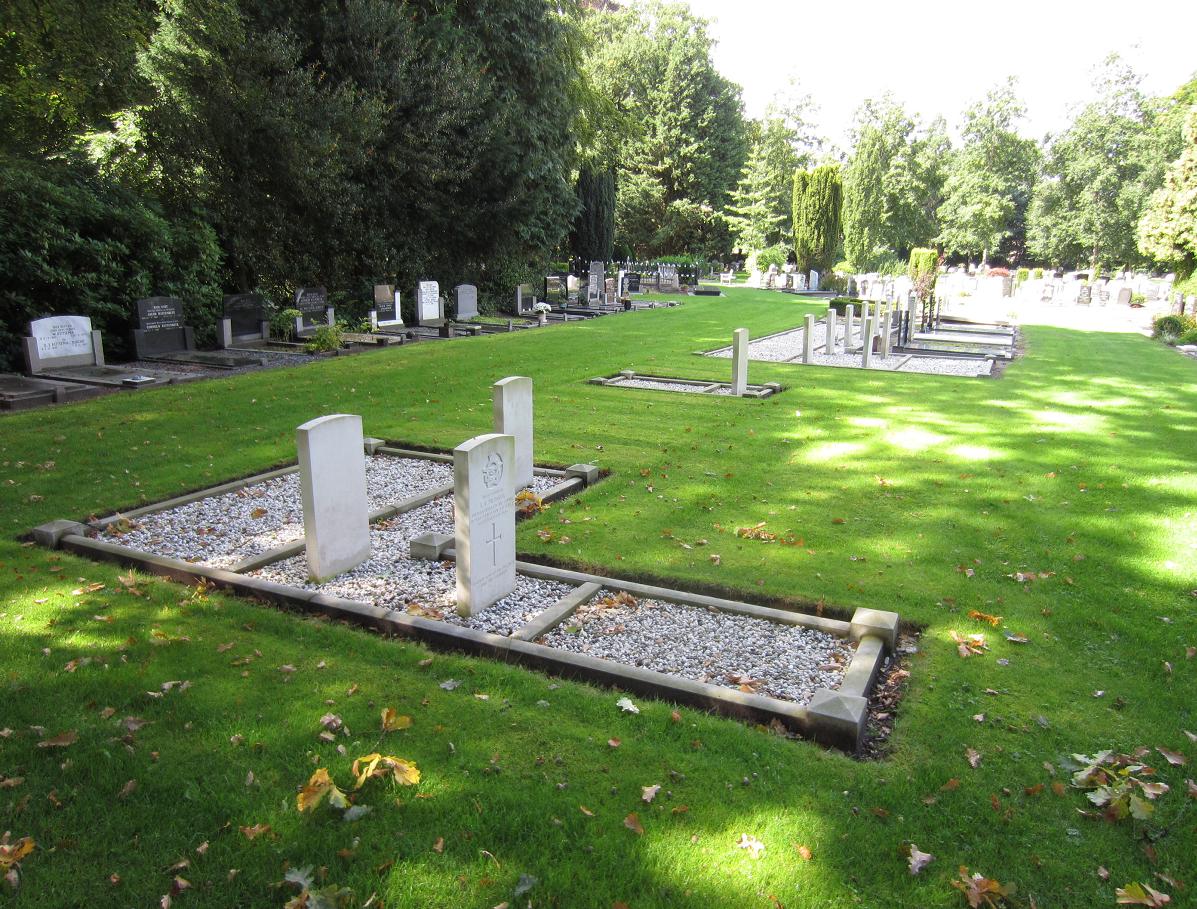 Commemorative plaque on crash position 2014.
The crew of 42-3486 is commemorated on the Harderwijk monument (on the waterfront) and by a sign-post on the crash position (now land), address: Knarweg 5, Lelystad. On the corner of the Knarweg and the Vogelweg.





Sources/read more:

- WD Norton, page 1 http://www.wdnorton.nl/B-17GSH%2042-3468%20Invictus.htm
- WD Norton, page 2 with recovery photos: http://www.wdnorton.nl/B-17GSH%20Recovery.htm
- WD Norton, page 3 http://www.wdnorton.nl/B-17GSH%20what%20happened%20with%20the%20crew.htm
- WD Norton, page 4 http://www.wdnorton.nl/B-17GSH%20Radar%20equipped%20B-17.htm
- webite PATS
- MACR
- website ABMC
- Book "in de schaduw van de glorie" by Mr. S.L. Veenstra (RNLAF) 1992
- Newspaper articles 1968-1969.







© ZZairwar (Zuyder Zee Air War)