Date: 1944 Apr15/15
A/C Type: P-38 J Lightning
SN: 42-67302
Code:
A/C Nickname:
File: 157
Airforce: USAAF
Sqn/Unit: 364 FG -385 FS
Mission/Raid: Bomber escort
1
Pilot
2Lt. Clyde M. Street MIA
9
2
10
3
11
4
12
5
13
6
14
7
15
8
16
Believed crashed in the North Sea 40 miles off Bergen aan Zee. MIA. He was on route to a strafing missing to the Lüneburg area (SE of Hamburg) and got mechanical problems. Lost at sea. Small chance came down in Lake IJsselmeer (Old Zuyder Sea) at Harderwijk.

There is a Dutch book that gives interesting information on the day 15 April 1944. The book is named 'Police report 1940-1945, Diary of a Police Officer' by Mr. H. Kraaijenbrink, published in 1986. Dutch Police Lieutenant Hendrik Kraaijenbeek was during WW2 stationed in the city of Harderwijk, located on the south-eastern shore of Lake IJsselmeer/Old Zuyder Sea.

He wrote (book page 294): "April 1944. On the 15th, 13:20hrs. A twin-engined fighter comes suddenly through the overcast, strait down, with roaring sound. Flames are pouring out along his flanks. But before the man who observed this was fully aware of the situation, the aircraft disappeared with a hard bash into Lake IJsselmeer". "At 15:00hrs, the skipper of the HK 83 (fishing boat) brings to shore a Tommy, who is directly apprehended by the Germans. He had saved himself by parachute. Accompanied in between a German officer and a NCO of the Kriegsmarine, he is walked to the Ortskommandantur". "The pilot had no killers face and nodded smiling to the several groups of spectators". In the weeks before the German propaganda had declared all Allied airmen "Killers with mug-faces". This was after the 'Murder Inc.'-flight jacket incident.

ZZAW: two separate events are described in above report. First: the vertically coming down of a twin engined fighter on fire in the Lake at 13:20hrs, and secondly, an hour and 40 minutes later: an Allied airman that is brought in port by the HK 83 (Harderwijk 83) and made POW. Both events are not necessarily connected. This because April 15th 1944 was a busy day in the air over Holland and more than one aircraft did not return to base. See our opinion on the above in below evaluation.








































Which two-engined fighter saw the Harderwijk witness go down? There are no two-engined fighters lost in the area on this day. Was it an unknown German aircraft that got in the way of the American fighters on their way to Germany? Another possibility is a P-38 Lightning. They were passing over Harderwijk on 15 April 1944. Two P-38 are still missing on this raid, aircraft and pilot never found. One is 2Lt. Clyde M. Street in P-38J 42-67302, 364FG-385FS, the other is Capt. Reed H. Dominy in P-38 J 42-67938, 364FG-385FS.

Lt. Street mission was a strafing sweep in the Lüneburg area. On the way in, he got mechanical trouble and was never seen again (MIA). Believed he crashed in the North Sea 40 miles off Bergen-aan-Zee. 13:10hrs. Statement in the MACR by 1Lt. Fred C. McClanahan: "I was flying Red 3, but had to abort at the Dutch coast because of engine trouble. Lt. Street was a relay, and as I turned around I heard on the R/T "I am leaving it". I presume that this was Lt. Street and that he was preparing to bail out. I later heard that another group had reported that an unidentified P-38 had crashed into the North Sea". ZZAW: They were flying on high altitude. There is a small chance that it was Lt. Street's aircraft that came down at Harderwijk.

Captain Reed H. Dominy's group flew over Harderwijk on route to the target. Their way point in Germany was Dümmer Lake, followed by flying low into direction of Bremen and out over the German Frisian isles and North Sea back to Norfolk. Captain Dominy (MIA) was last spotted at Vechta, never seen again. ZZAW: if Captain Dominy's aircraft was damaged by Flak, strafing targets, and turned west-southwest to take to quickest route home, it could have come down in Lake IJsselmeer at Harderwijk. However, more likely to have come down in the North Sea north of Germany.

The identity of the two engined fighter may never be known, but according to airwar researcher Mr. John A. Hey, the 'Tommy' that was brought in Harderwijk harbour on the 15th by fishing boat HK 83, was P-51 Mustang pilot Captain Walter J. Koraleski. He flew P-51B "Miss Thunder" 43-6968. After passing Lake IJsselmeer at the southern shore line, he got engine problems and had to turn back, time was 13:30hrs. A port side turn would have brought him over the Lake and he apparently he came down in the water, rescued by the fishing boat (POW). It is also possible that the witness did not see a twin-engined fighter, but Koraleski's Mustang coming down.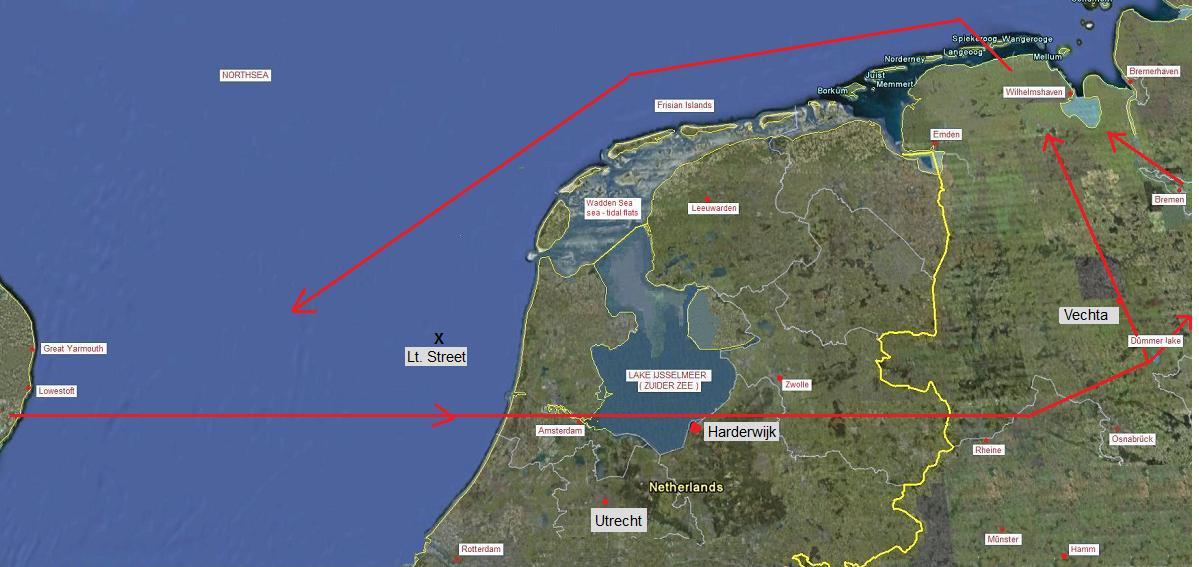 Sources:

- Book 'Politierapport 1940-1945. Dagboek van een politieofficier', by H. Kraaijenbrink.
- MACR
- Interview John A. Hey 2004.








© ZZairwar (Zuyder Sea Air War)