Date: 1940 Sep 02/02

A/C Type: Heinkel 115-B
SN: 2218
Code: 8L+LL
A/C Nickname:
File: 165
Airfrce: Luftwaffe
Sqn/Unit: 3./Kfl. Gr. 906
Mission/Raid: Mine laying North Sea England.
1
Pilot
Uffz. Felix Bock (KIA, buried Amsterdam)
9
2
Obs.
Lt.z.See M.W. (Walter) Andersen wounded
10
3
WO/AG
Gefr. Karl-Heinz Gurkowski wounded
11
4
12
5
13
6
14
7
15
8
16

After a mission, He-115 2218 crashed in Lake IJsselmeer (old Zuiderzee), east of their base Schellingwoude (Amsterdam). In open water 10 km south of Marken.


Source: Historisches Marinearchiv.de: "Zuiderzee, Abstürz, Ursache unbekannt, 100% write-off, Besatzung tot: Uffz. Felix Bock'.
Source Hans Nauta for crew and report GQL date 12 September 1940: Uffz. Bock was missing, but washed ashore at Naarden (KIA). Other two crew wounded.
Today Uffz. Felix Bock is buried in Ysselsteyn.

Below the emblem of 3./906 Küstenfliegergruppe; a Viking ship with a sword in hand. A He-115 with harbour entrance to Amsterdam in background.



























After the war, wreckage of Bock's He-115 was found in sea and salvaged, position marked on the RWS-Rijkswaterstaat sea-map (under) as no. 10. However, the aircraft was not identified then. In the same clearing, the salvage ship removed more aircraft wrecks: no. 11, no. 12 and later no. 50, see below.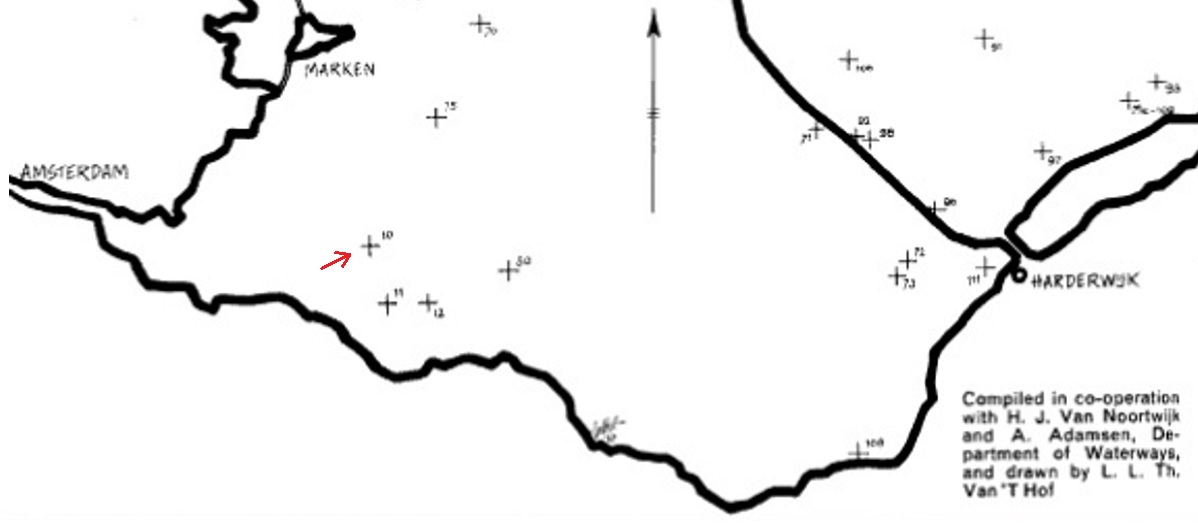 Below.
In 1965 a circular dike was build to win land (polder Zuid-Flevoland). On below RWS-map from 1966, it is visible that the dike is not finished yet. Near cross no. 12 the polder is still open. In 1967 the dike was closed and the water was pumped out. This made it possible for the Dutch Air Force wreck recovery team (Bergingsdienst) to visit (with this map in hand) locations 10, 11, 12 and 50 to see if there was anything left in the mud and attempt to identify the aircraft that were recovered from these locations in the years before. Around 1968 they could identifiy the type of three aircraft, this was marked on the map in red colour: 10 had been a He-115, no. 50 had been a Ju-88 and no. 12 were remains of a post-war jet-fighter. The identification of no. 11 and the precize details of all four aircraft came later.













































Cross 10. In May and August 1974 the left-over remains of the He-115 were dug-out from the ground because the area was cultivated (source: book Veenstra). The RNLAF succeeded identifing the HE-115 then as the 2218. Location Almere-Pampus, Brikweg, below the Brikpad.

Cross 11. Identified as JU-88 S-1 300494 of KG66 (Z6 + HN). Crew Troitsch. Base Soesterberg. On route to a raid on Hull, night 21/22 April 1944.
In 1944 the crew was recovered dead from the water and initially buried in Hilversum, today Ysselsteyn.
The bridge on above map Muiderberg towards cross no. 11 is drawn running 30°, but was later changed to 50°. This made cross 11 come to lay on the left side (west side) of motorway A6. Today the position is Almere-Poort, Pierre de Coubertinlaan near no. 7, close to address Chroomstraat.

Cross 12. Identified in 1972 as a post-war jet Hawker Hunter F-Mk 4. Dutch Air Force, Sgt. Vleeming (survived). Crashdate 16 June 1960.
Location today: Almere-Haven, wijk De Velden, northside Havendreef, north of address Schaakveld 15.

Cross 50.
JU-88 144645 of 7/KG6 (3E + DR). Crew Lt. Trümpelmann. Three crew recovered from the water and buried, but Funker Uffz. Franz Thomas is MIA.
Based at Creil near Paris. Raid on Sunderland night 23/24 May 1943.
Because the wreck was recovered after the war by ship (in September 1954), only small parts could be found in 1982.
Location of the sea-position the map is today: Almere stad, Filmwijk, Caprastraat 37-39.



Under construction.










==