Date: 1943 Nov26/26
A/C Type: P-47 D Thunderbolt
SN: 42-7979
Code: LM-C
A/C Nickname:
File: 202
Airforce: USAAF
Sqn/Unit: 56 FG - 62 FS
Mission/Raid: Bomber escort
1
Pilot
1Lt. Byron L. Morrill POW
9
2
10
3
11
4
12
5
13
6
14
7
15
8
16

Had to return due to fuel leak, jumped out, possible rescued by boat and delivered in fishing port village Huizen, or landed there with his parachute, POW. Aircraft possibly in lake IJsselmeer (Old Zuyder Sea). Not recovered (no info).


Collegue 2lt. Wilber N. Kelly: "just before rendezvous with bombers at Papenburg, Lt. Morrill called in to say very low on fuel. I escorted him home and a vapor-trail came out of his ship. We saw the western shore of the Zuyder Zee and recognized our location. He baled out over the south central portion of the Zuyder Zee. This was 12:38h. 3500-4000 feet (1200m). There were a number of small boats on the Zuyder Zee and it is almost certain that Lt. Morrill was picked up by one of these and is now a prisoner of war".

Below: map drawn by Lt. Kelly 1943. Our crash location of A/C east of Marken in Lake is an estimate. Belly landing at Huizen is also a possibility. Not found or recovered in post war polder Flevoland. Further research is needed.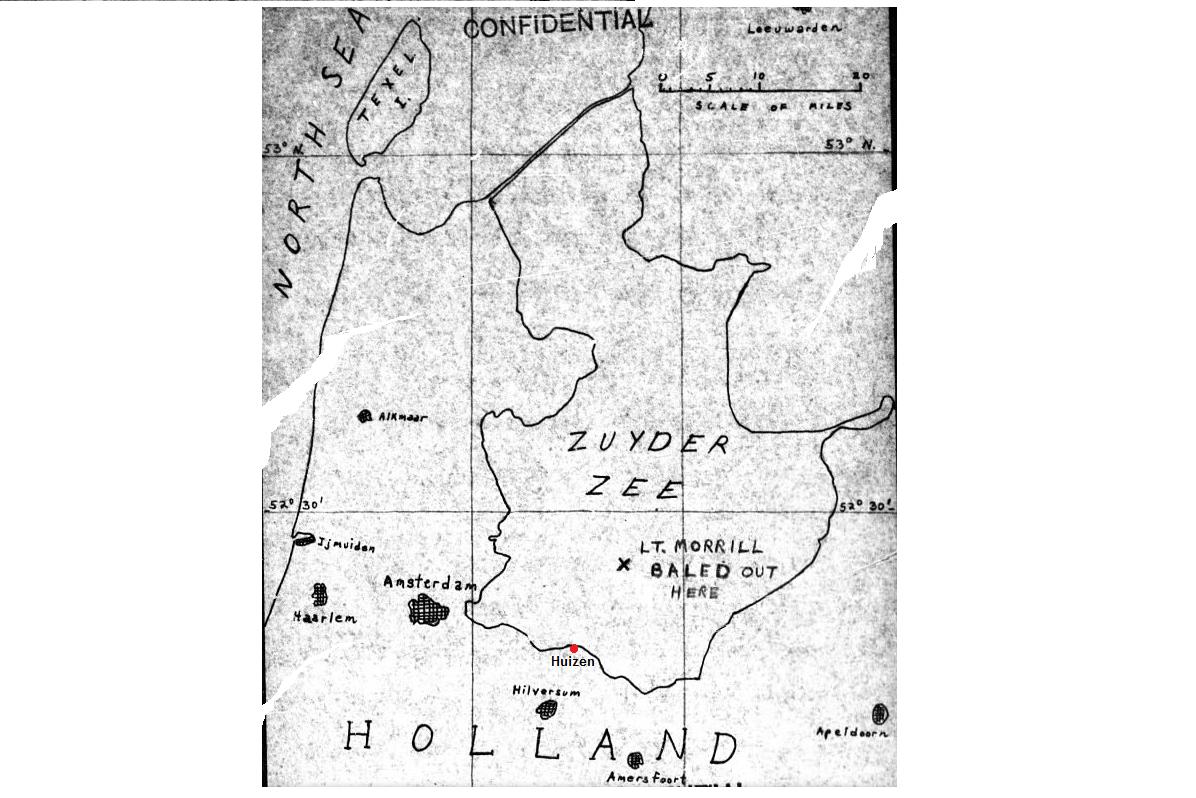 Souces:

- MACR

- http://www.mission4today.com/index.php?name=ForumsPro&file=viewtopic&t=5913&start=0&finish=15&printertopic=1

- http://savannahnow.com/news/2007-05-28/mighty-eighth-collects-gallery-hits









© ZZairwar (Zuyder Zee Air War)