Date: 1943 Dec 16/16
A/C Type: B-17F Fortress
SN: 42-30677
Code: JW-K
A/C Nickname:
File: 232
Airforce: USAAF
Sqn/Unit: 92 BG - 326 BS
Mission/Raid: Bremen Port area (Vegesack)
1
Pilot
1Lt. Edward C. Walsh MIA
9
RWG
S/Sgt. William W. Higbe Jr. POW
2
Co-pilot
2Lt. Herbert S. Haycock MIA
10
TG
S/Sgt. Ralph F. Conley MIA
3
Nav.
2Lt. Jerome K. Hanson MIA
11
4
B
2Lt. David Pinnelas MIA
12
5
E
T/Sgt. Joseph L. Cole MIA
13
6
RO
S/Sgt. Lee Folsom POW
14
7
BTG
S/Sgt. Herman D. Morgan evaded
15
8
LWG
S/Sgt. Loral Martin evaded
16

Was damaged over Bremen-Vegesack. A few minutes after target it had to leave formation. They dropped under the clouds and the aircraft was never seen again (6 MIA). Thanks to the 4 men that parachuted out after 20 minutes, we know a bit more and believe this aircraft eventually made a emergency landing in the north-eastern part of Lake IJsselmeer (Old Zuyder Sea) or in the Wadden Sea, close to the Closure dam 'Afsluitdijk'.

This aircraft is quite well known because of the statement in the mission debriefing-report:

"Lt. Walsh and crew in ship 42-30677 K -- Mysteriously aborted inside the enemy coast line with four engines operating and according to reports, he did not seem to have any trouble from reports received by crews that witnessed this abortion. No fix was received from the ground of any indication of where he might have flown to. No definitive report can be given at this time."

Thanks to the evasion-report of Sgt. Herman D. Morgan (thanks to researcher PATS Schuurmans), the most recent MACR and research on the other losses in the Dec. 16 1943 Bremen raid (map below), we were able to reconstruct what happened to 42-30677 (version October 10, 2015):

Lt. Walsh's B-17 was in fact damaged by Flak over Bremen and a few minutes later he lost engine power and speed. To the surprise of the others, who could not see any damage on his ship, he sunk out of formation and went under the clouds. This was south of Oldenburg in Germany (well within the German and Dutch coastline). Flying as a straggler alone in direction west to the Dutch-German border, they became easy prey for German fighters. And kept losing height. Sgt. Morgan: "Before last fighter sweep when interphone was shot out, I heard the co-pilot say that our altitude was 1000 ft. Pilot said to me to get out of the ball turret as we was too low. Pilot was discussing route home with navigator. We bailed out about 20 min. after leaving target, RWG 1-st, LWG 2-nd, myself BTG 3rd, Radio Gunner 4th."

The four sergeants (RWG William Higbe, LWG Loral Martin, BTG Herman Morgan and RO Lee Folsom) landed close to each other in a meadow. We estimate this was in the triangle on below map, NE of Assen. Sgt. Higbe ran away in an other direction and eventually became POW. Sgt. Lee Folsom was wounded (back and leg) and arrested in a farmhouse on 17 December (POW). Sgt. Martin and Morgan stayed together and evaded. Three days later (19 December) they were in the area south of Drachten en later north of Steenwijk. Pilot helper Peter van den Hurk (Medal of Freedom with Gold Palm 1946) had them in his care in his hometown Meppel and Ms. Joke Folmer (also Medal of Freedom Gold) guided them further, probably first by train to Zwolle and then (via safehouses) further south towards Venlo and Belgian border, witch took them weeks.

No trace was ever found of the aircraft and the rest of the crew are MIA. We believe they made an out of view belly landing in Lake IJsselmeer (Old Zuyder Sea), remote 10km NW of Workum or just over the closure dam ('Afsluitdyke') in a deep and harsh part of the Wadden Sea (Doove Balg).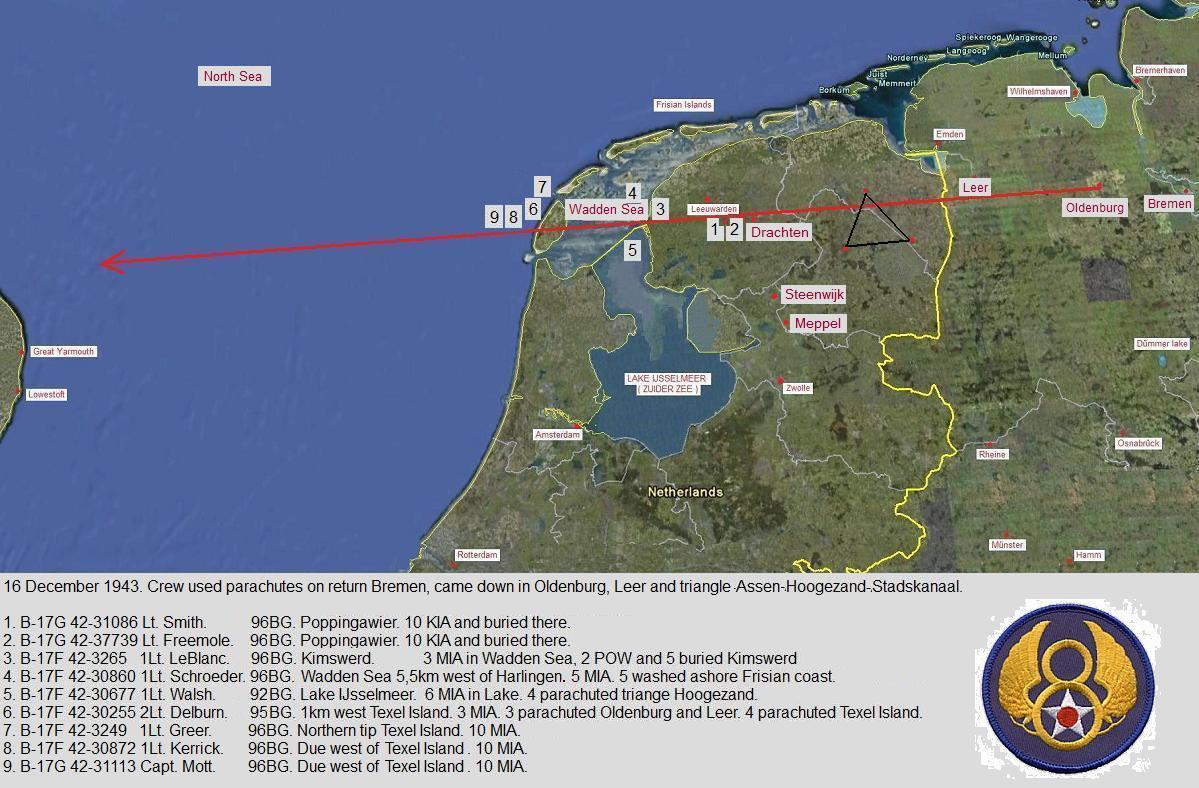 Sources:

- MACR
- Evasion reports








© ZZairwar (Zuyder Zee Air War)