Date: 1943 Dec 16/16
A/C Type: B-17F Fortress
SN: 42-3265
Code: AW-Z
A/C Nickname: Holy Mackeral!
File: 249
Airforce: USAAF
Sqn/Unit: 96 BG - 337 BS
Mission/Raid: Bremen Port area (Vegesack)
1
Pilot
1Lt. Ewing J. LeBlanc buried Kimswerd
9
RWG
S/Sgt. John Mattarochia buried Kimswerd
2
Co-pilot
2Lt. Victor Hovorka buried Kimswerd
10
TG
S/Sgt. George A. Kinney MIA
3
Nav.
2Lt. Kenneth S. Wales Jr. POW
11
4
B
2Lt. Lowell Rogers POW
12
5
E/TTG
T/Sgt. Silvio Martire MIA
13
6
RO
T/Sgt. Peter J. Dudus buried Kimswerd
14
7
BTG
S/Sgt. Andrew E. Coleman Jr. buried Kimswerd
15
8
LWG
S/Sgt. Robert E. Sudbury MIA
16

Lost an engine over the Wadden Sea, 10km W of Harlingen. This was high above the clouds, in an evasive action collision with Lt. Schroeder's B-17 42-30860. Turned back to the mainland, descending. Attacked and damaged further by a fighter. Pilot ordered the crew to jump. The first three men jumped over the Wadden Sea and are MIA since then. Two men landed on the coastline and became POW. 1km SW of village Kinswerd the B-17 exploded. Five crew KIA inside, buried Kimswerd.

2Lt. Kenneth S. Wales: "Texel Flak shot out an engine (*). We turned back to the mainland, but a German fighter persuited us. Sgt. Silvio V. Martire paid him back in full. The German pilot had to jump and landed by parachute outside Harlingen. At 14:10 everybody had to jump. Martire, Sudburry and Kinney jumped over the Wadden Sea. Myself and Rogers jumped just in time because we were really low. At 14:12 the aircraft was hit by a Me-109 again and exploded in the air".

(*) Post war Wales and other sources mention the engine was torn off the wing because of a collision with another B-17 (42-30860 1Lt. Schroeder).

In 1970 Lt. Wales returned to Kimswerd, see website Harlingen in Oorlogstijd (link below).

The five initially buried in Kimswerd were reburied post war in US Cemetery "Netherlands" in Margraten. Four still rest there, Sgt. Dudus was reburied 1949 in the USA.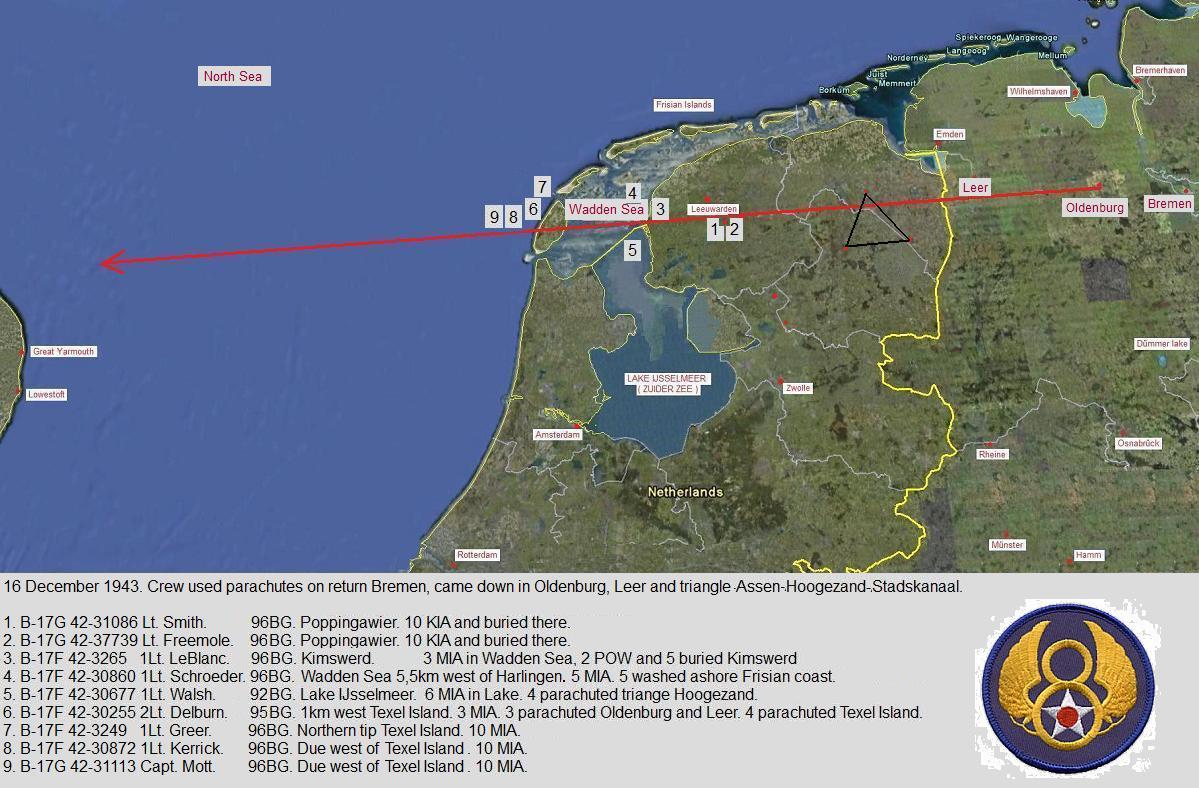 Sources/read more:

- MACR
- http://www.fieldsofhonor-database.com/index.php/american-war-cemetery-margraten-l/52047-le-blanc-ewing-j
- on T/Sgt. Peter J. Dudus: http://www.findagrave.com/cgi-bin/fg.cgi?page=gr&GRid=2661923
- Website Harlingen in Oorlogstijd: http://members.ziggo.nl/netuser/1943_KWales.htm
- http://www.americanairmuseum.com/aircraft/6335






© ZZairwar (Zuyder Zee Air War)