Date: 1943 Jan 27/27
A/C Type: B-24D Liberator
SN: 41-23690
Code:
A/C Nickname: -
File: 264
Airforce: USAAF
Sqn/Unit: 44 BG - 68 BS
Mission/Raid: Wilhelmshaven/Vegesack. Bombed Lemmer.
1
Pilot
1Lt. Nolan B. Cargile MIA
9
Gunner
S/Sgt. Solomon I. Wise MIA
2
CP
2Lt. Kenneth H. Moore MIA
10
Gunner
S/Sgt. Arthur A. Van Cleef MIA
3
Nav
Capt. Oscar H. Wilkinson Terschelling-Margraten
11
4
B
2Lt. Paul H. Keilman MIA
12
5
E
T/Sgt. Saul Suskind Terschelling-Margraten
13
6
RO
S/Sgt. Michael Geriok MIA
14
7
Gunner
S/Sgt. Paul M. Crane MIA
15
8
Gunner
S/Sgt. Verne C. Stewart Terschelling-Ardennes
16

One of the first raids on Germany by the USAAF. Targets in northern Germany were obscured by coulds and bad weather. As alternative target they chose the Dutch town Lemmer! Although many Germans there, the bombs fell behind the town in the fields. A German FW190 fighter with dead pilot (Koch) ran into Cargile's B-24, severed the left wing and tail. Both aircraft went down into the Wadden Sea.


The orange dot marks the crash position in the Wadden Sea. Three men could parachute out just before the aircraft exploded, but drowned. At least 2 of them were recovered and buried in West-Terschelling. Because the aircraft exploded in mid-air, only fragments of crew and aircraft fell into the sea. The 7 men in the aircraft are MIA. A year later, S/Sgt. Verne C. Stewart was also buried in West-Terschelling (red dot on the island on map), possible his remains were found during a recovery of a part of the wreck.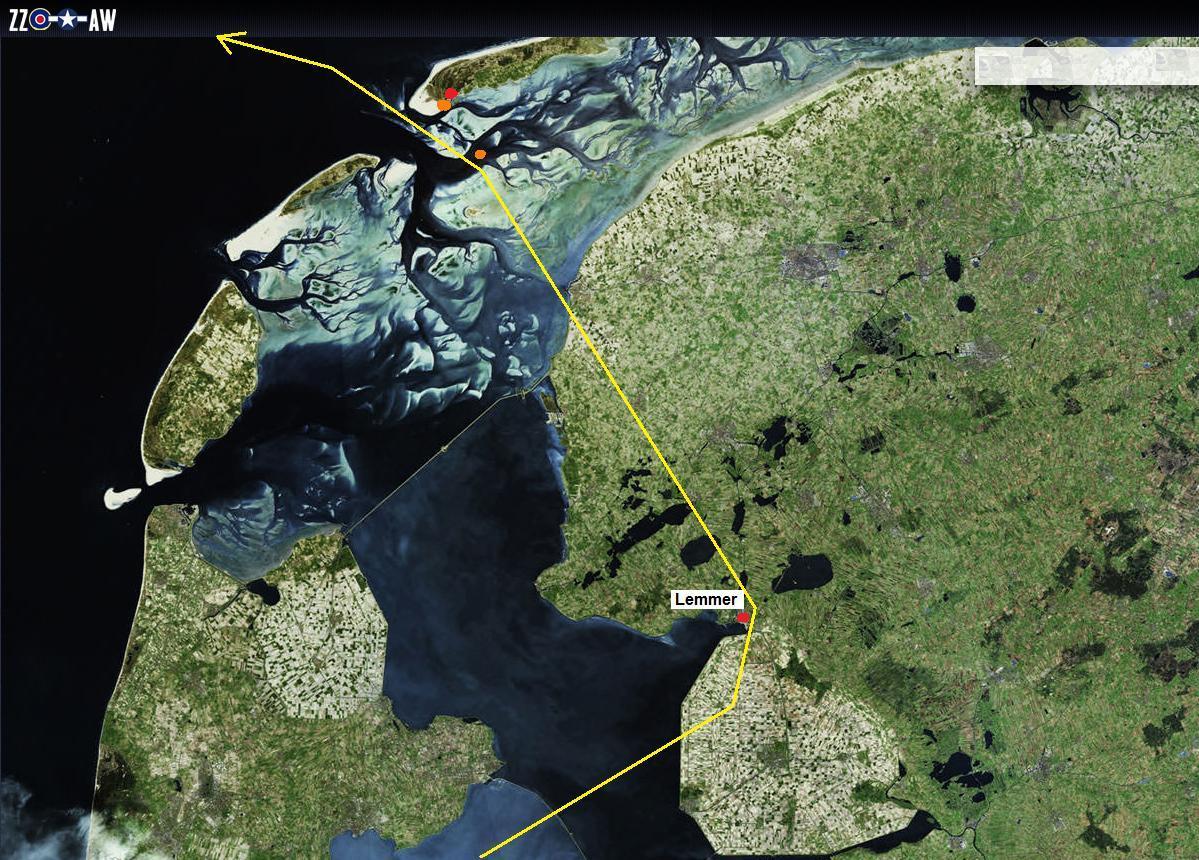 Sources/Read more:

- File on war cemetery Terschelling Island: http://www.zzairwar.nl/dossiers/900.html

- http://www.626-squadron.co.uk/willem21.htm

- http://www.basher82.nl/Data/margraten/suskind.htm

- ABMC

- West-Terschelling 'Longway' Cemetery: can also be found via Search Menu - Search on: Cemeteries - Lake Area Cemeteries - All.






© ZZairwar (Zuyder Zee Air War)