Date: 1943 Aug19/19
A/C Type: B-17F
SN: 42-5392
Code: GN-X
A/C Nickname: Stric Nine
File: 268
Airforce: USAAF
Sqn/Unit: 303 BG - 427 BS
Mission/Raid: Gilzen Rijen Airfield (near Breda, NL)
1
Pilot
2Lt. Lauren H. Quillen washed ashore Zandvoort*
9
Gunner
S/Sgt. Paul W. Abernathy POW
2
Co-Pilot
2Lt. John R. Homan MIA
10
TG
Arthur K. Sauer POW
3
Nav
2Lt. Bevan W. Colby washed ashore Den Helder
11
4
B
2 Lt. William N. Irish washed ashore The Hague
12
5
E
T/Sgt. Eldon F. Richter washed ashore Heemskerk
13
6
RO
T/Sgt. Salvador J. DiCosmo MIA
14
7
Gunner
S/Sgt. Elbert O. Price POW
15
8
Gunner
S/Sgt. Joe H. Brown POW
16

Was damaged by Flak on route back to England. Four men parachuted out and landed on shore at Hook of Holland (POW). The aircraft flew on and ditched in the North Sea off the Dutch coast south of The Hague. 6 KIA of which 4 washed ashore 10 days later. 2 MIA.
* Washing ashore at Zandvoort meant burial in Amsterdam New Eastern Cemetery. Quillen was buried there with name and nr.

Below map shows B-17F 42-5392 'Stric Nine' crash position and wash ashore position of 4 of the crew 10 days later.

The 2 men MIA (2Lt. John R. Homan and Sgt. Salvador J. DiCosmo) can be in the wreck or lost at sea, but we believe they also washed ashore on the same coastline as the other crew, or a bit further north on the Frisian Isles or Frisian coast. In total 20 cemetery where Allied airmen were buried were located north of the crash position. Identification was not possible and they were buried locally as unknown Allied airmen. After the war all unknown military were exhumed. Based on uniform they were recognized as American airmen and transferred to the US Identification Centre in Neuville-en-Condroz, Belgium. When ID failed they were reburied there as 'Known but to God' with washing ashore date on the cross (and rank when found). The washing ashore date of Homan and DiCosmo must lay between August 20 1943 and May 31 1944. The cemetery in Neuville-en-Condroz is today named "American (war) Cemetery "Ardennes" in Neupré.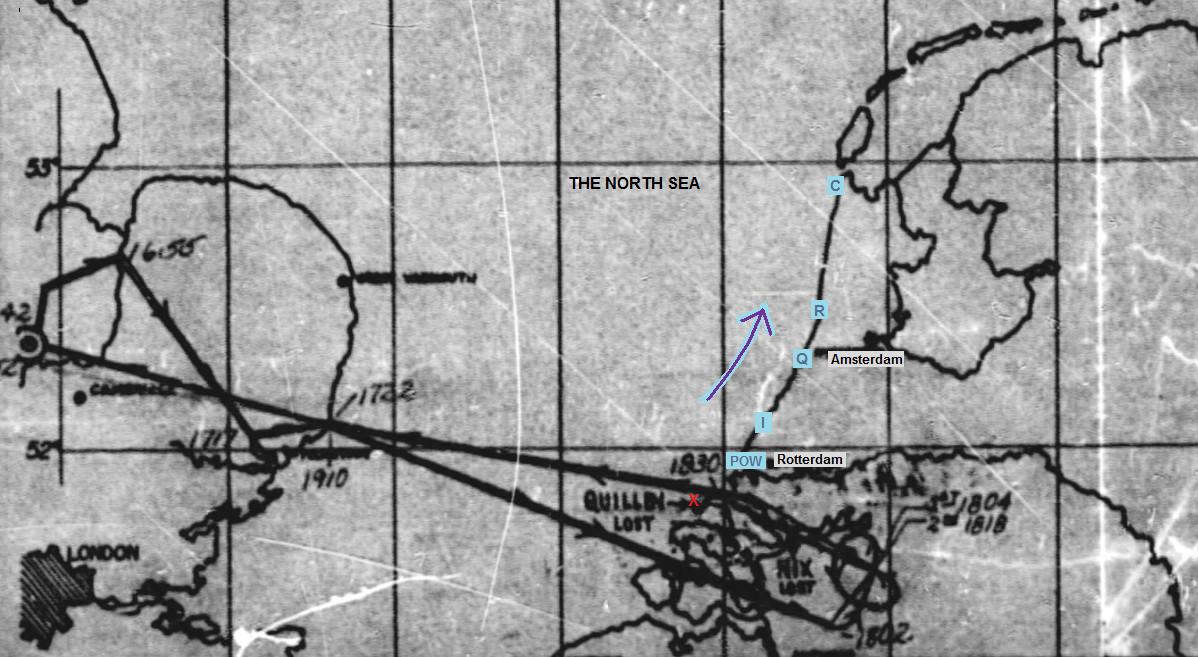 Burial card of pilot 2Lt. Lauren H. Quillen, Amsterdam New Eastern Cemetery 1st Sept. 1943. Buried as 'English militair'.











































Sources/Read more:

- https://sites.google.com/site/wo2vpr1/home/1943-08-19-b17f
- https://airforce.togetherweserved.com/usaf/servlet/tws.webapp.WebApp?cmd=ShadowBoxProfile&type=Person&ID=183163
- http://www.303rdbg.com/427quillen.html
- ABMC
- http://www.americanairmuseum.com/aircraft/8138
- http://www.303rdbg.com/missionreports/061.pdf
- 2012 research of the original WW2 Amsterdam Cemetery burial files.








© ZZairwar (Zuyder Zee Air War)