Date: 1943 Nov 03/03
A/C Type: P-47 D Thunderbolt
SN: 42-7924
Code: QP-F
A/C Nickname:
File: 277
Airforce: USAAF
Sqn/Unit: 4 FG - 334 FS
Mission/Raid: Ramrod Wilhemshaven
1
Pilot
F/O Frank D. Gallion MIA. Found 1995.
9
2
10
3
11
4
12
5
13
6
14
7
15
8
16

When underway to Bremen attacked by group of Me-109s coming from above. F/O Gallion was hit and crashed in Lake IJsselmeer (Old Zuyder Sea) a few km SE of Den Oever. Recovered 1995. His colleague Lt. Moon (KIA) crashed in flames 4 miles to the northwest on land near Hippolythushoef at Oosterland, Wieringen. A third P-47 was damaged but could return to base in England (did not crash at Opmeer).

Well known aircraft in the Zuyder Zee area, because this P-47 with MIA pilot was recovered in 1995, exactly 50 years after WW2 ended in Europe. Wreck was discovered in 1993 and recovery created much publicity in commemoration-year 1995. The first diver below found the remains of pilot Lt. Frank Gallion in the cockpit seat. Via the American identification centre in Hawaii, Gallion was returned to his hometown for burial (read more in the links underneath this page). Remarkable is that the wreck was sold to a German museum in Bad Oeynhausen. It is believed that German Major Kurt Brändle was responsible for shooting down Gallion. Only a few weeks later, Brändle was shot down himself in the North Sea (killed) by Allied fighters that covered the return route of the B-26 Marauder raid on Amsterdam Schiphol airfield.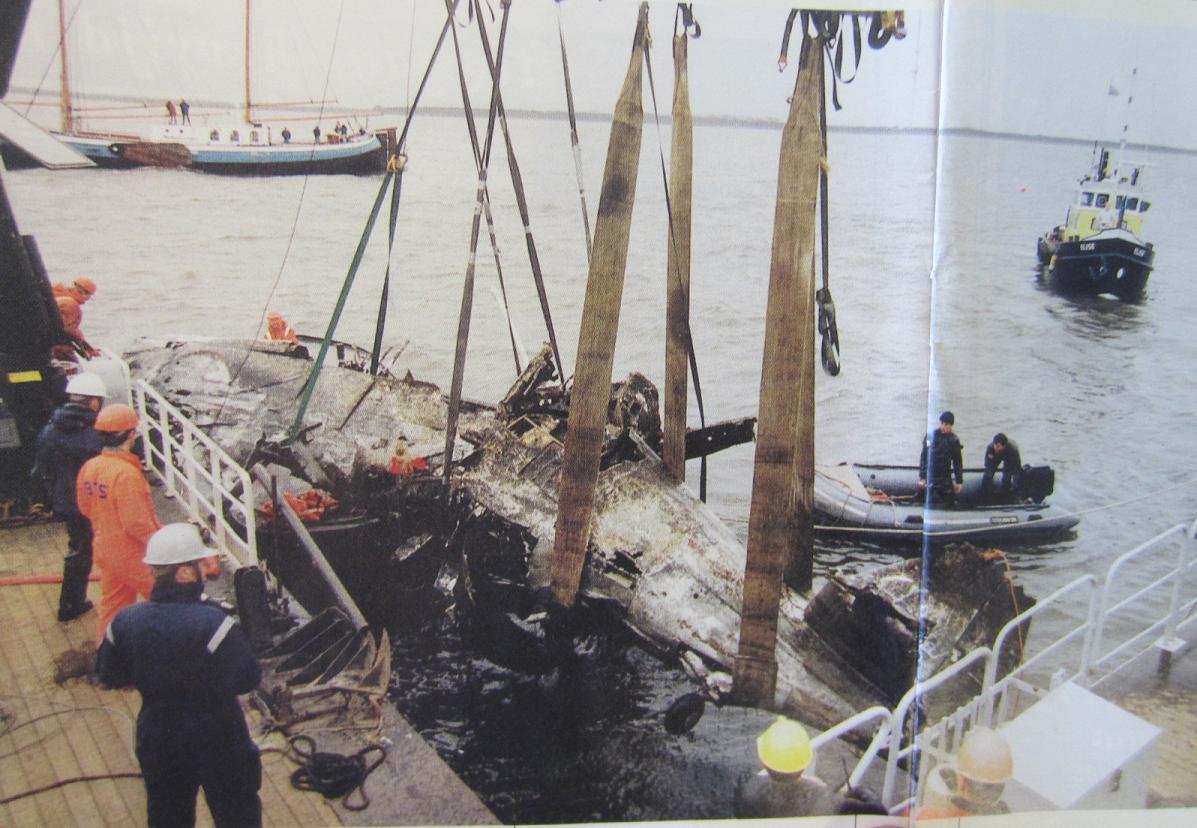 Sources/Read more:

- MACR

- http://aircrewremembered.com/gallion-frank.html

- https://airforce.togetherweserved.com/usaf/servlet/tws.webapp.WebApp?cmd=ShadowBoxProfile&type=Person&ID=156844

- http://www.fieldsofhonor-database.com/index.php/american-war-cemetery-margraten-g/44531-gallion-frank-d

- http://www.pagowirense.nl/wr-his7a.asp

- http://www.nytimes.com/1996/05/28/us/five-decades-later-a-fighter-pilot-s-final-flight-ends.html

- http://www.strijdbewijs.nl/top/v/p-47D.htm

- Motortechnica Museum Bad Oeynhausen Germany: http://www.p-47.info/services.htm









© ZZairwar (Zuyder Zee Air War)