Date: 1943 Dec 11/11
A/C Type: B-17F Fortress
SN: 42-31098
Code:
A/C Nickname: Penny's Thunderhead
File: 284
Airforce: USAAF
Sqn/Unit: 401 BG - 614 BS
Mission/Raid: Emden
1
Pilot
1Lt. Richard H. Kaufman RTD
9
RWG
S/Sgt. Henry L. Bargfrede buried Ameland
2
Co-pilot
2Lt. Fred. B. Robinson Koehool, buried Pietersbierum
10
TG
S/Sgt. Edward W. Masterman MIA
3
Nav.
2Lt. John A. Barrett POW, boat Harlingen
11
4
B
2Lt. Robert G. Fitzgerald RTD
12
5
E
S/Sgt. Howard Shaw buried Terschelling
13
6
RO
S/Sgt. Donald H. Carlson POW, boat Harlingen
14
7
BTG
S/Sgt. Forrest R. Cope MIA
15
8
LWG
S/Sgt. Tage R. Nielsen MIA
16

Came damaged from Emden with a heavy windmilling propeller which shook the whole aircraft. Over the northern Netherlands and above the clouds, pilot Kaufman ordered the crew to jump. But they were over the SW-section of the Wadden Sea and six men drowned, 2 POW.

Last to jump before the pilot, was bombardier 2Lt. Robert G. Fitzgerald. He stood in the doorway and was helped with his parachute by pilot Kaufman. Suddenly all vibration stopped and the aircraft seemed OK except for 2 engines. Together they flew the crippled B-17 back to England (awarded DFC both).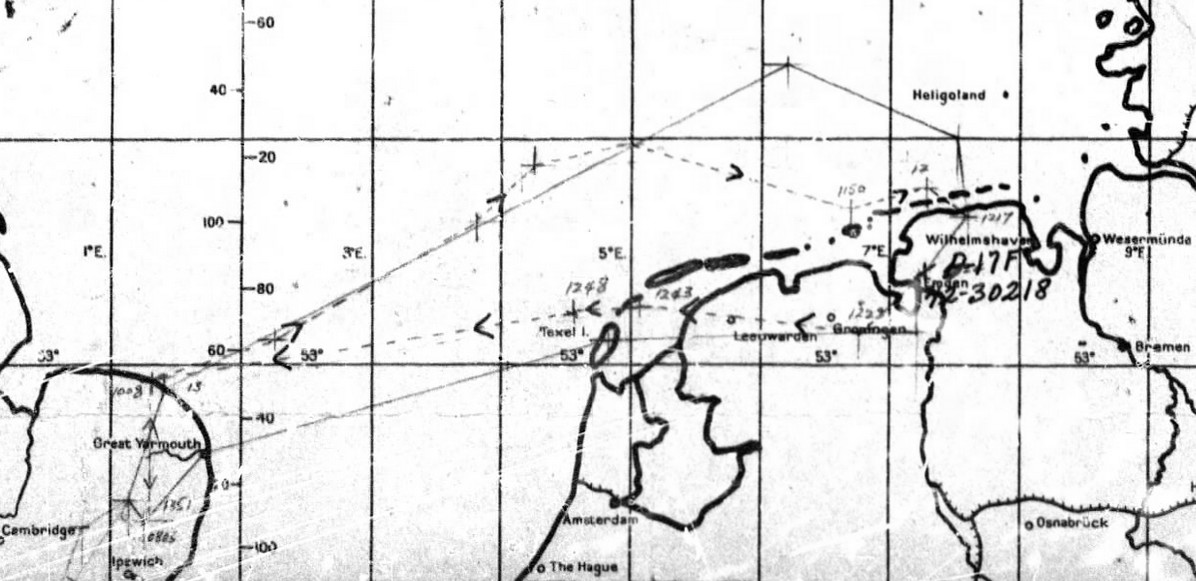 Read in Search Menu Cemeteries, under 'Lake Area Cemeteries' + 'All', our website articles on the initial cemeteries of the washed ashore crew of 42-31098. Ameland for Sgt. Bargfrede, Pietersbierum for 2Lt. Robinson and Terschelling for Sgt. Shaw. The missing (MIA) can also have washed ashore and buried in this region. When post war identified as American (based on uniform fragments), they were moved 1945-1947 to the US identification center in Neuville-en-Condroz, Belgium. When identification failed, they were buried there as airman 'Known but to God'. Today the ID center's cemetery is named American Cemetery "Ardennes" in Neupré.







Sources:

- MACR
- http://www.remember-our-heroes.nl/8711.htm
- http://www.omropfryslan.nl/nieuws/expositie-over-amerikaans-oorlogsslachtoffer-koehool


- File on Churchyard Pietersbierum: http://www.zzairwar.nl/dossiers/895.html






© ZZairwar (Zuyder Zee Air War)