Date: 1943 Dec 22/22
A/C Type: B-24 H Liberator
SN: 42-7554
Code:
A/C Nickname: Tail End Charlie
File: 287
Airforce: USAAF
Sqn/Unit: 445 BG - 702 BS
Mission/Raid: Osnabrück
1
P
1Lt. John H. Allen KIA (the unknown in grave 14)
9
B
2Lt. Anthony L. Destro KIA, grave 14
2
Radio
T/Sgt. Oscar Robbins Jr. MIA *
10
Gunner
S/Sgt. Joseph J. Pavelko KIA, grave 14
3
11
TG
S/Sgt. Everett M. Odom KIA, grave 14
4
CP
2Lt. Elwin J. Bevins Evd. Liberated in Holland 04/'45
12
5
Nav.
2Lt. Joseph F. Gill severly wounded crashsite, POW
13
Gunner
"Otis Wood" = T/Sgt. James C. Owens, 13.
6
Gunner
S/Sgt. Harry L. Henry POW at Mirns (in civil clothes)
14
Grave 13
7
15
8
Eng.
T/Sgt. John R. Elder parachute in lake, KIA. grave 15
16

On return from Osnabruck damaged, flew under the clouds and over the Lake, in trouble. Turned back to the shore line. Tried to belly land onto the upwards sloping meadow. Smashed and slided over Mirns cemetery, pulverizing the belfry and grave stones. Nothing left of the aircraft except small pieces.
.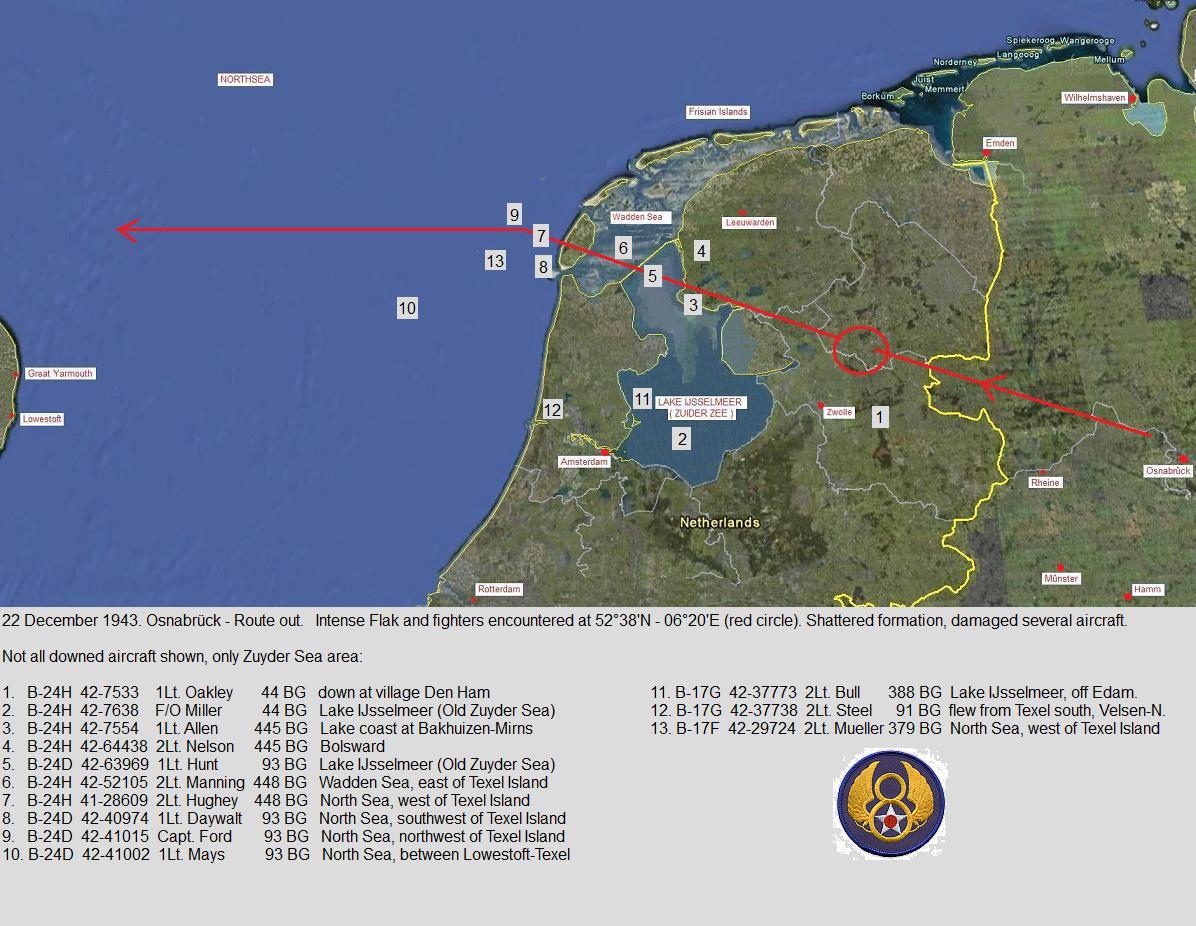 Below: image of the area. Four men parachuted out, possibly five (Robbins). Five men were in the aircraft when it went down. The dead were buried in nearby Bakhuizen.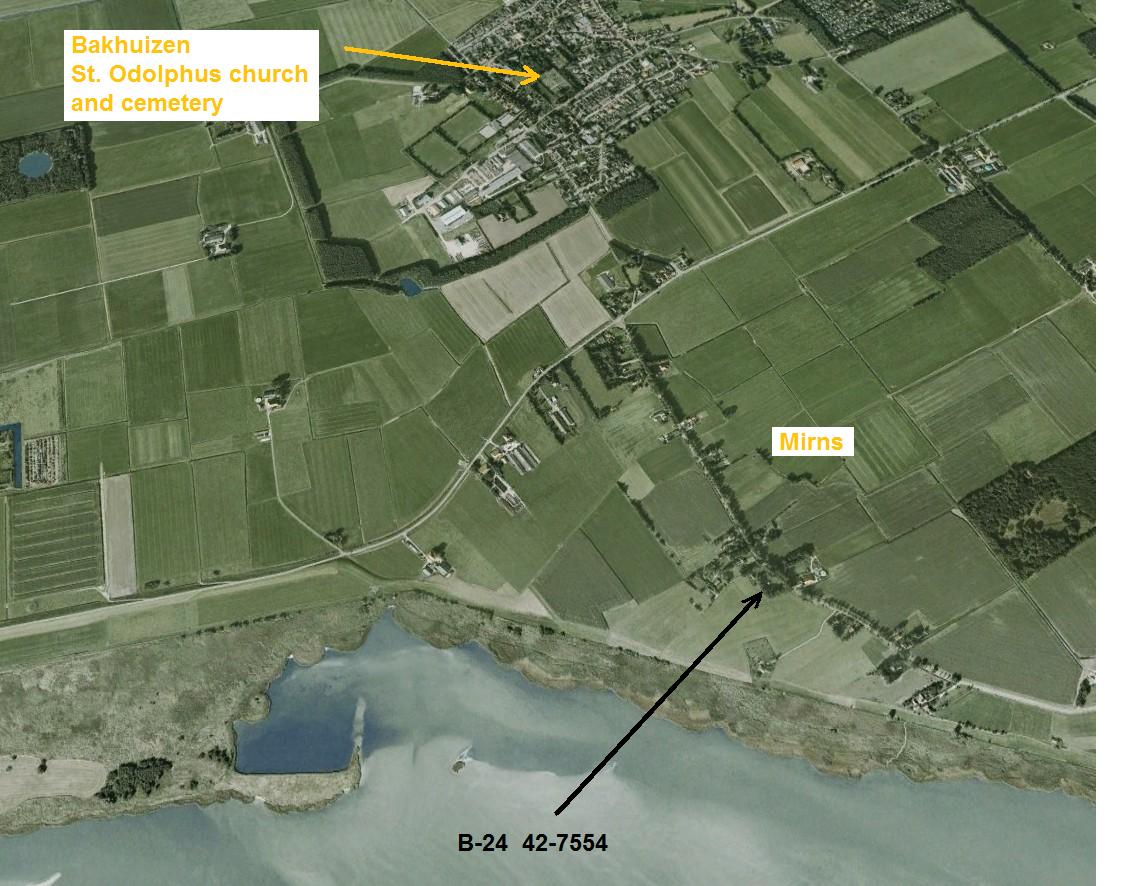 The B-24 slided over this cemetery, cutting down trees, the belfry and grave stones. The belfry on underneath image is a rebuild one. The lake and meadow are visible in the background. After passing the cemetery and a road, the debris of the aircraft came to a stop on a field on the other side of the road. A farmer found 2Lt. Joseph F. Gill sitting here against a grave stone, heavily wounded, but still alive. A priest gave him his last rites, but he survived.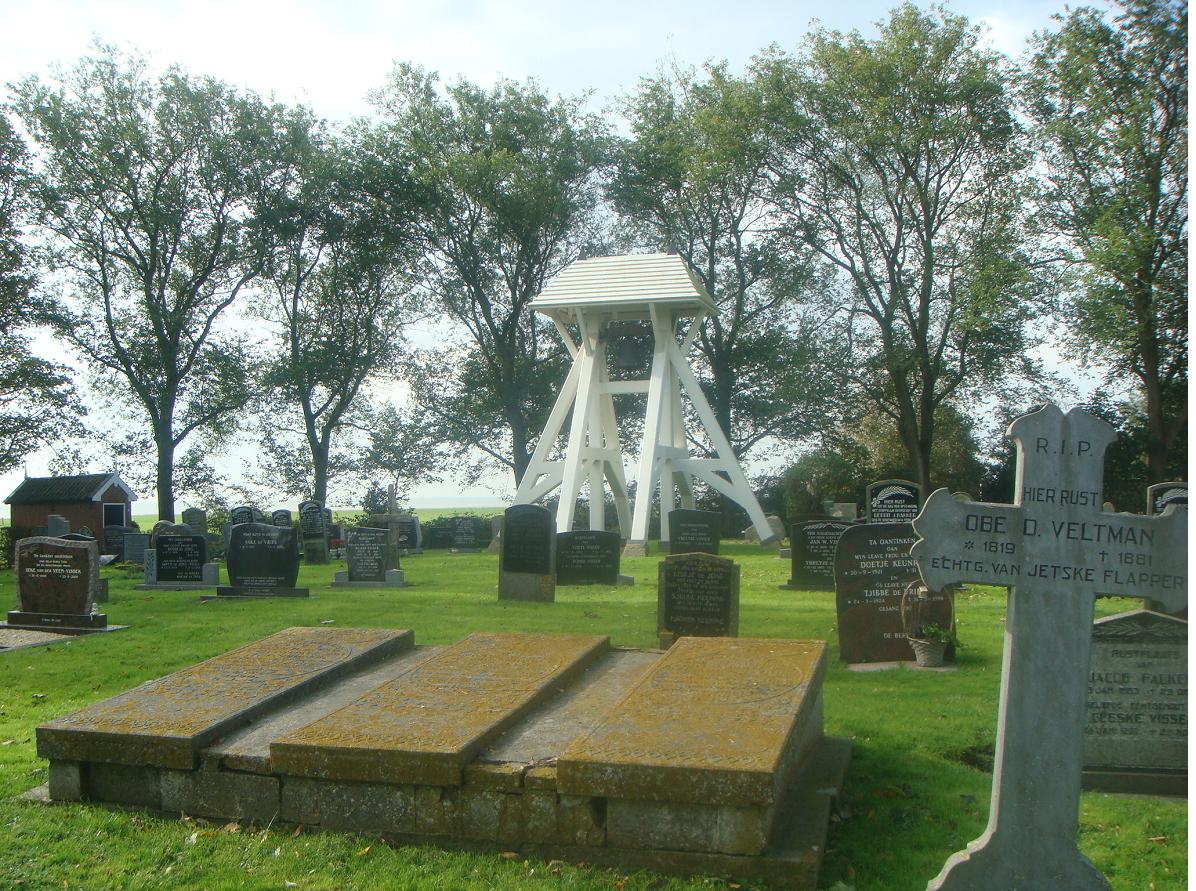 Photo below: Image shows two German soldiers strolling through the remains of (believed to be) Lancaster DV401 (61 Sqn), crashed at Mirns night 02/03 January 1944. However, time, location and scene are very representative for the crash of Allen's B-24H 42-7554. In the front it appears if the canopy of a parachute is covering the body of a crew member (T/Sgt. James C. Owens?).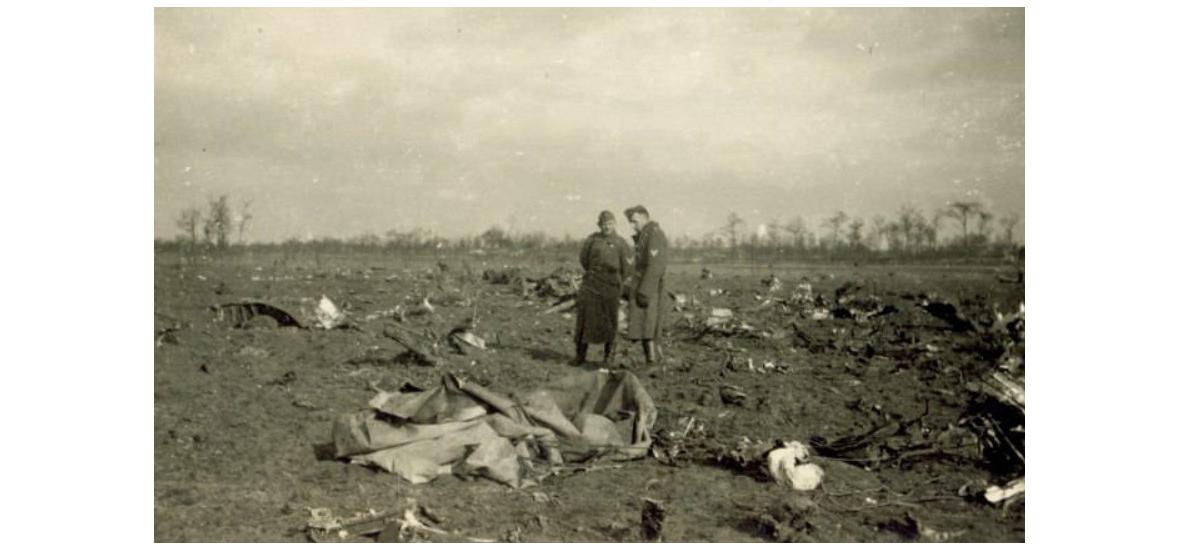 Photo below: St. Odulphus Cemetery in Bakhuizen near Mirns. In the centre the 3 empty graves of the exhumed Americans of B-24H 42-7554.

In the empty grave nearest to the camera (grave no. 13) lay American airman "Otis Wood". The Germans had this name from his bracelet. After the war, he was identified as T/Sgt. James C. Owens. Centre grave no. 14 was a collective grave with one coffin. Inside were the remains of 4 men. The German army doctor could retrieve the name of three of them: Destro, Pavelko and Odom. The 4th corps was heavily mutilated and not identifiable, but a child later found in the meadow the dog-tags of pilot 1Lt. John H. Allen. 4 days after the crash, T/Sgt. John R. Elder washed ashore here and was buried in grave no. 15. No trace ever found of T/Sgt. Oscar Robbins Jr. He was declared dead 5 December 1945. Today his name is on the grave stone on the collective grave of Allen, Destro, Owens and Robbins in Memphis National Cemetery (Tennessee), but we believe this could be ceremonial. S/Sgt. Joseph J. Pavelko rests today in American War Cemetery "Netherlands" (Margraten, Plot M, Row 10, Grave 14) and Sgt. Elder and Sgt. Odom were reburied in 1950 in the US, see the links below this page.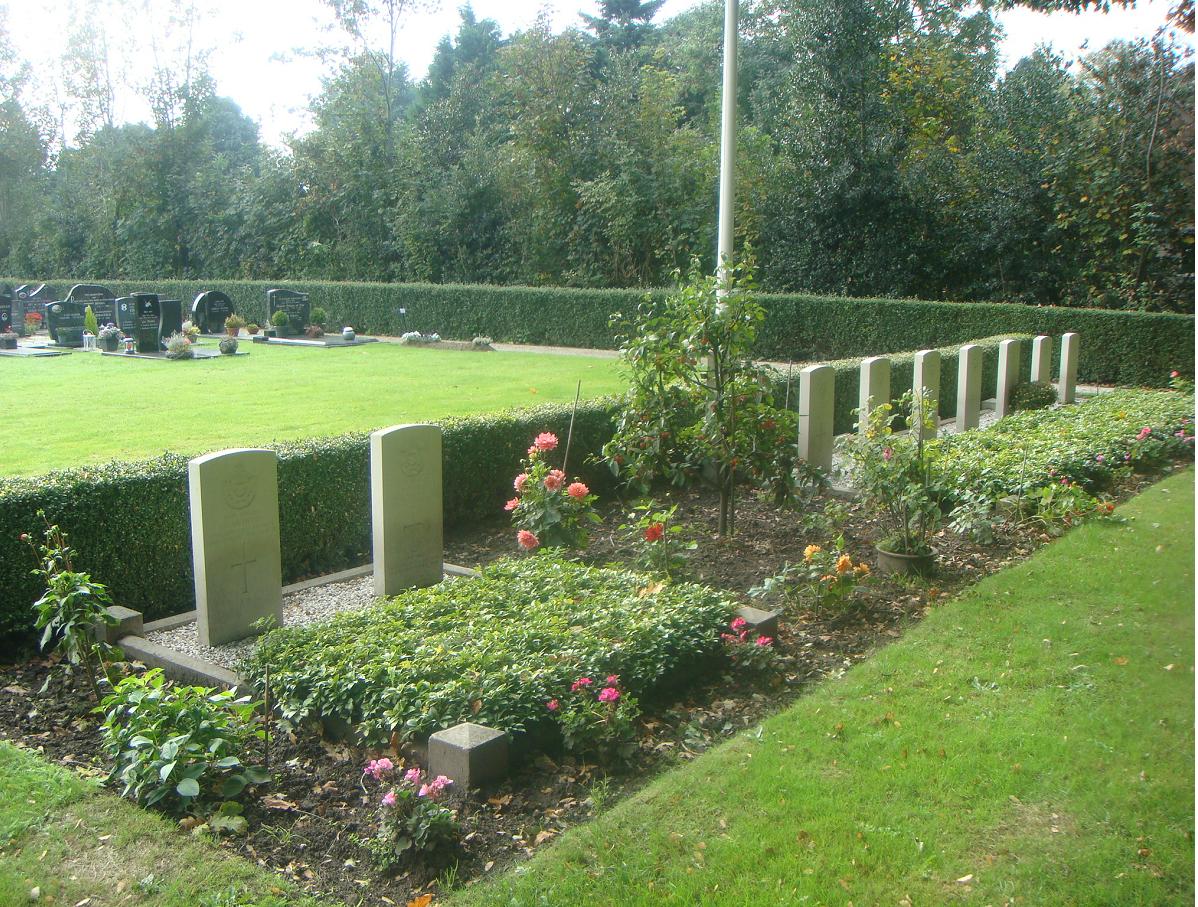 Sources, more info and photos:

- MACR
- See our site page on Bakhuizen-Mirns Cemetery. Search on: Cemeteries - Lake Area Cemeteries - Lake Area inland: Bakhuizen-Mirns.
- http://fb.fold3.com/page/84077167_everett_m_odom/#
- http://www.fold3.com/page/638813292_john_r_elder/






© ZZairwar (Zuyder Zee Air war)