Date: 1944 Mar 03/03
A/C Type: P-51B Mustang
SN: 43-12264
Code: GQ-
A/C Nickname: Sweet Susanne
File: 290
Airforce: USAAF
Sqn/Unit: 354 FG - 355 FS
Mission/Raid: Bomber escort to Berlin.
1
Pilot
2Lt. Horace B. White Evaded, later POW.
9
RWG
2
Co-pilot
10
TG
3
Nav.
11
4
B
12
5
E
13
6
RO
14
7
BTG
15
8
LWG
16

Engine problems over Emden. Returned but came down northwest of Blokzijl, under Blankenham in the Northeastpolder. Evaded but later arrested and became POW in Antwerp, Belgium. POW in Barth in Germany until May 1st 1945.

Lt. Horace 'Hal' B. White hid the remaining of the day and night under a haystack. Came in contact next morning with friendly people and was smuggled out the Polder. Stayed in the house of famous pilothelper Marten Kingma in Vollenhove. He is no. 3 on his list, see below. In fact Lt. White stayed the rest of his underground time in the Netherlands in the care of very active and best organised escapelines that Holland had to offer at that time. Involved leaders were highly decorated after the war, see page bottom.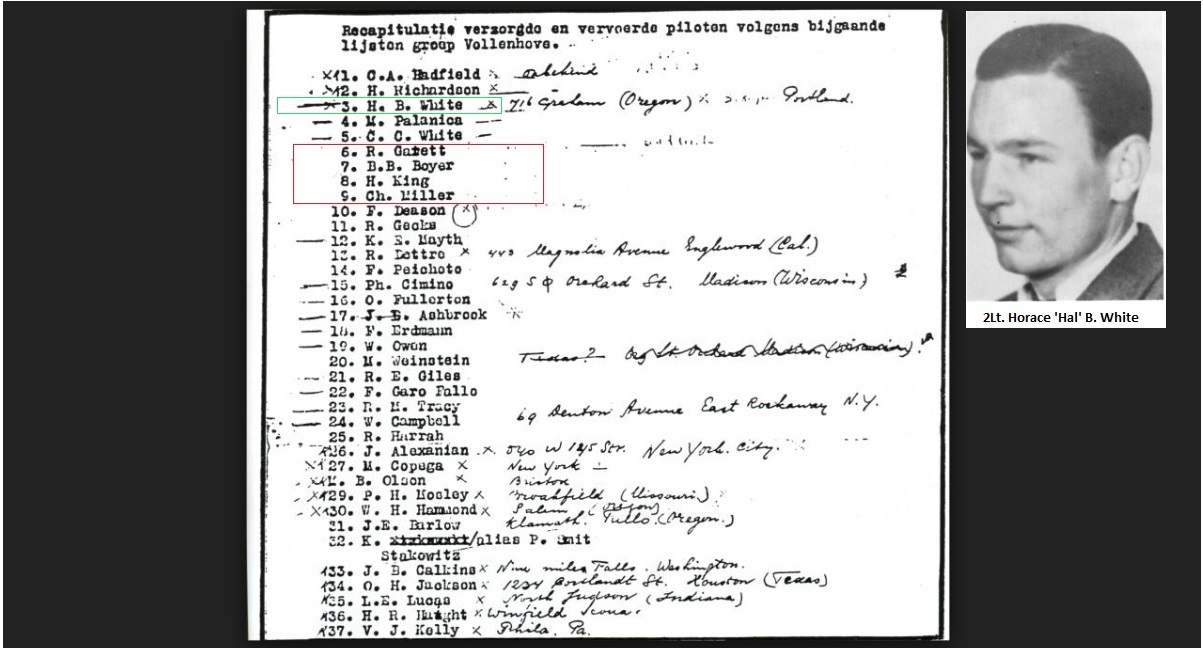 Friesland
Normally the Kingma family delivered their airmen on into southern direction, but in this case Lt. White was moved up north, to Drachten in Friesland. He was guided underway by the young courier Ms. Tiny Mulder. He was sheltered by her boss Mr. Jilles Zylstra and stayed undergound on several locations. In total Lt. White stayed 14 weeks hiding in Friesland, not always to his pleasure. One time he went swimming in Lake IJsselmeer (Zuider Zee). To his surprise and horror, two German soldiers jointed him! In his reports White uses the Dutch swearword for them: "went swimming with two Moffs". The stay in Friesland was much too long for the impatient White. He left twice on his own but had to return. The 3rd attempt was successful. In stead of going south he went east direction of the German border and run into the arms of the Resistance in Drenthe. Lt. White was sent without delay to Amsterdam by train, dressed as Dutchman with false papers name 'Eric Wijt'. Nice touch: 'Wijt' in Dutch is pronounced as 'White'.

Amsterdam
In Amsterdam city a pilothelper group was active under the name "Group Carl". Leader was Dutch police inspector Joop Meeuwis (full name Johannes Adriaan Meeuwis). He used as underground alias 'Carl'. Lt. White did not stay long in Amsterdam. Two members of the group escorted him on a train journey south to Veghel. These helpers were doctor Wim van der Heijden en Henk van Cleef. They dropped Lt. White off in Veghel station on 24 June 1944, he was collected by the Otten family from Erp.

Erp. Underground hiding 'Pyama House'
Two days Lt. White stayed with the Otten family. They have photos of White and drawings made by him of his P-51 "Sweet Susanne".

Dinther to Schijndel
On June 26th 1944, pilothelper Mr. Cor (Cornelius) van Laanen escorted White to village Schijndel, to the home and bicycle shop of Mr. Janus (Adrianus) van Mook.

Boxtel
Underway to the Belgian border in Boxtel, Lt. White was brought together with two other American evaders. They also had came down near Vollenhove (March 23) and had followed about the same escape line White had used. Both had been in the care of the Otten family in Erp just before White was there. The two were crew of B-24 Liberator 42-52587 "Shoo Shoo Baby" (pilot Garret) and were co-pilot 2Lt. Billy B. Boyer and tailgunner S/Sgt. Charles P. Miller. Border crossing into Belgium was made somewhere under Tilburg and they probably went to Turnhout before arriving in Antwerp.

Antwerp
Goal was a short stay in Antwerp and get to Brussels, where the start of the Comet escape line to Spain was. However, in Antwerp the German Sicherheitsdienst (SD) was very active in luring and trapping resistance men and women with their Allied evaders into false safehouses. They probably fell into the hands of traitor Prosper de Zitter. Fact is they became POW in Antwerp in July 1944.

POW Camp Barth, back to Schijndel.
On the 1st of May 1945 the Russian Army liberated the Stalag in Barth. On the 1st of June 1945 Lt. Horace White was back in the USA. However, somewhere mid May 1945 White accompanied by three other Americans returned to the Mook family in Schijndel. He was very angry and pointed a revolver on the family. He accused them of treason and turning him over to the Germans. Finally the village priest could calm him down, explaining that the traitor probably had to be in Antwerp. After that they left the house. Mr. Adrianus van Mook's actions were later investigated and he was deemed clean. For his help sheltering pilots in his bicyle shop he received the Eisenhower Certificate grade 5.










Leaders of the escape line that also Lt. Horace White used:

- Mr. Harmen Kingma, Medal of Freedom.
- Mrs. Tiny Mulder, Medal of Freedom, with silver palm.
- Mr. Jilles Zijlstra, Medal of Freedom.
- Mr. Johannes Meeuwis, Medal of Freedom, with bronze palm.
- Dr. Wim van der Heijden, Medal of Freedom.
- Mr. Henk (Hendrik) van Cleef, Medal of Freedom with bronze palm.
- Mr. Harry Otten, Medal of Freedom with silver palm.
- Mr. Cornelius van Laanen, Medal of Freedom.




Sources:

- Website Noordoostpolder in Oorlogstijd http://www.nopinoorlogstijd.nl/mustang-sweet-suzanne/
- Book "Pyama House" by Dr. Frans Govers, 1992.
- MACR



.




© ZZairwar (Zuyder Zee Air War)





Below shows at cross 6°E - 53°N last contact postion and crash position at red X.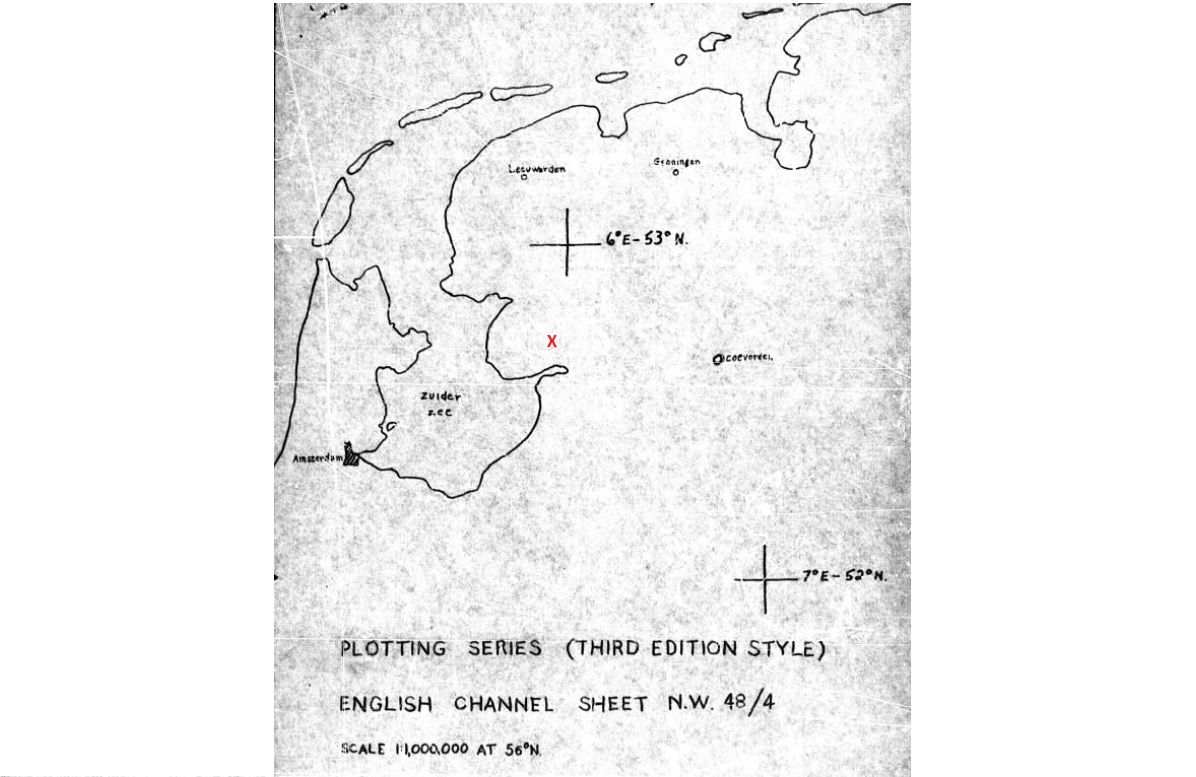 .