Date: 1944 Jun 21/21
A/C Type: B-24H
SN: 41-29124
Code:
A/C Nickname: Connie
File: 332
Airforce: USAAF
Sqn/Unit: 446 BG - 707 BS
Mission/Raid: Genshagen
1
Pilot
2Lt. John D. Nicholson
9
RWG
Sgt. Peter A. Bausano POW
2
CP
2Lt. Jimmie D. Collins III MIA (burned in wreck)
10
TG
Sgt. Jay A. ter Haar
3
Nav.
2Lt. Raymond L. Fisher today buried Arlington
11
4
B
2Lt. Robert C. Steldt
12
5
E
S/Sgt. Welborn H. Smith today buried USA
13
6
RO
S/Sgt. Edward M. McHugh MIA (burned in wreck)
14
7
BTG
Sgt. George J. Zweier
15
8
LWG
Sgt. Warren E. Smith
16

Had engine problems on return north of the Frisian Isles. Left formation and turned left (south) over the Southern North Sea. Entered Holland again at the North Sea coast at IJmuiden. Flew low (1500 ft) with landing gear down in direction Schiphol airfield but was shot down in flames by German light Flak. Crashed and burned north of Hoofddorp. 9 KIA, 1 POW.


Initially the crew was buried in Hoofddorp cemetery; the cemetery north of Hoofddorp on the road to Lijnden.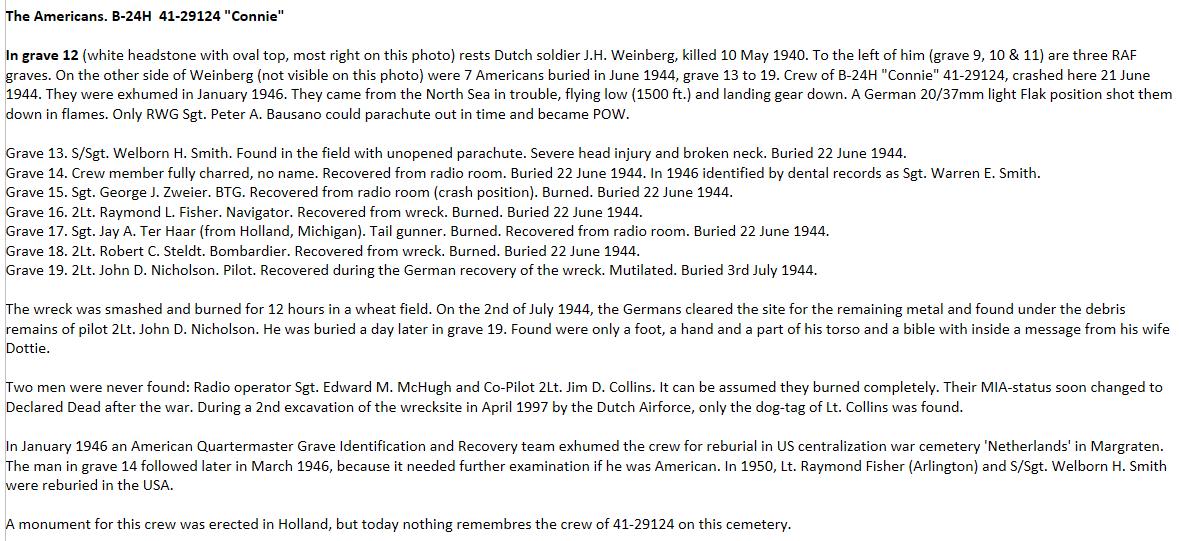 In year 2000 the northern tip of the 6th and largest runway of Amsterdam Schiphol Airport was constructed over the crash site. A name contest for the new runway was organized and the name 'Polderbaan' was selected. An appropriate name would have been also 'Nicholson Runway' or 'Collins-McHugh Runway'.






Sources/read more.

- Airwar Museum CRASH '40-'45. Address: Fort near Aalsmeer, Aalsmeerderdijk 460, 1436 BM - Aalsmeerderburg, NL.
- Site ABMC
- Book: "De Bommenwerper Connie" by Hans Smulders, 2003 (Foundation Netherlands-United States).
- MACR on 41-29124
- Our research on the Hoofddorp war graves (see Search Menu - Lake Area Cemeteries - Other Cemeteries in Area - Hoofddorp).
- http://amsterdam.usconsulate.gov/missing_man.html
- Recovery photos April 1997: http://www.nfla.nl/29124.html




- Cemetery file on Hoofddorp: http://www.zzairwar.nl/dossiers/941.html





© ZZairwar (Zuyder Zee Air War)