Date: 1944 Nov 26/26
A/C Type: B-17G Fortress
SN: 42-102565
Code: 3 O-M
A/C Nickname: The Ugly Duckling
File: 339
Airforce: USAAF
Sqn/Unit: 398 BG -601 BS
Mission/Raid: Misburg (Hannover) & Altenbeken Viaduct
1
Pilot
1Lt. Benjamin G. Rolfe Urk
9
TG
S/Sgt. Thomas S. Pozder Amersfoort
2
Co-Pilot
2Lt. Paul E. Doyle Urk
10
3
Nav.
2Lt. Vernon D. Anderson Elburg
11
4
B
S/Sgt. Richard W. Rimmer Urk
12
5
Eng.
T/Sgt. Joseph M. Price Harderwijk
13
6
BTG
Sgt. James B. Coulson Nunspeet
14
7
RO
S/Sgt. Frank Iaconis MIA
15
8
BTG
S/Sgt. Arthur P. Schmidt Elburg
16

Returned from Misburg. Hit by Flak under the left wing at Zwolle (Netherlands). Reported a runaway propeller. Had to drop out formation. Made a left-turn over the East side of Lake IJsselmeer (Old Zuyder Sea) direction south towards own lines (liberated part of NL, Belgium, France). Possibly lost more power or downed by German fighters that waited for a straggler. Crew jumped over the Lake, all 9 KIA and washed ashore up to 7 months later. S/Sgt. Iaconis is still MIA.

All crew jumped and died of exposure in the very cold water. They washed ashore months later. Initially buried in Urk (3 men), Elburg (2 men), Harderwijk (1), Community Ermelo cemetery Nunspeet-Oost (1) and via Bunschoten in Amersfoort/Oud-Leusden "Rusthof" cemetery (1).

Recovery of this aircraft and its identification has never been reported, but it is possible that parts were recovered from the water in the period 1946 - 1956. Furthermore sources state that wreckage of a B-17 were found in polder East-Flevoland when in early development (1959) near Elburg (See images below this page). This location is consistent with the route flown and the washing-up locations of the crew. The aircraft remains were then not identified and scrapped.

November 20, 2017, new info: Crash location of B-17 42-102565 'the Ugly Duckling' determined!

This B-17 came down as expected in Lake IJsselmeer (Old Zuyder Sea) between Harderwijk and Elburg, not far from shore. The wreck lay in the way of shipping and fishing and was reported to the Dutch Government with request for recovery. The location got no. 93 on the map. Recovery was done in 1947 by a unit of the Dutch Navy, who barely had any equipment left after WW2. Identification of the wreck was not the goal and not pursued, just a rough clearing the location was ordered. Reported by the Navy was that it was a B-17. Recovery was performed crudely (only larger parts) with help of one standard suit heavy diver with copper helmet and a crane. Position was exactly recorded, coordinates in latitude and longitude are exact up to the minute.

Thanks to Mr. Rutger Kuiper (article below this page) we know that in July/August 1959, in the reed fields of new polder Flevoland, in the Z-section, he discovered wreckage of a B-17: with the remains of a man (this can be the missing radio operator Frank Iaconis.). In the map of the Z-section are three locations marked with an X where aircraft were found. One X matches exactly the Navy-position from 1947. Location is south-east Biddinghuizen, kavel (sub-section) Z-14 and Z-34, crossing Alikruikweg-Bremerbergweg.

In 1959, according to eye witness Mr. Kuiper, the find of human remains halted the excavation of the B-17 wreckage. Only civilian prospectors were present, but contact was made with the Dutch Army Grave and Identification Service. Next day, two men of this service safeguarded the remains and took them away. Nobody knew the identity of the B-17 nor the person, but we know now that these must have been the remains of S/Sgt. Frank Iaconis. We expect he is buried as unknown soldier in American Cemetery 'Ardennes' in Neupré, Belgium. We recently reported these finding to the US Defence POW/MIA Accounting Agency.


Raid Map 26 November 1944: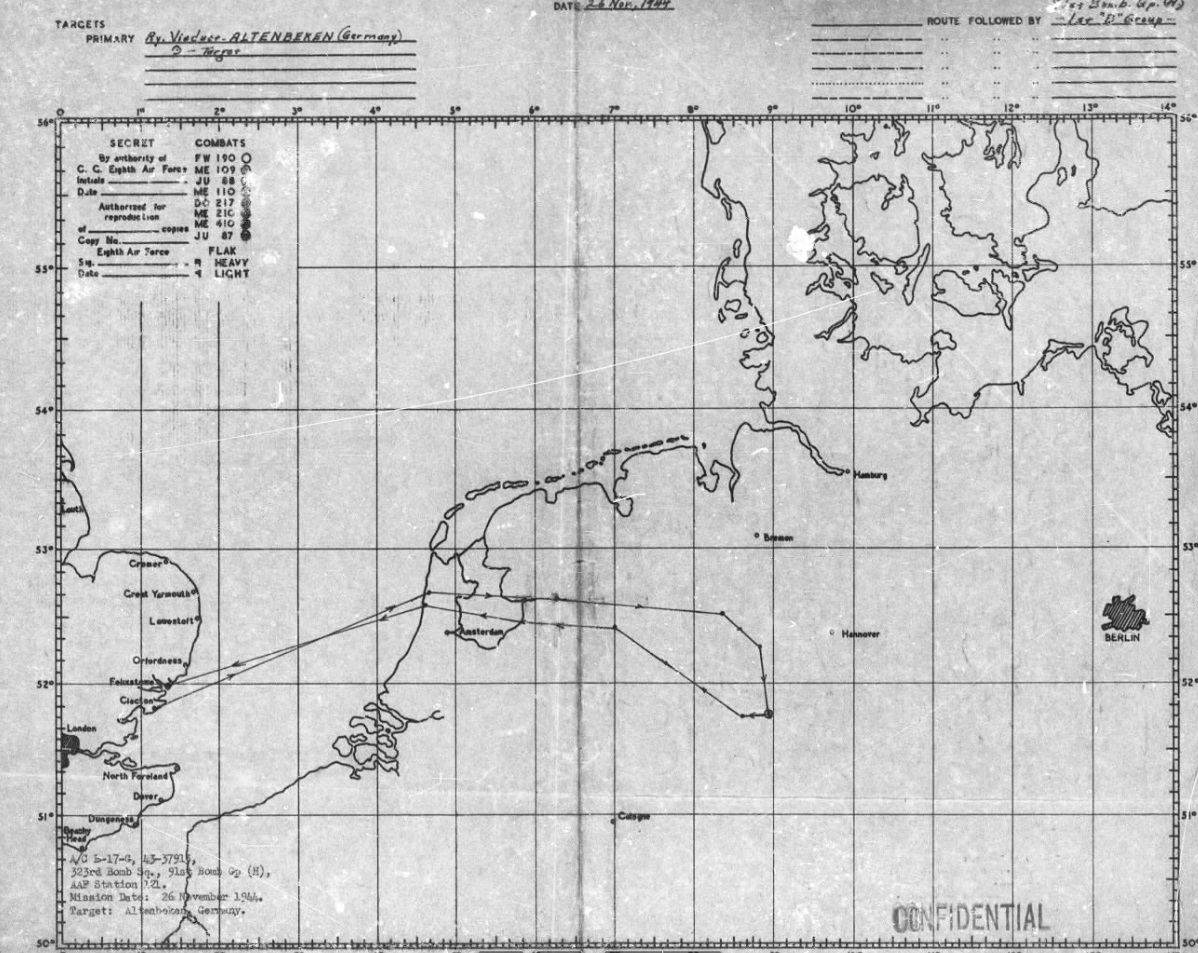 Map below. Reconstruction of the last minutes of the Ugly Duckling.
Aircraft came from direction Zwolle, turned to south over the Lake, but soon problems intensified. Based on the more northern washing ashore position and time elapse (June 1945), it seems that co-pilot Paul E. Doyle, navigator Vernon Anderson and bomb aimer Richard Rimmer jumped the most outward over the Lake. Pilot Benjamin Rolfe turned east again direction lake coast, possibly to let the others in the crew jump closer to shore. He, Thomas Pozder, Joseph Price and Arthur Schmidt were recovered by boats close to shore in March and begin April 1945, followed by BTG James Coulson who washed ashore 23 April 1945 near the finding position of Schmidt.

Winter. Water temperature.
On November 26th 1944 the water was already very cold and all succumbed within 30 minutes. They sank to the Lake bottom despite inflated Mae West which had not enough buoyancy to keep the heavy USAAF flying gear on the surface. On the bottom the bodies in the thick flying overalls were preserved because of the cold and stayed in position. In December 1944 water temperature dropped to near freezing point and especially in January 1945 it was cold with 20 days freezing temperatures. February and March 1945 were mild, the water temperature rose, allowing gas-forming elevating corpses to the surface. This occurs fastest in shallow water and made that four of the crew were recovered in March/April 1945; Engineer T/Sgt. Price March 11th (buried Harderwijk), pilot Lt. Rolfe on March 17th by boat from Urk (Ab 'de Schilder'), TG S/Sgt. Pozder March 25 (boat Bunschoten BU 165, Blokhuis) and WG S/Sgt. Schmidt on Friday 6 April 1945 (boat Elburg EB60, Hein and Jan Janssen). Schmidt was attached to his unfolded parachute. The men in deeper water came to the surface later. The wind and waves let their bodies wash ashore 9, 17 and 29 June 1945.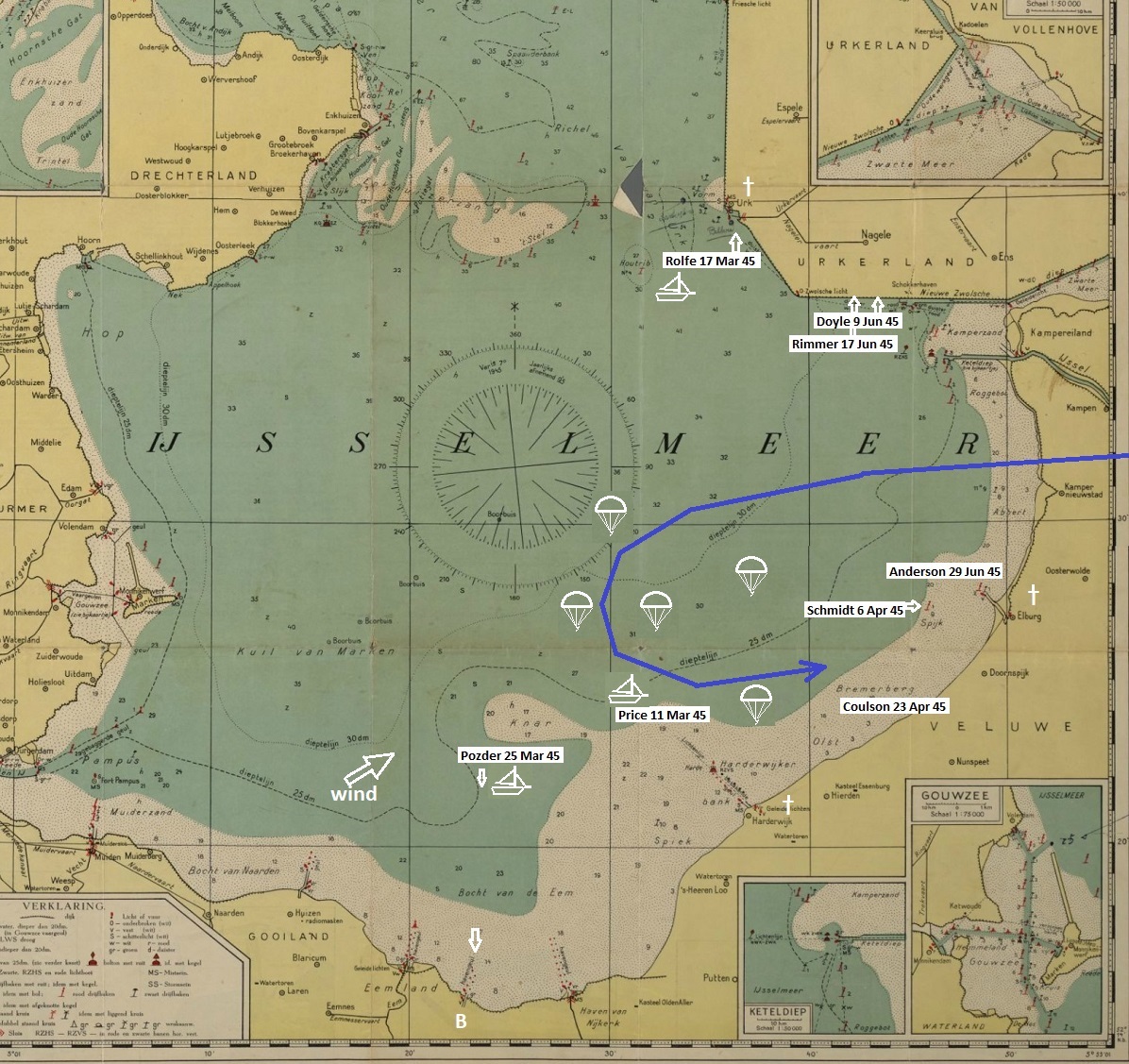 German surrender in Holland May 5, 1945. Four men of the crew buried by Germans just before German surrender.
The four crew buried in March and April 6st 1945 (Price, Rolfe, Pozder & Schmidt) were buried under German control, a month before German surrender in Holland May 5.

Body Sgt. Coulson found by advancing Canadian Army.
On 19 April 1945 a spearhead of the Canadian Army fought itself to Nunspeet and the Lake coastline there, left and right flanks were still German held and frontine. Four days later, on the liberated strip of coastline at camping 'de oude Pol', the body Sgt. James Coulson was found by a reconnaissance unit of the 1st Canadian Infantry Division.

Buried in liberated Holland, June 1945
Three men washed ashore in June (summer) 1945, five to eight weeks after the German surrender: Lt. Doyle, S/Sgt. Rimmer and Lt. Anderson. They were buried with full military honor by the Dutch resistance, under Allied supervision.

=================================================

Missing since 26 November 1944
The moment B-17 The Ugly Duckling went under the clouds, the aircraft and crew went missing and nothing was heard for months. An American officer who investigated the missing bomber concluded it might have flown on south and crashed near the front line at Ameln in Germany (see further below). In March 1945, the first three crew members were recovered from Lake IJsselmeer near Kampen-Zwolle, exactly where the B-17 was seen last. The mistery began to solve. The B-17 in Ameln was another aircraft.

Lt. Benjamin G. Rolfe
Among the first men recovered was pilot Lt. Benjamin G. Rolfe. He was found by Urk fisherman Albert Koffeman on 17 March 1945 and buried on the island Urk next day. Via the Red Cross and German Army -American military casualty reporting channels, Mrs. Rolfe in the USA received spring 1945 the news, but the message was not very specific. She wrote a letter to the Burgomaster of Urk and the American Consul in Amsterdam, which Burgomaster Geert Keijzer both answered. There is a rumour that Lt. Rolfe's mother took action directly and travelled to Europe and Urk herself to visit her son's grave, or organised a representative to make the journey. We do not know if this is true, but three months later a special guest was in Urk.






























Burial co-pilot 2lt. Paul E. Doyle
Almost 3 months after Lt. Rolfe's funeral on Urk, the body of his co-pilot was found against the dike Urk-Kampen under Nagele, 9 June 1945. At that time the North of the Netherlands were still policed by the Dutch resistance. They had an immense respect for the Allied Air Forces, whom they had seen fighting night and day for five long years. Between Burgomeister Keijzer and his wife and daughters walked an unknown woman in black. Some sources say the well dressed younder woman is Mrs. Rolfe and a daughter, but we do not know if this is correct. No photos exist of Lt. Rolfe's funeral, but S/Sgt. Richard W. Rimmer who was buried here 18 June 1945 had the same funeral as Lt. Doyle below.

Saturday June 10 1945 was the funeral. Present was Dutchman Mr. Hein Grosse-Hamberg. He made photos of the event and sent them to Doyle's parents.
Mr. Grosse-Hamberg died in 1980. Never spoke about the event for the rest of his life. His children never learned the story or saw the photos. They only knew he was with a boat on the Lake after the war. Below accompanying letter with the photos which Mr. Grosse-Hamberg sent to Lt. Doyle's father and mother, letter dated 19 June 1945:

"Dear Unknown",
"Hereby I send you some snapshots which I have taken of the funeral of your son. He is buried on Urk, Holland, a little island where people with a total number of about 4000 are living from fishing. It was by accident. I was staying there for I made a cruising trip with a yacht. Urk is now connected by a dam with the mainland. Your son was drifted ashore on Saturday, June 10, 1945 and people thought he must be perished 8 or 9 weeks before. I can tell you the funeral was very solemn and the Dutch people looked with tears in their eyes. The coffin was carried by members of the Dutch Interior Forces and behind the coffin walked two officers of the R.A.F. A clergyman spoke at the graveside and talked of the supreme sacrifice of your son's life which was given also for our liberation. There were many flowers and the weather on that afternoon was good.
The cemetery is a civil one and lays beside the church. In the corner where your son is buried, with some other militaries, you can see the sea and this point is about 60 feet above the sea level. In the immediate neighborhood there is a lighthouse whose rays of light are shining over the cemetery. If you desire more snapshots or other information I will give you all you wish. being a partner of your sorrow, I'am praying".
Yours,
H. Grosse Hamberg.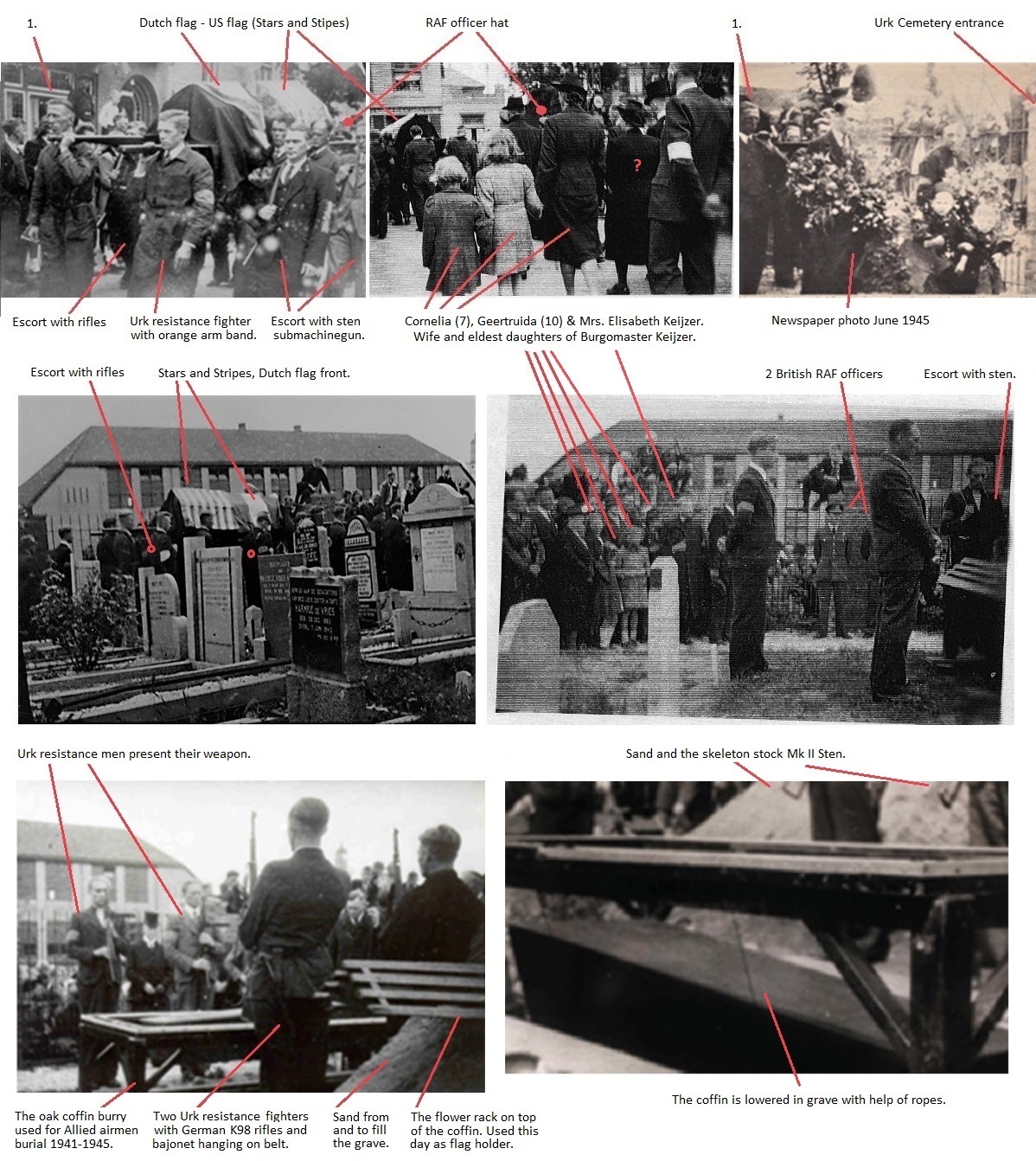 Commemoration

The 398 Bomb Group had its base in Nuthampstead, UK. In nearby village Anstey is the St. George Church, which has a stained glass window named "The 398th Memorial Window". The squadron logos are in the window with names of the fallen around the logos, names etched on butterflies' wings. See for color photos the website of the 398th Bomb Group: http://www.398th.org/Images/Images_Association/Text/398th_Window_Anstey.html







































Ameln.
Interesting is the conclusion of an USAAF officer investigating the case in 1946. According to him B-17G 42-102565 was on autopilot when the crew had to jump. The aircraft flew on south to Ameln in Germany and crashed near the front line. He connected the German report on this crash to Rolfe's B-17. Other publications followed suit. Below our map of this interpretation, but the Ameln B-17 was the 43-37571.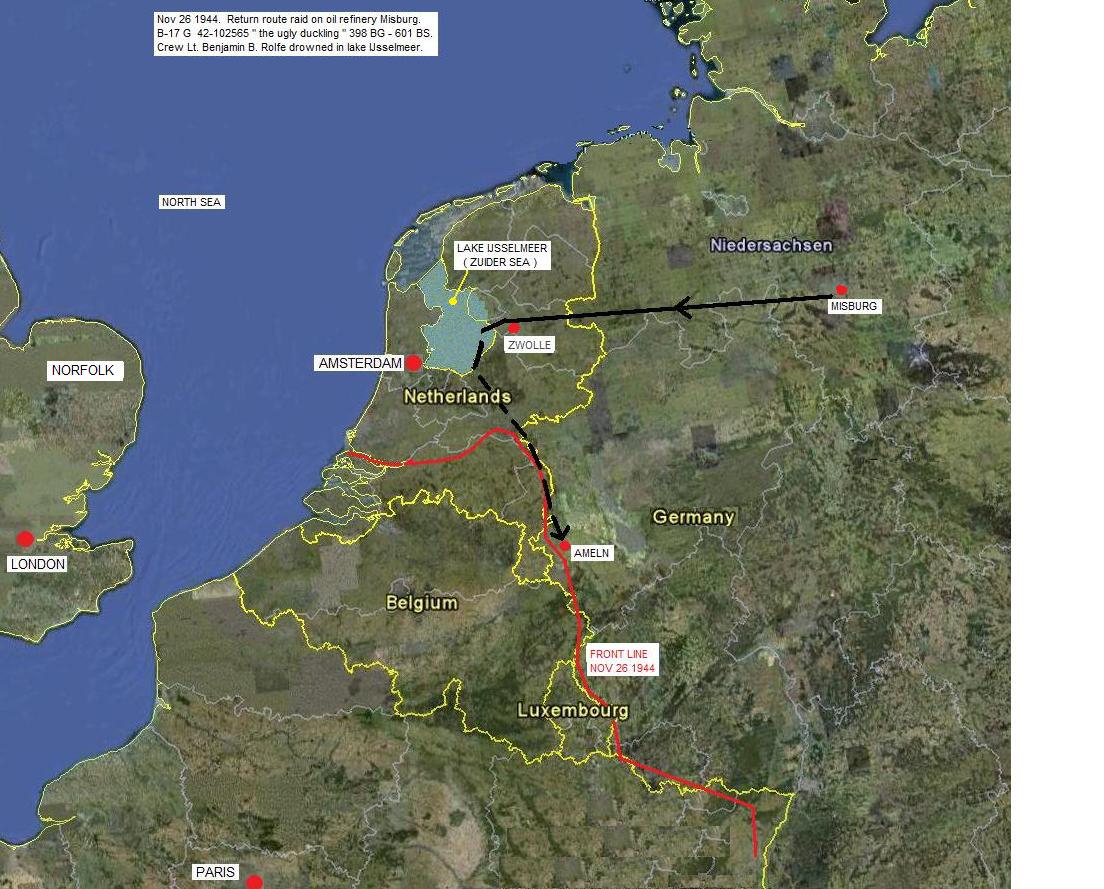 Air war researcher PATS remarks that 'Ameln' in the American Ugly Duckling MACR-file, can be a mutilation of the Dutch village 'Ermelo'. A Dutch village very nearby the Lake IJsselmeer coastline where the Ugly Duckling crashed.







Below. Eyewitness report 1959.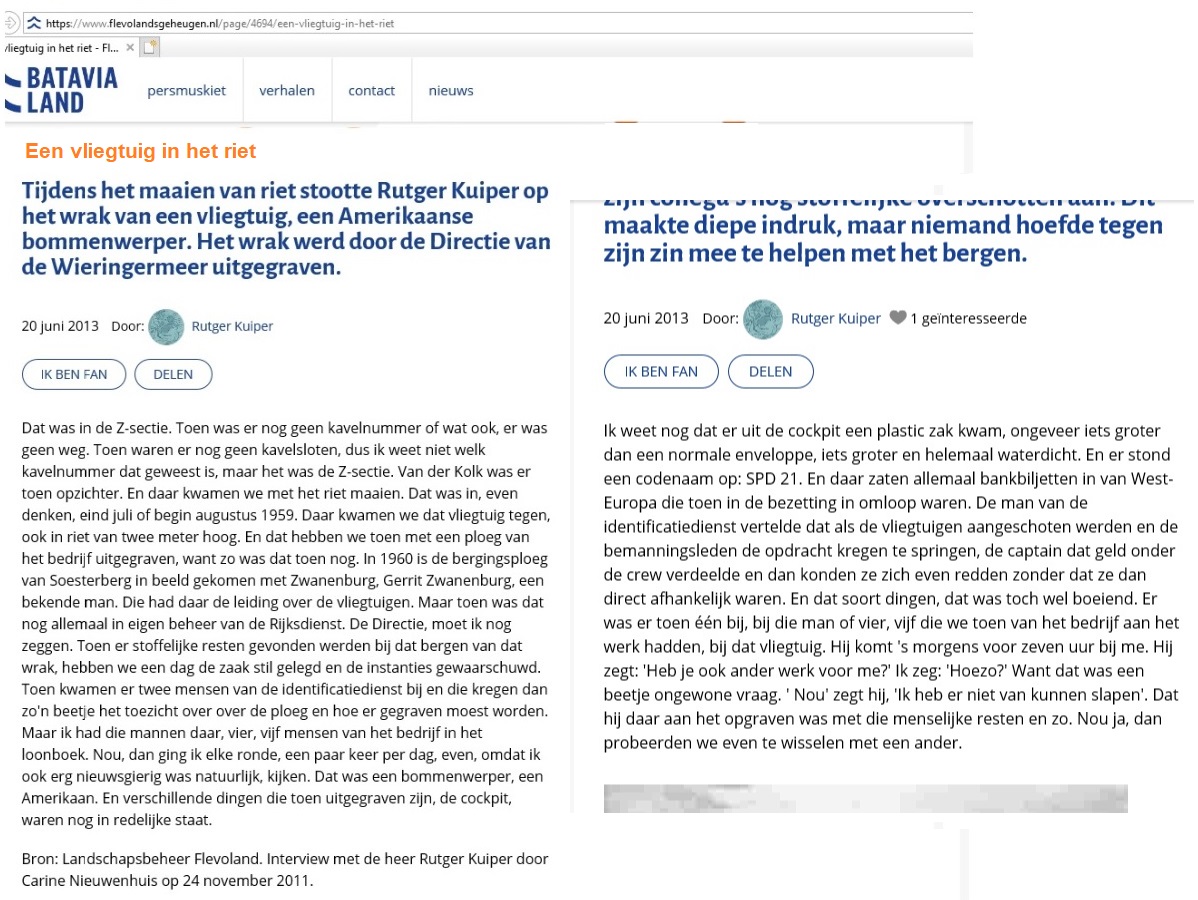 Below. Early maps indicating position.



































Four photos on the 398BG website: http://398th.org/Images/Images_Aircraft_B-17/index.html

Field of Honor website on Frank Iaconis (MIA):

https://www.fieldsofhonor-database.com/index.php/en/american-war-cemetery-margraten-i/44484-iaconis-frank

http://www.398th.org/History/KIA/Cemeteries/Margraten/Margraten_Voskuil.html

File ZZairwar on the Urk war graves 1945: http://www.zzairwar.nl/dossiers/915.html



Sources:

- MACR
- Letters burgomaster Urk
- Stichting Urk in Oorlogstijd
- Book Elburg in Oorlogstijd
- Fam. Grosse-Hamberg
- Website Zeeschouw.nl (Bunschoten)
- Website 398th Bomb Group, www.398th.org/index.html
- Website Flevolands Geheugen.







© ZZairwar (Zuyder Zee Air War)