Date: 1944 March 06/06
A/C Type: B-24H Liberator
SN: 42-7598
Code:
A/C Nickname: The Flak Ducker
File: 346
Airforce: USAAF
Sqn/Unit: 392 BG - 576 BS
Mission/Raid: Daimler Areo Engine Plant, Genshagen. Berlin.
1
Pilot
1t. Erling A. Hestad
9
RWG
S/Sgt. Charles I. Slagle
2
Co-pilot
F/O Tim E. Madden
10
TG
S/Sgt. David G. Troup
3
Nav.
2Lt. Raymond J. Carley
11
4
B
2Lt. Malford H. Butts
12
5
E
S/Sgt. George E. Finley
13
6
RO
S/Sgt. George Folda
14
7
BTG
S/Sgt. Frederick O. Twitchell
15
8
LWG
S/Sgt. Leo Wilson
16

On return from Berlin had engine problems and gas leaks. This forced the aircraft to leave formation north of Zwolle. It turned SW and slowly descended in direction southeast of Amerfoort. Landed wheels down in a meadow at hamlet Overberg. Last meters the front nose wheel collapsed. Seven men POW, three evaded caught weeks later in Belgium (POW).

MACR: "Lt. Hestad feathered his No. 3 engine 20 or 30 minutes before reaching the I.P. Returned to formation after jettisoning his bombs. The A/C peeled off at approx. 14:15h. He lost oil from No. 3 engine and gas was streaming from both wings. Last seen at 14:48 at 52° 35'N-07° 30'E, under control, heading 270°. No chutes observed from this aircraft at any time".

Just before the emergency landing in a cow-field at Overberg, three men used their parachute. These were Sgt. George Finley, Sgt. Fred Twitchell and tail gunner Sgt. David G. Troup. They got far with help of the resistance and evaded into Belgium. There they got caught weeks/months later. Sgt. Finley together with Sgt. Troup. Sergeant Twitchell was arrested at another moment. All three POW. Interesting to known who helped them evade.

After the successful wheels down landing (only the nose wheel collapsed in the last moment), Sgt. Leo Wilson stayed behind because he was wounded. He was arrested some time later. The other six tried to get away, but the Germans got them 24 hours later (POW).
















































Below: Translated German message on the radio equipment found in this aircraft.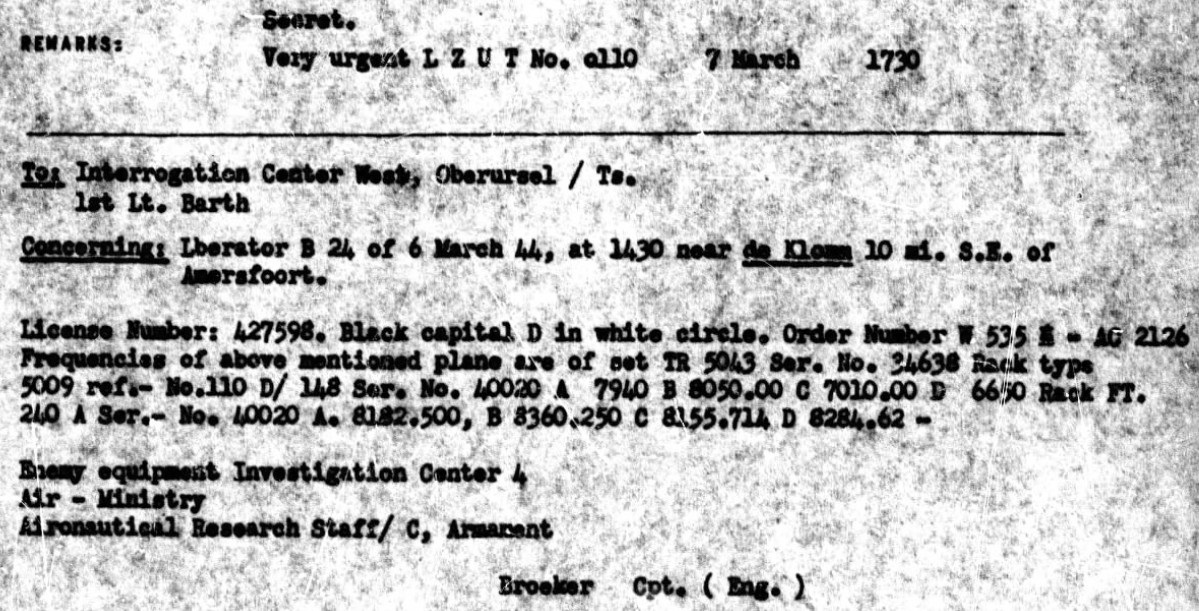 .








































.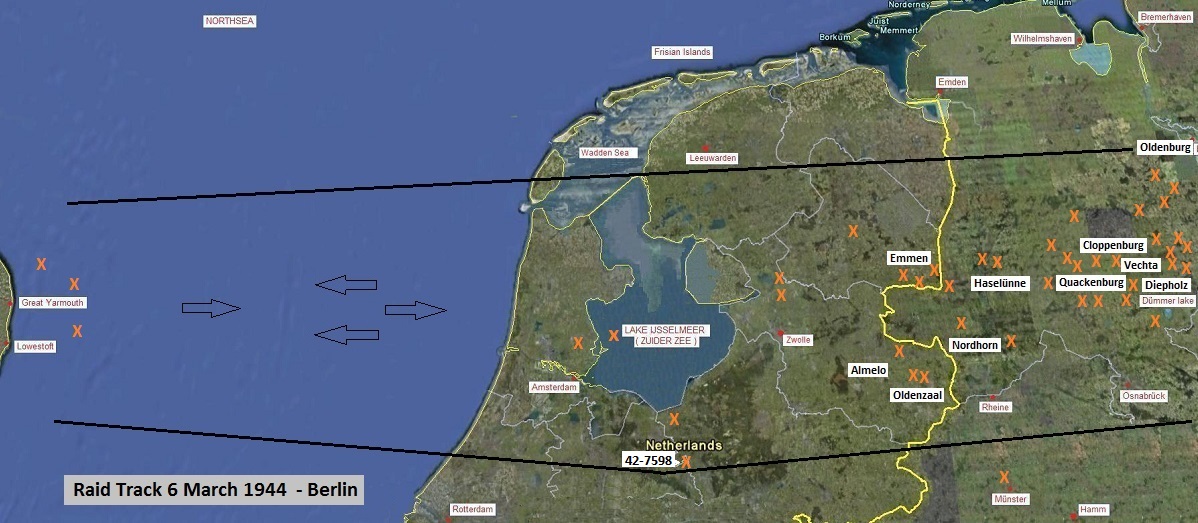 More photos of the Flak Ducker:


- American Air Museum: http://www.americanairmuseum.com/aircraft/9412

- Site b24bstweb: http://www.b24bestweb.com/flakducker2.htm

- Commercial image bank Beeldbank WW2: http://www.beeldbankwo2.nl/detail_large.jsp?frskey=175636

- Commercial image bank Beeldbank WW2: http://www.beeldbankwo2.nl/detail_large.jsp?frskey=175638

- Commercial image bank Beeldbank WW2: http://www.beeldbankwo2.nl/detail_large.jsp?frskey=175639






© ZZairwar (Zuyder Zee Air War)