Date: 1942 Sep 17/18
A/C Type: Stirling I
SN: BF-353
Code: LS-E
A/C Nickname:
File: 35
Airforce: RAF
Sqn/Unit: 15 Sqn
Mission/Raid: Essen
1
Pilot
P/O Leonard W. O'Hara (of USA) RAF, MIA.
9
2
Nav
Sgt. Ronald J. Mumford. MIA
10
3
Fl Eng/AG
F/Sgt. Leon Cowen. Buried Amsterdam.
11
4
WO/AG
Sgt. Robert E. Evans. Buried Harderwijk.
12
5
Air Bomber
Sgt. Thomas C.F. Orr (SA). Buried Amsterdam
13
6
M/u gunner
Sgt. William Ernest Johnson, RCAF. MIA.
14
7
Rear gunner
Sgt. Kenneth Forster. Buried Amsterdam
15
8
16

Because no bombs were found at the crash site of this aircraft, assumed is it was on the return from Essen, but can also have dropped its bombs before the crash. Downed in Lake IJsselmeer 14km northwest of Harderwijk. Today this is just south of Lelystad Airport. Four crew recovered from water 1942.

.
The bodies that were recovered at Urk (at least: Sgt. Cowen, Sgt. Orr and Sgt. Forster) received a coffin in Urk and were sailed over to Amsterdam for burial on 1st of October 1942.

A few days before, on September 25, two not-identified airmen (a RAF Sgt. and RAF Pilot Officer) recovered from the water were also buried in Amsterdam, in the graves on the left hand side of Sgt. Cowen, Orr and Forster.

The air gunner/wireless operator Sgt. Evans was recovered (by a fisherman?) from the water to the East of Urk and was buried in Harderwijk around 19 September 1942.


This aircraft crashed in only 2,9m (10 feet) of water next on the slope of sandbank 'the Knar'. Large sections of this Stirling were recovered in 1942 and 1947. When the area became a polder in 1957, it was already known that on this position still remains of the aircraft could be encountered. The RNLAF recovery team (Mr. Gerrit Zwanenburg) cleared the site in 1967 and 1971 and managed to identify the last wreck parts as the BF353, thanks to two engines found.

More interesting details on BF353 came to light in recent years and also on the MIA of this crew. Under investigation.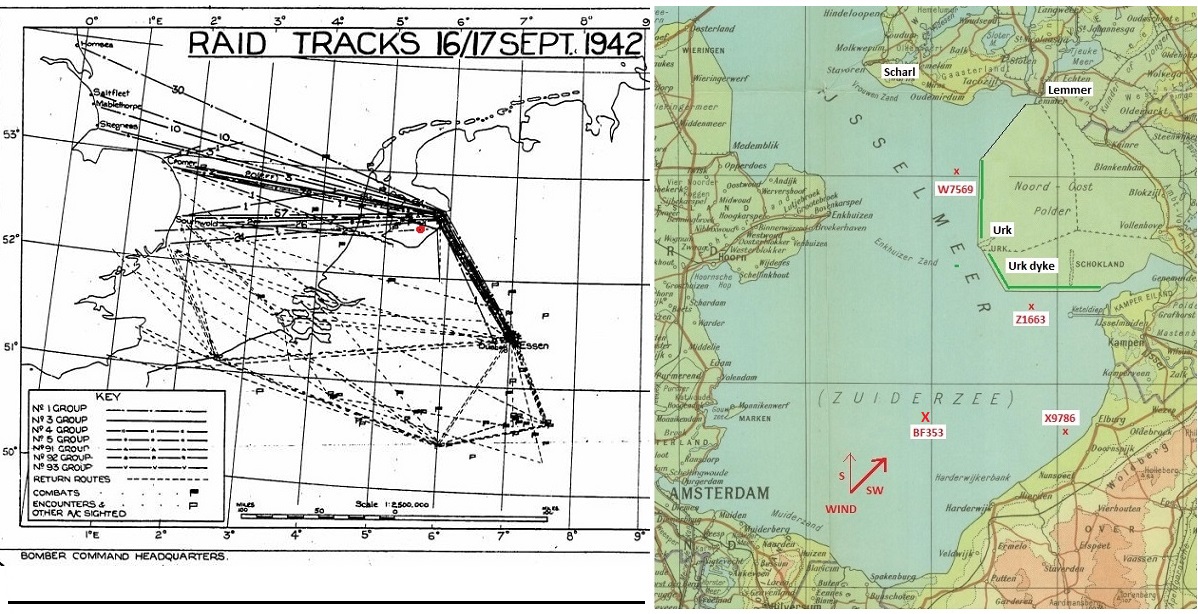 Sources:

- 2012 research of the Amsterdam cemetery files and reconstruction of the war burials 1940-1945.
- website PATS
- website CWGC
- Book 'In de schaduw van de glorie' by S.L. Veenstra (RNLAF).




© ZZairwar (Zuyder Zee Air War)