Date: 1944 Mar15/15
A/C Type: P-38 J Lightning
SN: 42-68062
Code:
A/C Nickname:
File: 451
Airforce: USAAF
Sqn/Unit: 364 FG - 385 FS
Mission/Raid: Bomber escort to Brunswick
1
Pilot
Capt. Richard M. Scott Evd, later POW
9
2
10
3
11
4
12
5
13
6
14
7
15
8
16
This P-38 came damaged by Flak from Germany, under control. Eventually had to make a belly landing on the Lake IJsselmeer shore line near Bunschoten, meadow on Bisschopsweg road, east side of river Eem. Pilot was helped and could evade. Months later POW.

Below photo is made by Mr. Max Jansen, two days after the belly landing. Mr. Jansen came from nearby Amsterdam. He heard about an aircraft laying here and he wanted to take a picture of it. He had to improvise in making the photo, because the wreck was guarded by a German soldier. It even looks a fighter has passed over (behind the left rudder) and they are taking cover for it. A couple of days later, the wreck was gone, taken by the Germans for scrap metal. They left a 3-blade propeller in the field. Max took the Curtiss manufacturer plate off as souvenir.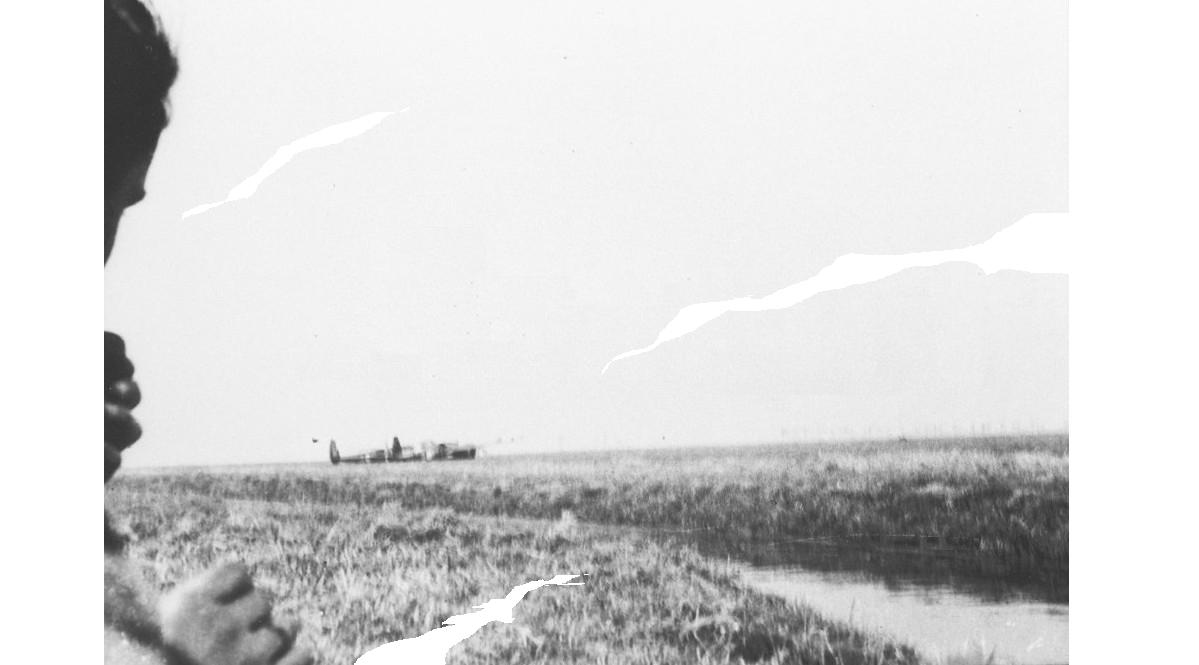 Captain Richard M. Scott ran away from his aircraft as fast as he could. A Dutch boy and his friend helped him across the river Eem and he was hidden in a boat house. He stayed one day in Baarn and a week in a safehouse in Bilthoven. March 24 - April 7 he was in Amsterdam. Resistance brought him to Deventer and then to Ginneken. On April 29 he was in Breda for some weeks. Further travel south was not possible because the escape lines were infiltrated by German spies. Frustrated waiting, Scott decided to try it on his own, without help of the resistance. He left Breda and crossed the border into Belgium, but found nobody that could help him. Returned to Breda and met another American on the run. This was 1Lt. Rexford (Rex) H. Dettre (P-38 42-67192).They knew each other from training in California. Dettre came down on 9 April 1944 at the Lake IJsselmeer shore at Hindeloopen. On the 15th of June both left for Brussels. On July 8 they both were arrested there probably because of the work of traitor Prosper Dezitter. In St. Giles prison in Brussels they met another 25 to 30 American and English prisoners, that all were handed over to the Germans by Dezitter.














































Sources/Read more:

- Hisorische Vereniging Eemnes, link for article (in Dutch, with photos), in PDF:
- http://dspace.library.uu.nl/bitstream/handle/1874/214162/HKEN_1998-01_10.pdf?sequence=1
- MACR
- http://www.af.mil/AboutUs/Biographies/Display/tabid/225/Article/105042/brigadier-general-richard-m-scott.aspx
- https://en.wikipedia.org/wiki/Richard_M._Scott







© ZZairwar (Zuyder Zee Air War)