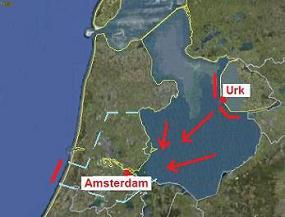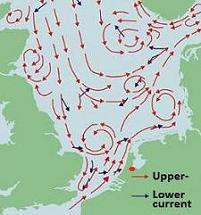 Relation with Lake (class): Lake Casualty Cemetery (LCC)
Total nr. of casualties buried here (TC): 330 end WW2, today 300.
Lake casualties, initially, end WW2 (LC-I): 100
Unknown today: 50, all airmen & naval,
of which unknown from Lake (LC-U): 12
of which unknown from North Sea (NS-U): 10
Initial burial site in WW2: yes, Lake Cemetery West side of Lake (LCW)
Post war burial site for collection and reburial from other sites: yes
Cemetery with Lake casualties today: yes (LCW).





AMSTERDAM war graves 1941

In Jan. 1941 Amsterdam was still used by the Germans as centralization cemetery, but the increasing number of aircraft coming down in the Netherlands forced them to bury the RAF airmen locally where they crashed. Last centralization burial involved three men of a Whitley bomber (N1521), crashed in Lake Zwanenwater in the North Sea dunes at Callantsoog (pilot Peers, 15/16 Jan. '41). On 20 Jan. were interred: grave 22 Sgt. Duncan, gr. 24 Sgt. Couser and in grave 26 Pilot Officer William E. Peers.
























20 May 1941, burial of four men: three Polish airmen found on Lake IJsselmeer SW of Lemmer, their bodies delivered at Amsterdam-Schellingwoude. Pilot Officer McVie (grave 30) was found dead next to his crashed aircraft at Overleek (2,5km behind the Texaco petrol station at Monnickendam). Their aircrafts were Wellington R1322, shot down in the Lake while underway to Bremen 08/09 May '41. McVie's Hampden AD841 came damaged back from Hannover 15/16 May 1941.






















The Polish airmen had escaped captivity after the invasion of their country in 1939 and were flying now for the British Royal Air Force. The identity of Polish pilot Jan Dorman (grave 28) and his co-pilot Zdzislaw Gwozdz (grave 32) was used by the German Military Intelligence in the Amsterdam Wilhelmina Gasthuis Hosiptal to spy on wounded RAF airmen that were treated there. We believe the third and unknown Polish airman buried 20 May 1941 (grave 34) is R1322 crew member Kapitan Maciej Wojciech Socharski. He was never identified and is officially MIA, but we believe he rests here in Amsterdam in today's grave Plot 69, back row E, grave 21.


















Grave 30: the cross on McVie's grave reads: "W_A_MC_VIC below: FLIEGER OFFZ RAF COFE 741901 20.V.1941". Translated: William Alexander McVie. Flying Officer RAF (Royal Air Force) . 'COFE' is his religion and stands for 'Church of England'. 7411901 is his church number (service number was 61010), 20.V.1941 = 20 May 1941. Underneath below photo is written: "In 1937, McVie was in Holland for the World Jamboree. He would not have expected to be buried there four years later".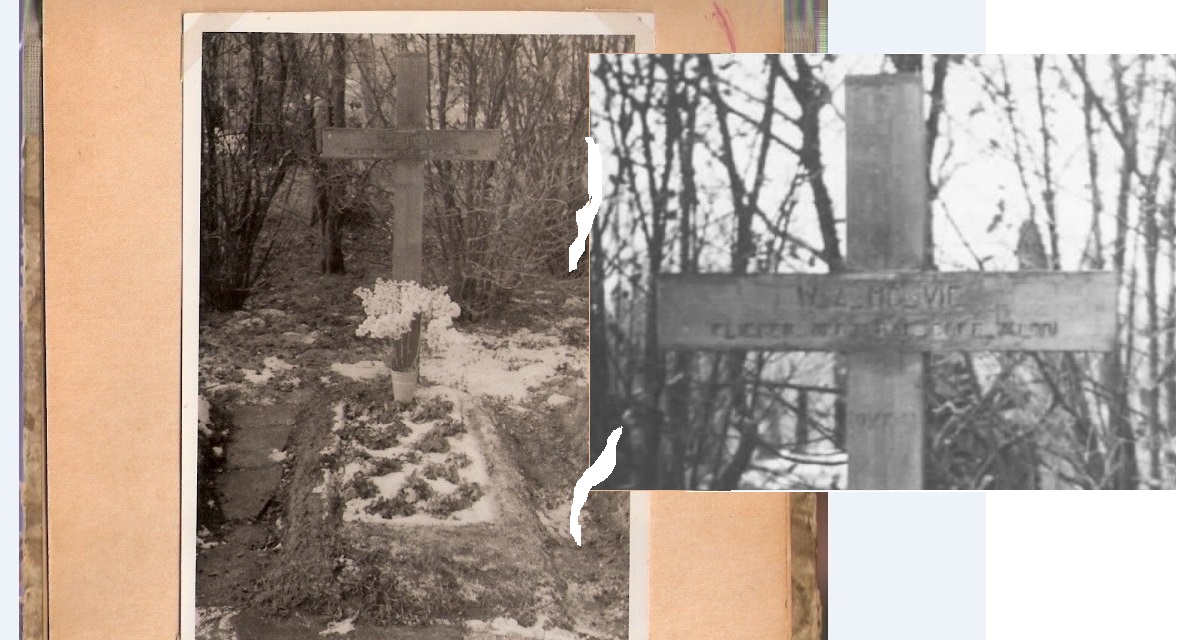 McVie's bomb aimer Pilot Officer Stanley L. Bailey (grave 29). Three weeks after the crash of McVie's Hampden AD841 at Overleek, the body of an unknown airman was recovered from Lake IJsselmeer. Unknown to everybody, this was P/O Bailey, the bomb aimer from the Overleek Hampden. He had parachuted into the Lake off Uitdam and drowned. By a twist of faith he was buried next to his pilot. After the war, they were reburied on Plot 69 but 10 meters away from each other.

























31 July 1941. Another crew member of Jan Dorman?












31 july 1941. Unknown Airman, a Sgt. Buried in grave 31 next to Gwozdz. "Not normal RAF". There are today two Polish Sergeants still missing of Jan Dorman's crew: Air gunners/Radio Operators both Plutonowy (Corporal) Henryk Franciszek Sikorski and Stanislaw Pisarski.
























August 1941. The first six airmen from the North Sea, washed ashore at Zandvoort.
























Grave 33. Sgt. William B. Cundill (Blenheim Z7424). Crashed in the North Sea 7 July 1941, buried 9 August 1941.




















Grave 35 and 37. Sgt. J. H. Roberts of Canada (North Sea in Wellington R3171, raid on Duisburg) and Sgt. Frost (North Sea, Stirling N6030, raid on Wesel).






















.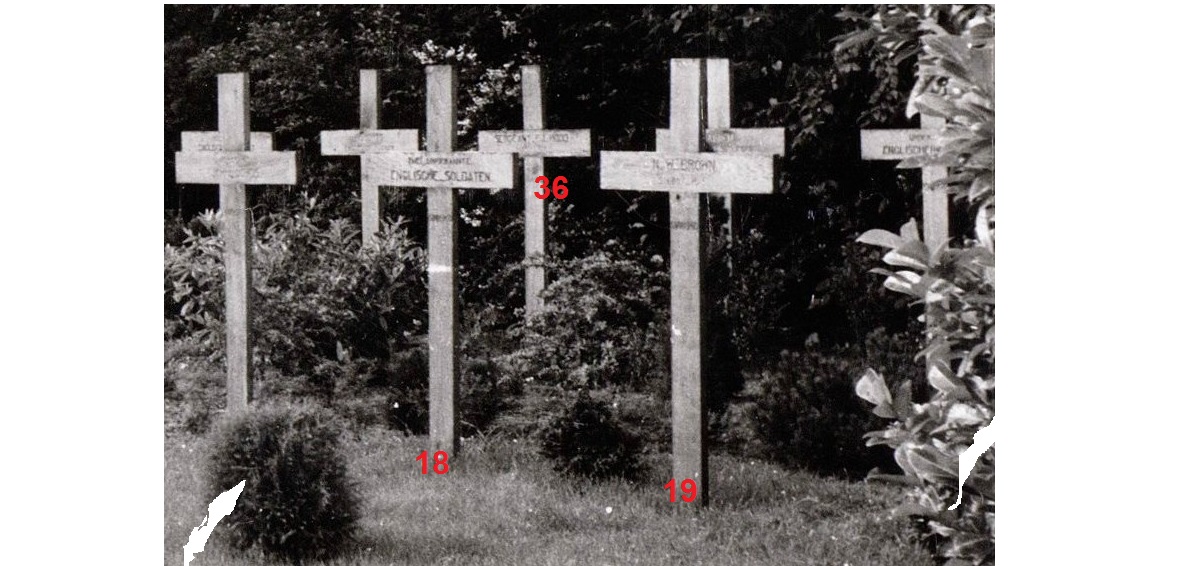 Above. Grave 36, Sgt. Frederick J. Wood (North Sea, Hampden X3118, raid on Essen), buried with an unknown RAF airman Sgt. 18 Aug 1941 in grave 38. On the above photo cross 36 reads: "SERGEANT F.J. WOOD". On the cross next to him (grave 37) is 'FROST'. Cross grave 38 (most right) has "UNBEKANNTE ENGLISCHE FLIEGER".
























Last grave on Plot 72 (grave 39): Squadron Leader Richard A. Shuttleworth (age 21).
Attacked Rotterdam port in Blenheim Z4747, 28-08-41. Taken POW on the North Sea or washed ashore in a dinghy rubberboat alive. Died in hospital here. Buried 16 Sept.
























Plot 72. Remembrance day 11 November 1945. Although Remembrance Day is unknown in The Netherlands, the people of Amsterdam honoured the RAF airmen on their cemetery on this day. The girl is standing at grave 17, that of Sgt. John Dowds (Wellington R3235, Lake IJsselmeer off Uitdam, 26 July 1940).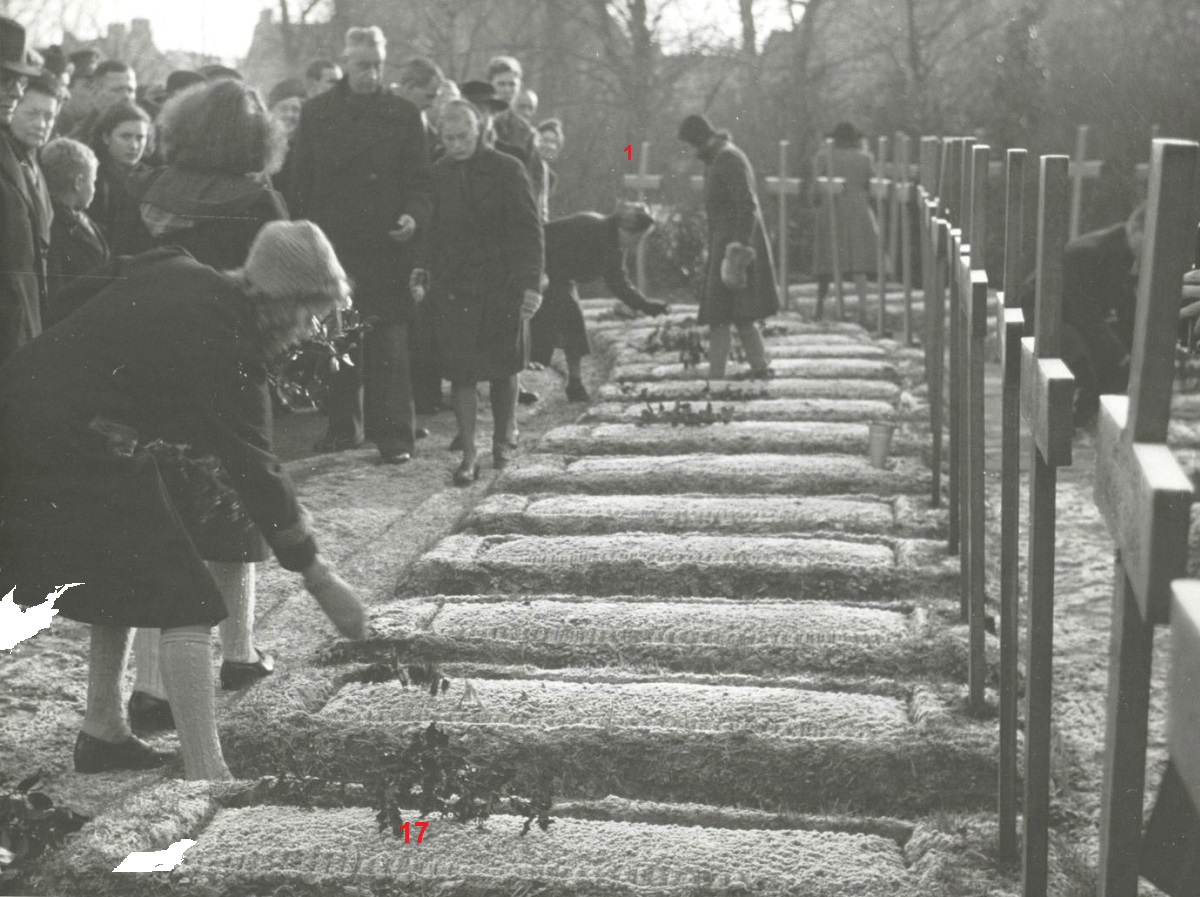 Photo below: Plot 72 in the winter of 1945/1946, seen from grave 2. The man who took this picture had put flowers in the vase at grave 30 (McVie).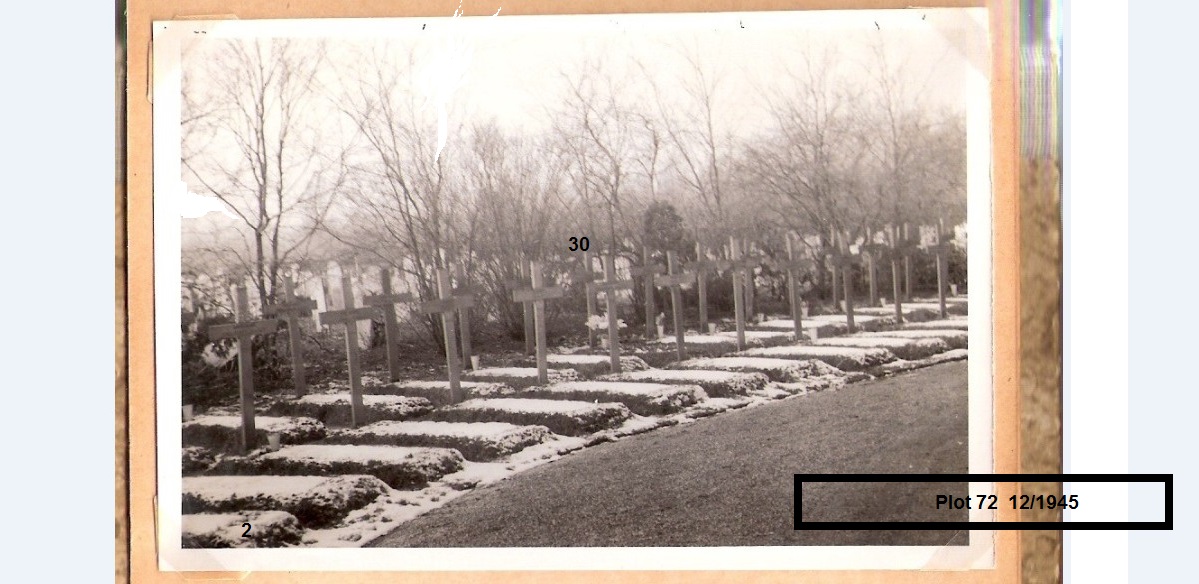 Plot 72 late summer 1946. In grave 17 Sgt. Dowds. In grave 19 crew member Sgt. Norman W. Brown, fished up by Jan Kes, VD46, begin Aug 1940.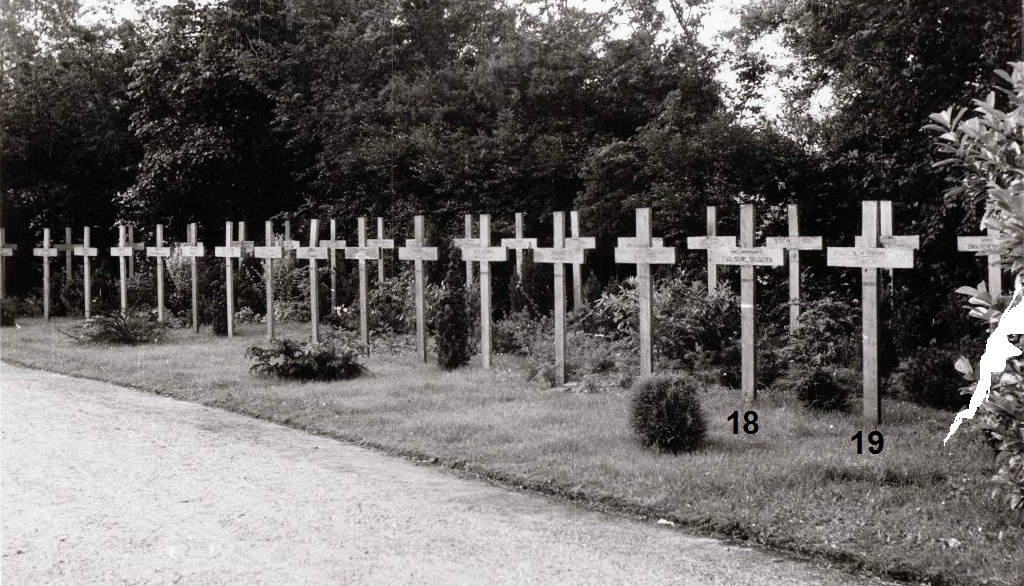 Plot 72 in year 2012. Shortly after WW2, the graves were transferred to Plot 69 and 85.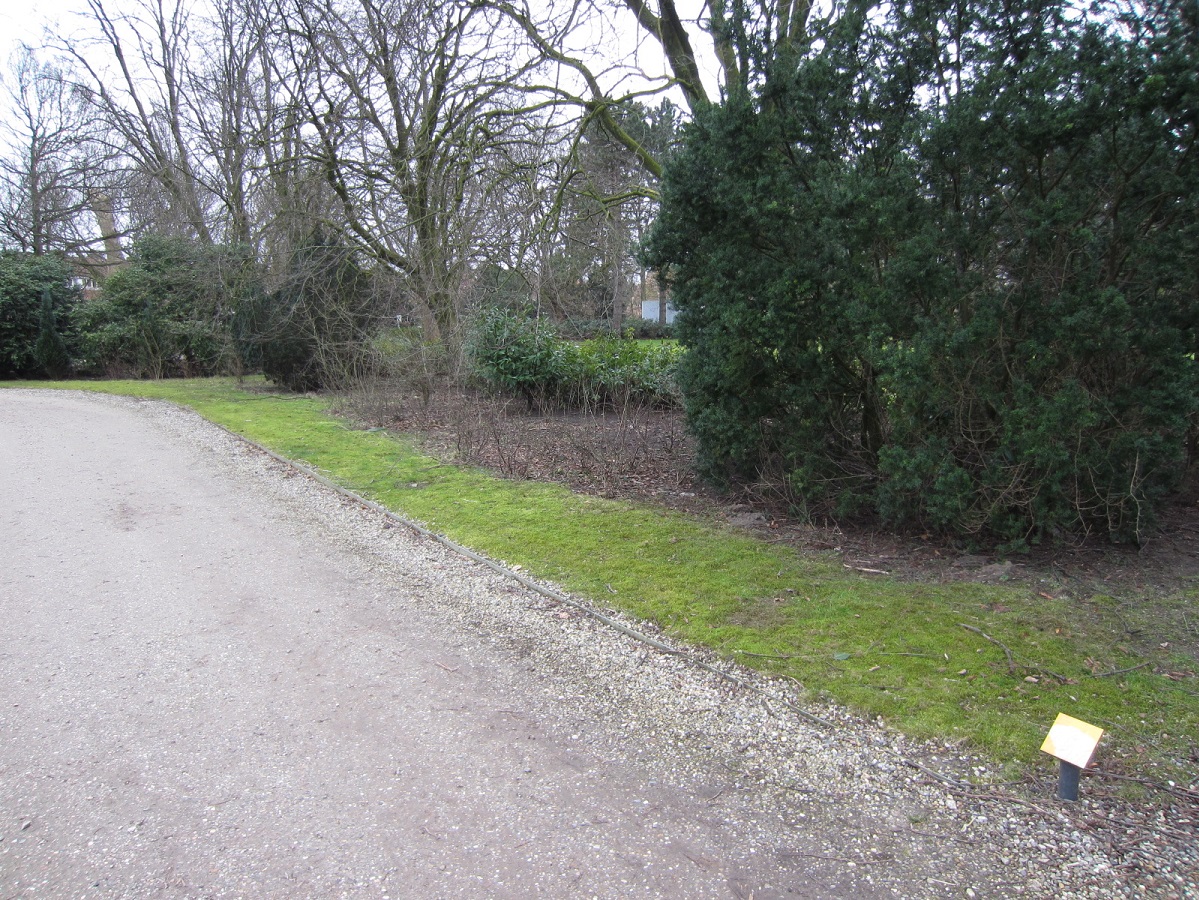 =========== END OF PLOT 72 ==========



SEPTEMBER 1941 - START OF PLOT 85

Plot 85 today.
























Burials in Plot 85 started in left upper corner of the field, back row, grave 1 to 3. Cemetery no. for this grave is '85-01-1'. Meaning: Plot 85, grave 01, deep 1 (one coffin in this grave). After the war, the graves were re-coded by the CWGC. They named the back row '85, row D, grave 1 - 20', second row from the back '85, row C, grave 1 - 20, etc. First three burials involved the crew of Blenheim V5525 that was shot down by Flak in an attack on Schiphol Airfield, crashed west of Amstelveen, night 30 August '41.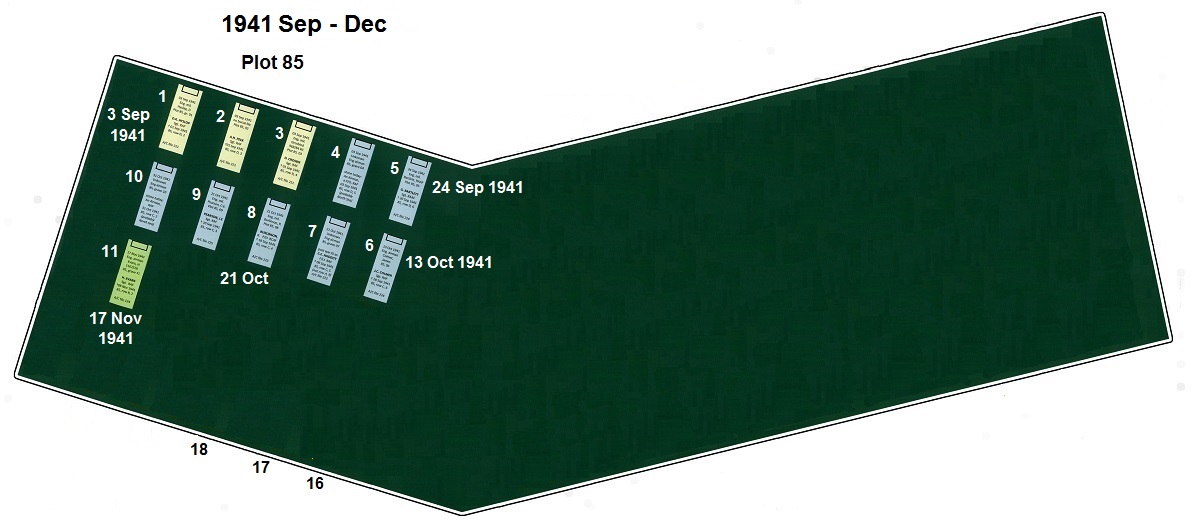 Grave 4, buried 03 Sept 1941. This never identified RAF Pilot Officer is believed to be from the North Sea. He can be a crew member of F/Sgt. F.J. Wood in Plot 72, buried 18 August. Their aircraft Hampden X3118 crashed in the North Sea after a raid on Essen 08/08 Aug. '41. Pilot Officer James Erskine Cunning of that crew is MIA.





























September 1941. Blenheims attacking North Sea targets Belgian and southern Dutch coast at The Hague, Hook of Holland.

The airmen in grave 5 to 10 washed ashore end Sept. and in Oct. 41 at Zandvoort North Sea beach. Their aircraft were all Blenheim light bombers: 09 Sept 1941 Blenheim Z7312, pilot Haggitt (2 MIA), 18 Sept 1941 Blenheim V6380 pilot Hislop (1 MIA), 20 September 1941 Blenheim V6422 pilot Colmer (1 MIA) and Blenheim R3843 pilot Pearson (1 MIA). The unknown RAF airman in grave 10 washed ashore on the same beach and can have a relation with these aircraft, possible crew Z7312 or V6380.

First American. Grave 8. Pilot Officer Robert Melville Burlinson from Tucson Arizona (2319 North 2nd Ave.). He was an American Volunteer in the Canadian Airforce to fight the Nazis before the US entered WW2. His Blenheim bomber was shot down by German fighters over the North Sea off Ostende while they were attacking a German Tanker 18 September 1941. He was the first American buried in this cemetery (21 Oct. 1941). Because he died in foreign service, he was not exhumed in 1946 with the other Americans and not reburied in US War Centralization Cemetery "NL" in Margraten or "Ardennes" in Belgium. He rests here today in this grave. On his headstone he is not recognizable as American, it has the Canadian Air Force logo on it and "Royal Canadian Air Force" under his name. Burlinson's father and mother received the news of their son's death in March 1942. After the war they added on his grave marker the text: "May the free people of the world always unite to fight tyranny".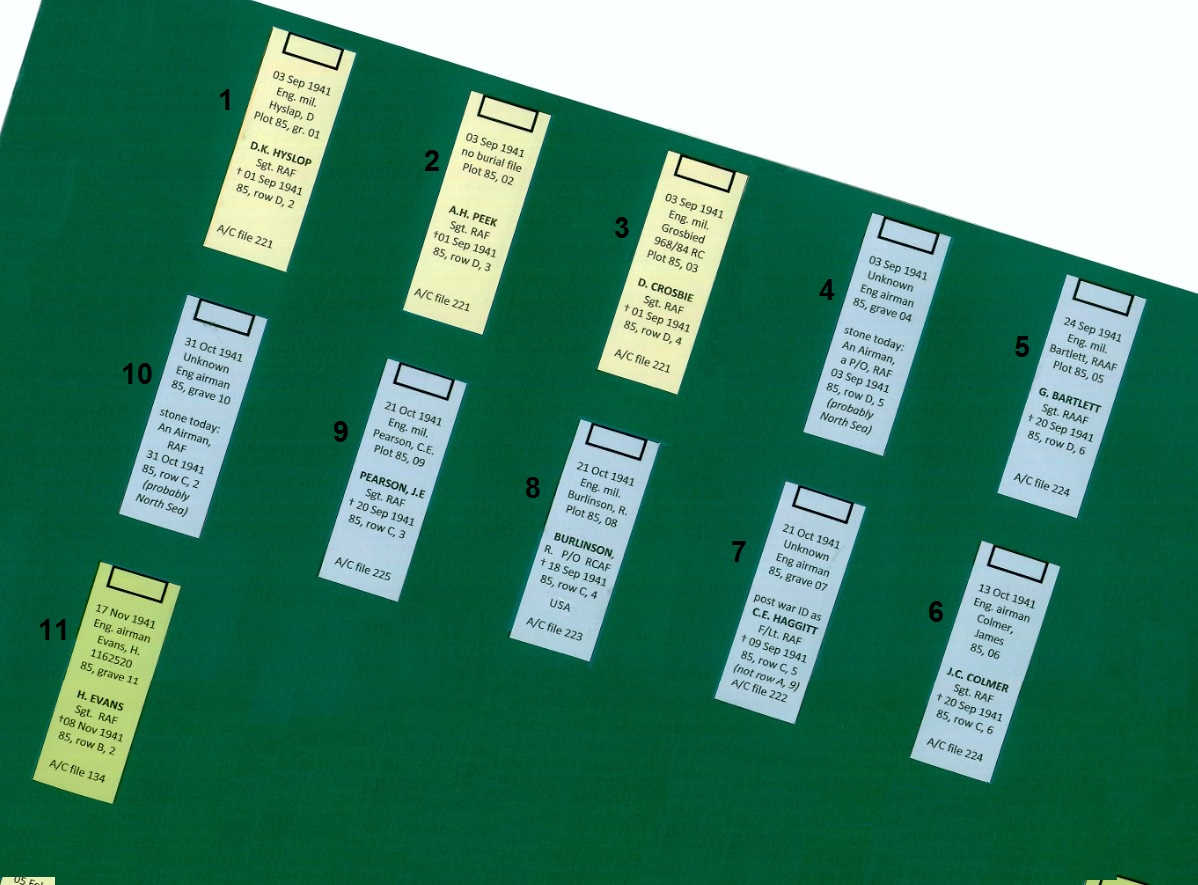 Sg. Hywell Evans in grave 11 is crew of Wellington R1606 (07/08-11-1941, pilot Atkins, raid on Mannheim), came down in Lake IJsselmeer (Old Zuyder Sea) off Andijk. We believe he might be delivered to here via Urk. Two months later his colleague Sgt. William F. Parsons was recovered and also buried here. Four of this crew are MIA.










© ZZairwar (Zuyder Zee Air War)