Date: 1943 Dec 16/16
A/C Type: B-17F Fortress
SN: 42-30255
Code:
A/C Nickname: Lonesome Polecat II
File: 584
Airforce: USAAF
Sqn/Unit: 95 BG - 412 BS
Mission/Raid: Bremen Port area (Vegesack)
1
Pilot
2Lt. Frederick A. Delbern Jr. MIA
9
RWG
S/Sgt. Doral A. Hupp POW
2
Co-pilot
2Lt. Don P. Neff MIA
10
TG
S/Sgt. Robert T. McKeegan POW
3
Nav.
2Lt. Royal L. Jackson jumped Oldenburg, POW
11
4
B
2Lt. Junius E. Woollen jumped Oldenburg, POW
12
5
E
S/Sgt. Loren E. Dodson jumped Leer, POW.
13
6
RO
S/Sgt. Eugene F. Darter MIA Wadden Sea
14
7
BTG
S/Sgt. Charles J. Schreiner POW
15
8
LWG
S/Sgt. Frank V. Lee POW
16

Mission Bremen-Vegesack. On route back over northern Germany attacked by fighters and three crew jumped. Flew high above the clouds. Again attacked by fighters. One crew member (badly wounded) was pushed out with parachute over Wadden Sea (MIA). Aircraft came under the overcast over Texel Islands where four gunners jumped (POW). Pilots crashed 1km west of Texel in the North Sea, MIA.

It was the first mission of the pilots, 2Lt. Frederick A. Delbern Jr. and co-pilot 2Lt. Don P. Neff. Delbern had mentioned several times during training that in case of trouble, he would stay in the cockpit controlling the aircraft to the last, in stead of parachuting out, because he found the chance of survival much greater. Navigator Jackson states in the MACR after the first fighter attack, Delbern was injured in the arm, co-pilot Neff also flying. Later is mentioned Delbern was wounded in his pilot seat, shot in the arm, leg and abdomen.

Above the clouds and unknown to them, over the Wadden Sea, radio operator S/Sgt. Eugene F. Darter was found badly wounded, unable to help himself. The other gunners rigged him up, gave him a shot of morphine and threw him out on a static line, in the hope he was hospitalized on the ground by the Germans. This happened during a fighter attack. Parachute was seen to open. Looking back, the survivors stated in the MACR he landed in sea between the coast of Holland (Friesland) and the Frisian Isles (east of Texel Island, MIA).

Statement in the MACR: "Two props were windmilling and no. 2 engine was on fire. I left, saw pilots. They nodded, wave of hand, smile".

The B-17 crashed in the North Sea, 1km of village The Koog. Pilots MIA since then. One interview in the MACR says that Germans found the plane with two bodies in it. This must either be hear-say or probably refers to another aircraft.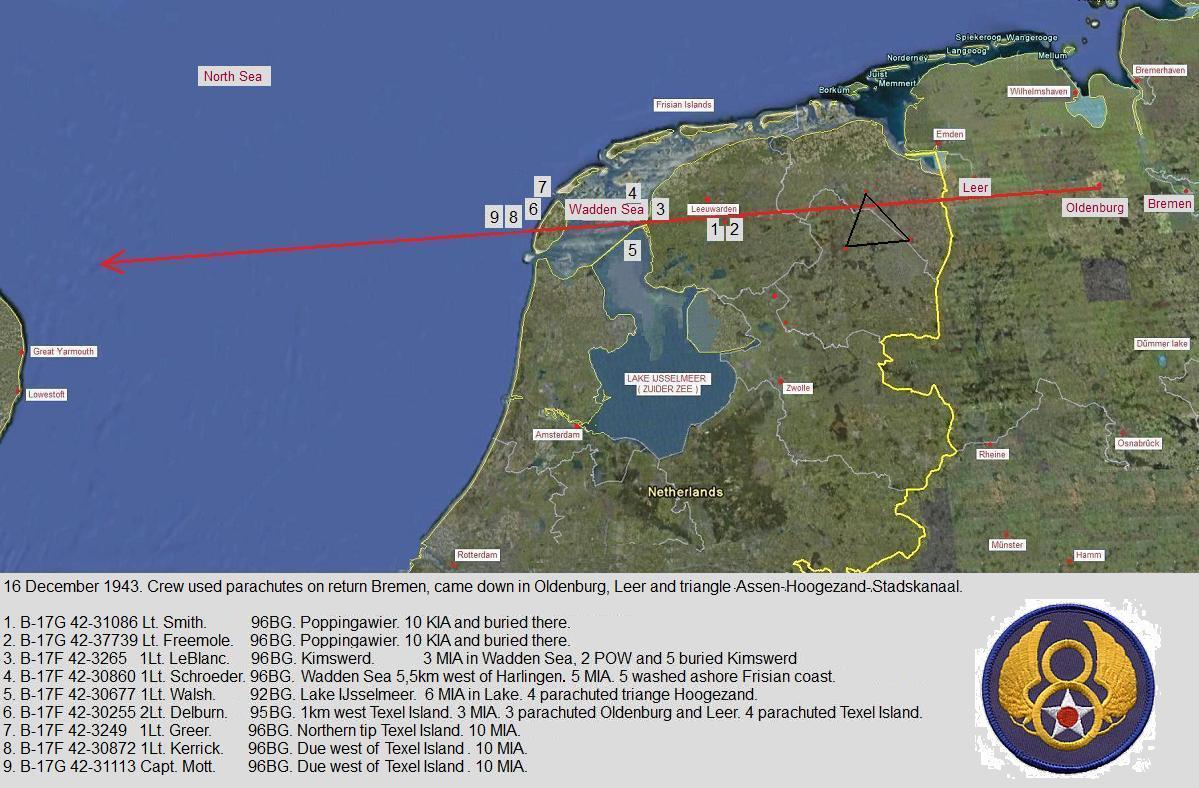 Sources/read more:

- MACR
- http://www.americanairmuseum.com/aircraft/4233










© ZZairwar (Zuyder Zee Air War)