Date: 1943 Jun 25/26
A/C Type: Wellington X
SN: HF544
Code: HD-Q
A/C Nickname:
File: 76
Airforce: RAF
Sqn/Unit: 466 Sqn (RAAF)
Mission/Raid: Gelsenkirchen
1
Pilot
F/Sgt. Andrew B.R. Airy RAAF, MIA
9
2
CP/Obs
F/O William Eric Riley RAAF, buried Amsterdam
10
3
Fl Eng/AG
Sgt. George Charles Green RAAF, MIA
11
4
WO/AG
Sgt. Thomas M. Atkinson RAAF, MIA
12
5
Rear gunner
Sgt. George R. Johnson RAAF, MIA
13
6
14
7
15
8
16

German nightfighter pilot Helmut Lent reported as attack-location: 12km east of Urk. A week later F/O Riley washed ashore against the Zwolse Hoek dike. In Urk he received a coffin and was sailed to Amsterdam for burial, but he was not the only airman on that boat.

Airy's Wellington crashed in the water, assumed on position 109 (see map below), 12km south-east of Urk, next to the shipping-lane Keteldiep (Kampen) to Urk and Enkhuizen/Lemmer. This lake-corner was named 'Ketel' (later Ketelmeer), with only 2,7 meter of water there (9 ft.). Next morning German patrol boats and daily convoys saw the debris and very likely the Germans salvaged parts of the wreck with their recovery ship from Amsterdam, as was custom in those days. Bodies were assembled in Urk. Flying Officer William E. Riley was buried via Urk in Amsterdam (see burial card below) on 7 July 1943 and with him another seven airmen also from Urk, five of them not identified. Post war in 1947 the crash location was cleared for the 2nd time by the Dutch M.O.D. (Mijnen & Opruimings Dienst). Stationed in the Ir. Poelkazerne in Leiden. They gave the location No. 109, found only parts and thought they were items of a Stirling-bomber.

In 2011 during mud-dredging, again small parts of a Wellington bomber came to surface near position 109 (see some photos below). In press releases before the recovery in 2014, the Dutch Airforce did not mention position 109 or its previous recoveries in 1943 and 1947. They announced wreckage that formed a complete Wellington bomber could be expected, possibly including crew (minus Riley) and bomb load. It was as if they talked about another crash location, never recovered before. Their location was kept secret and guarded 24/7.

In April 2014, eager mayor Mr. Aat de Jong (community Dronten) set in motion a full scale recovery operation for the cost of Euro 430.000,- (Dronten 130.000,-/Dutch State 300.000,-). Unfortunately, the recovery ships sailed exactly to position 109... In the weeks to follow, almost nothing was found, but established was that parts belonged to a Wellington crashed after 05/1943.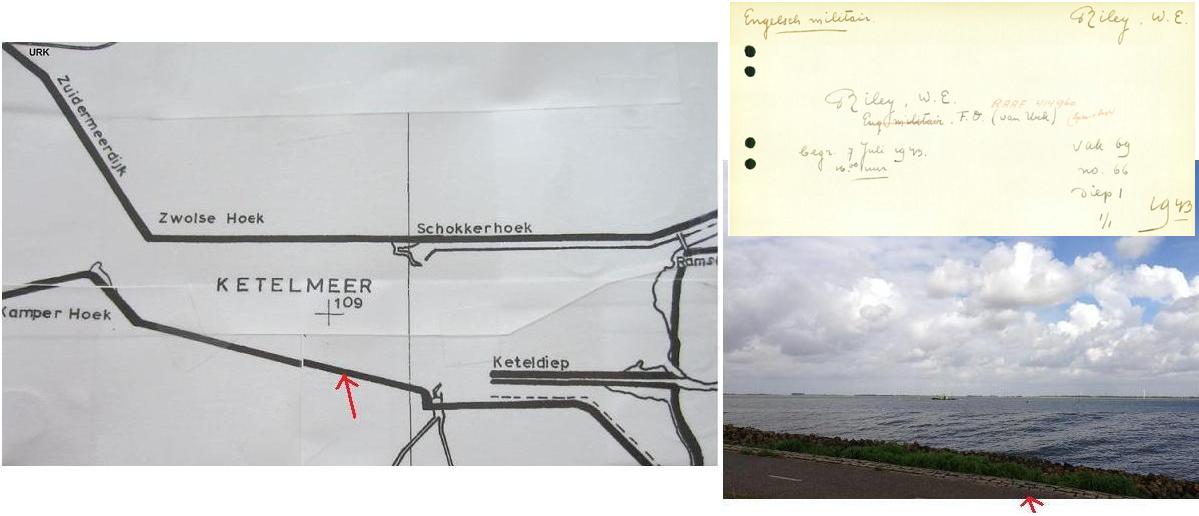 Below: Item found during dredging 2011.




















.



























.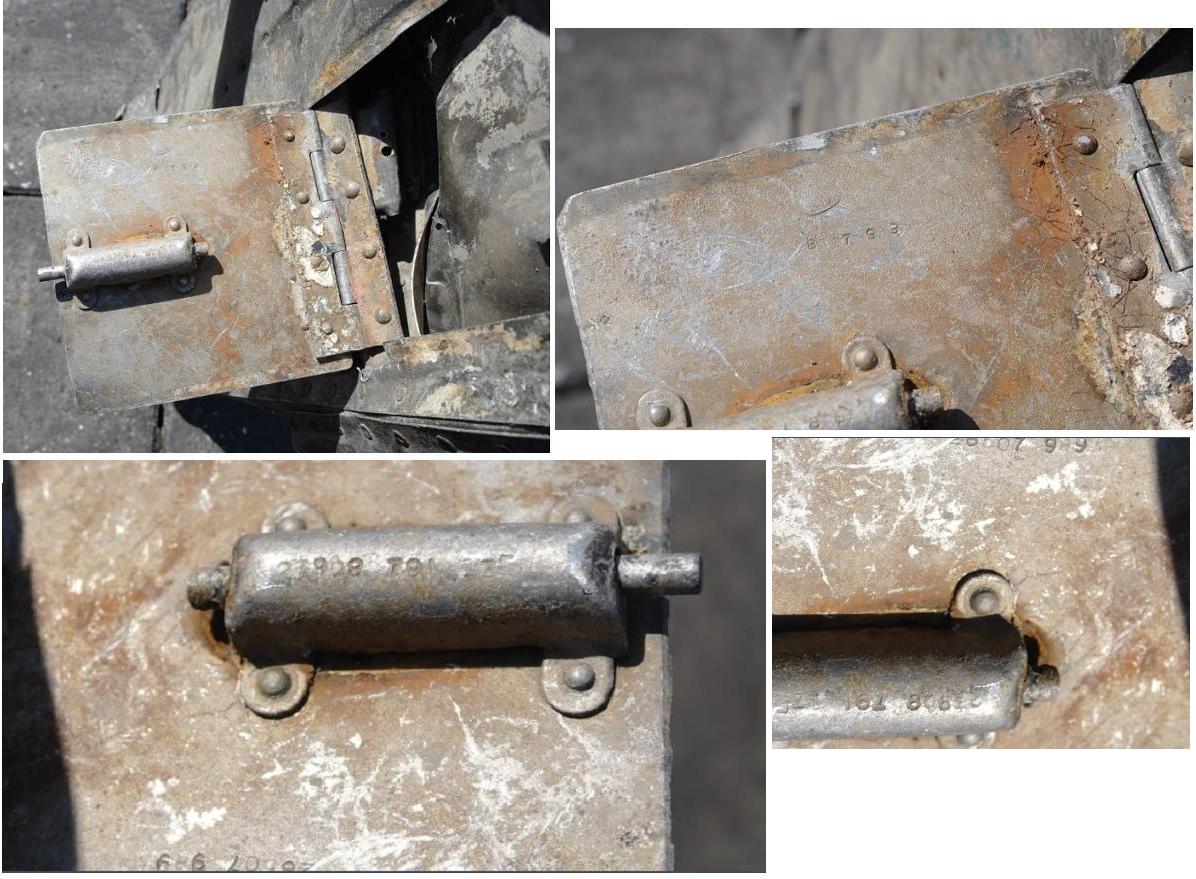 Mid April 2014. Salvage boats and platform ready to start and sail to the recovery location. Information sign on the dike.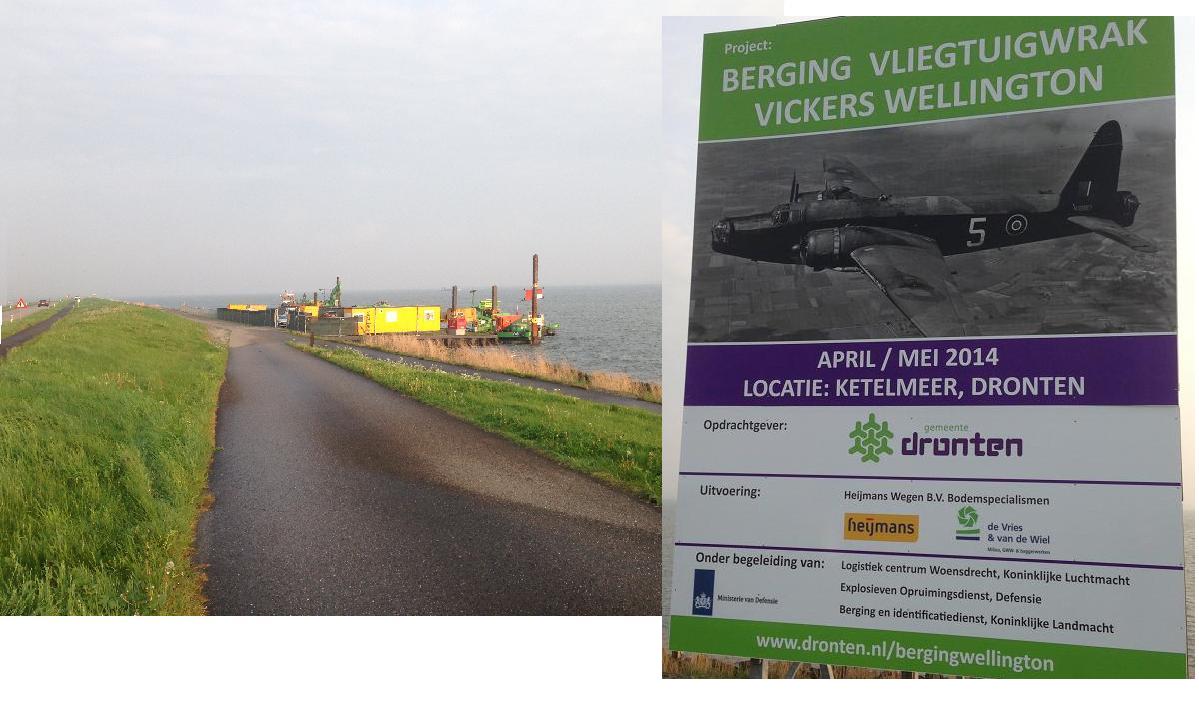 Below. Fix shows they anchor exact on position 109. Already cleared in 1943 and 1947. The green and red buoys indicate the adjacent shipping lane.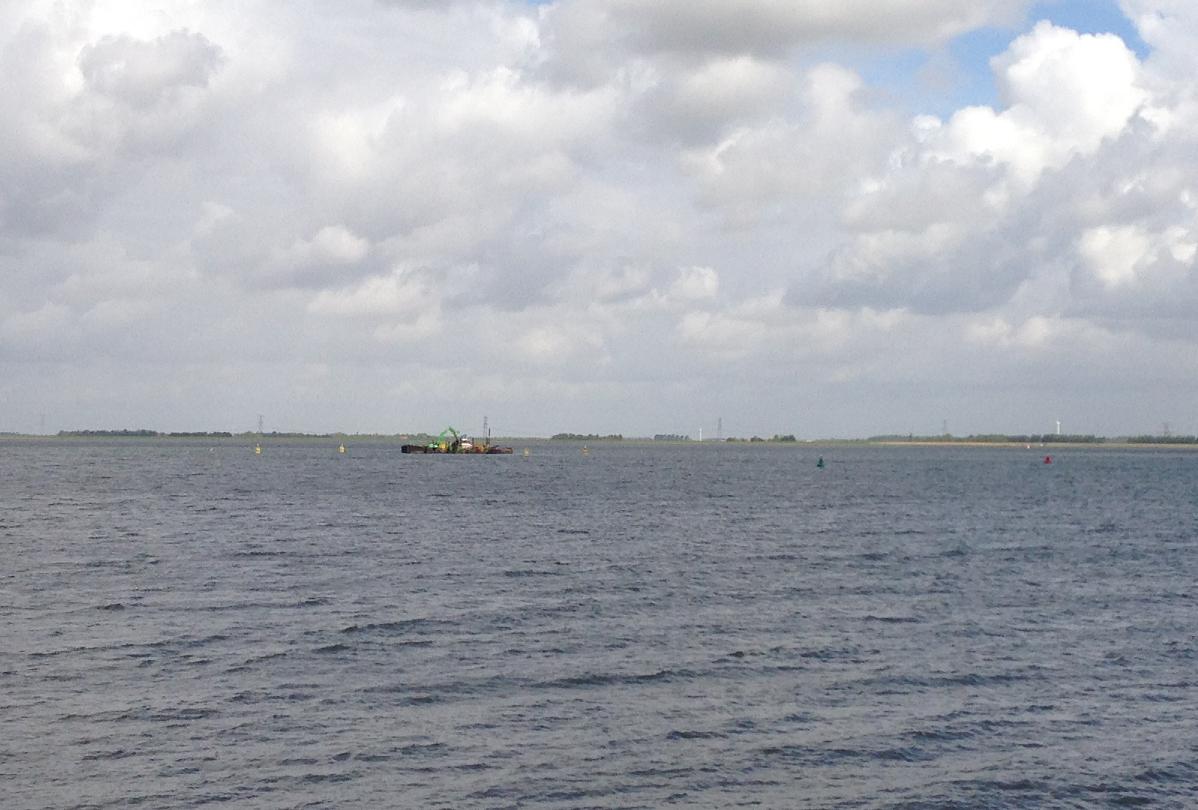 Press releases before recovery.































.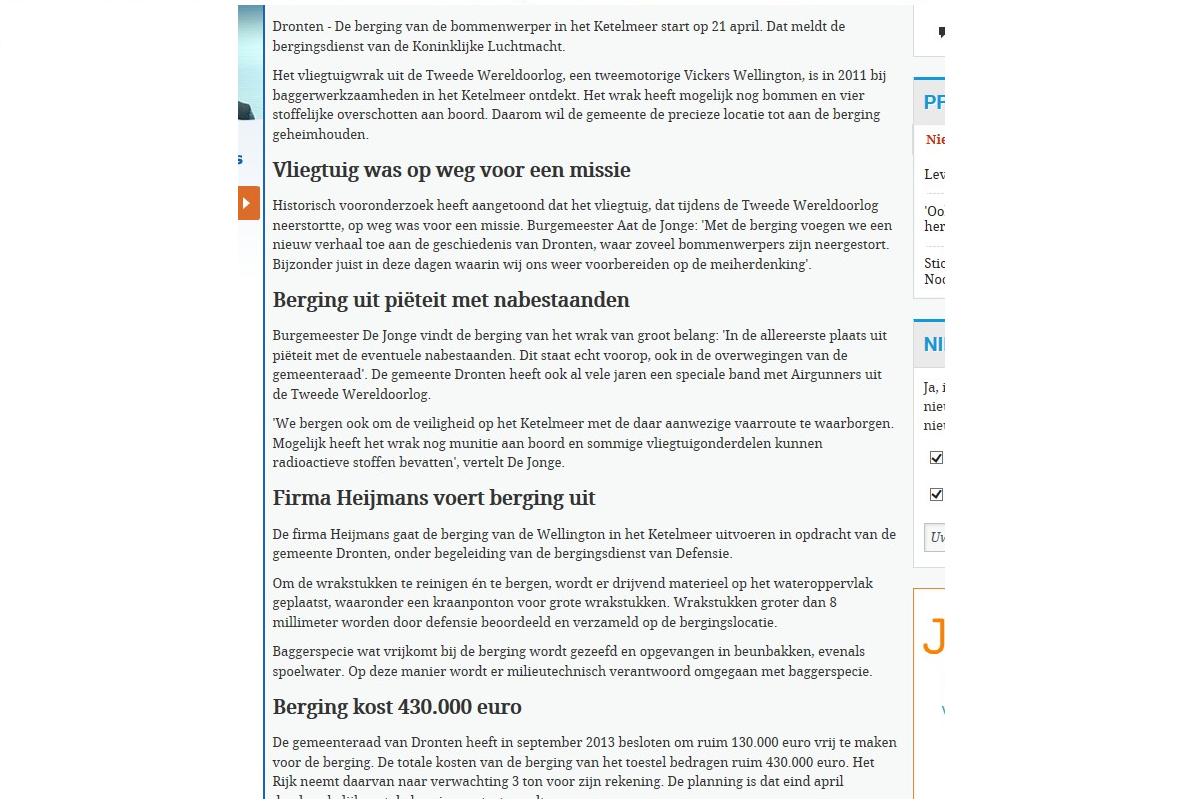 .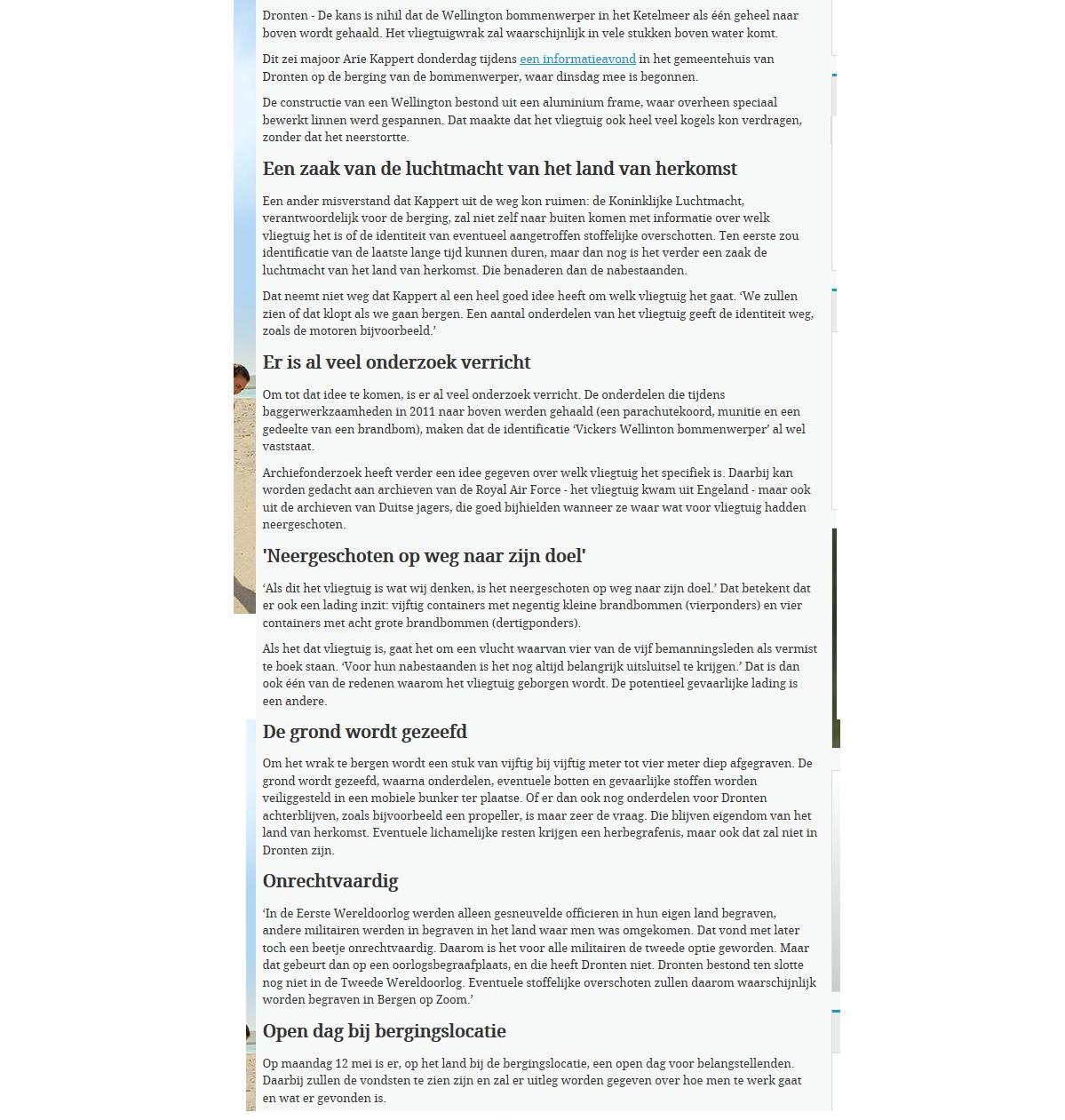 .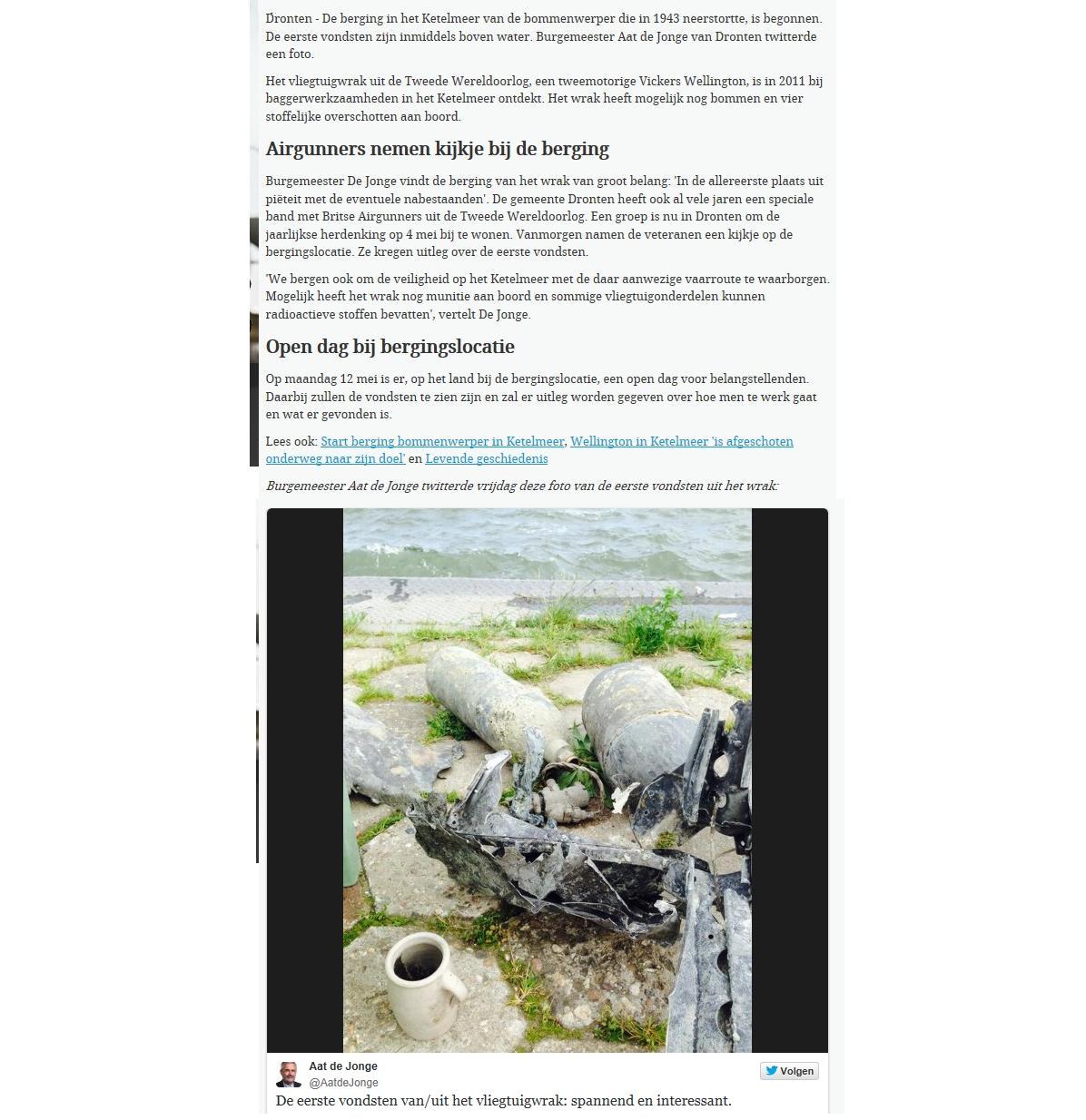 Above photo show air-cylinders from the Wellington.
Photo below. End of recovery 12 May 2014. Results are shown to the public.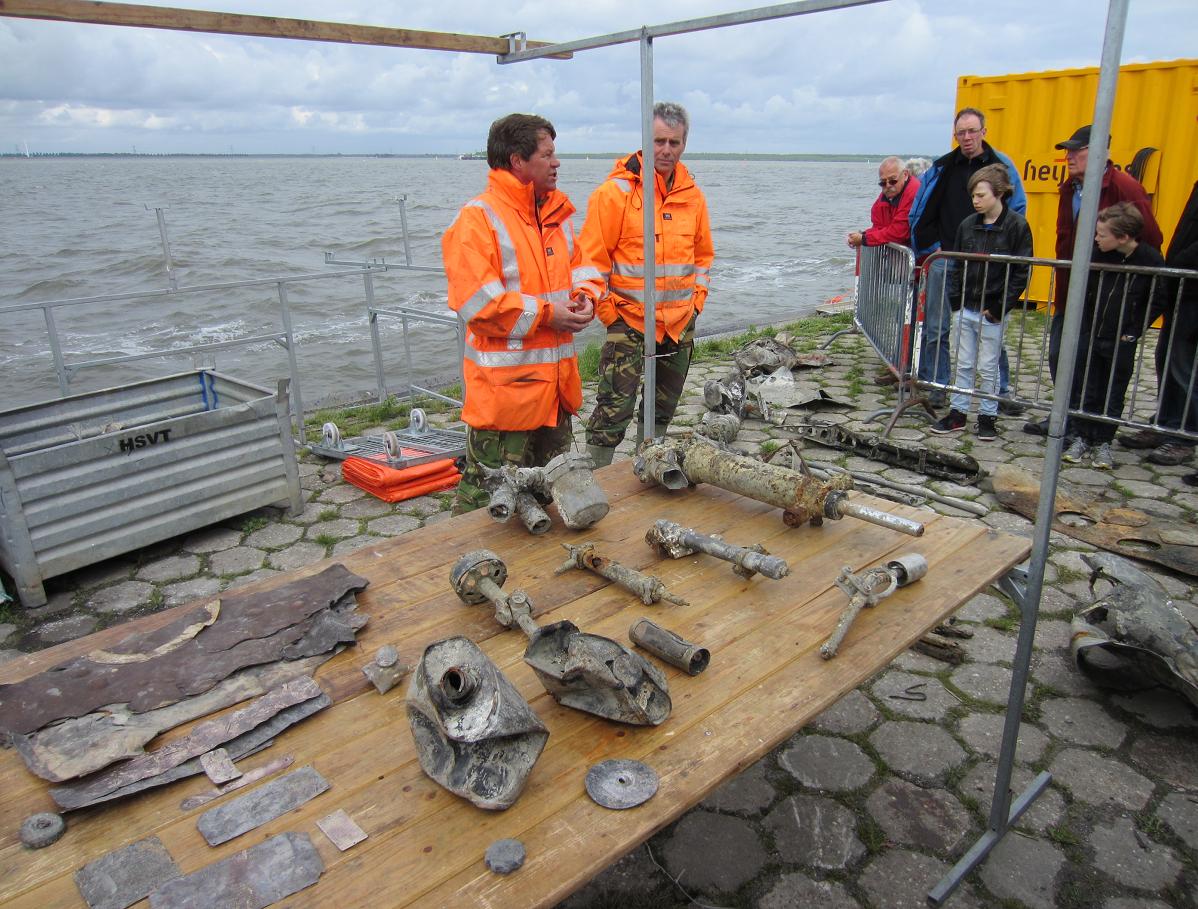 Sources:

- RWS files 1945-1960.
- 2012 research of the Amsterdam cemetery files war burials 1940-1945
- research on German activities IJsselmeer 1940-1945 (Berlin/Koblenz)
- website CWGC
- Photos item 2011, internet forum by Pieter W.
- www.halifaxlv827.co.uk/hf544.htm




© ZZairwar (Zuyder Zee Air War)