Date: 1944 Mar04/04
A/C Type: P-38 J Lightning
SN: 42-67864
Code:
A/C Nickname:
File: 778
Airforce: USAAF
Sqn/Unit: 20 FG - 55 FS
Mission/Raid: Bomber escort to Brunswick
1
Pilot
1Lt. James C. Scott MIA
9
2
10
3
11
4
12
5
13
6
14
7
15
8
16
Last seen northeast of Amsterdam, Waterland area. We believe dove vertically into a soft ground at a small lake edge. Aircraft and pilot deep in ground, MIA. Other location possible Lake IJsselmeer (Old Zuyder Sea), section Gouwzee or Markermeer.

Eye witness statement in MACR by 1Lt. Roy M. Scrutchfield:

"I was leading red flight. We had to make landfall in below IJmuiden at 12:19hrs at 26.000 ft. Lt. Scott was leading yellow flight and was flying to my left. Capt. McLary called and told me to take yellow flight and Lt. Scott to lead my second element. I was crossing over to take this position and was almost abreast of Lt. Scott when he called on the R/T "I am out of oxygen. I've got to go down quick". Before he had finished his sentence I saw him peel off in a diving turn. He went into the overcast. This was the last I saw of him. Several minutes before he also said he was having trouble with his oxygen". Map with last position attached: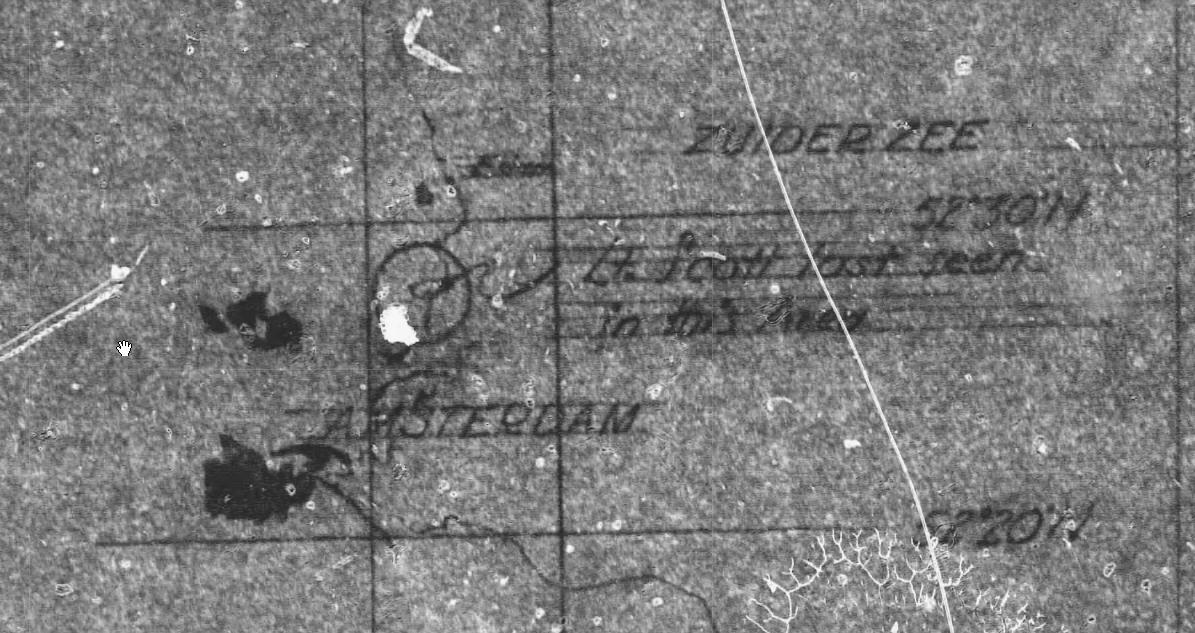 The meadows in Waterland, the area north east of Amsterdam, consist out of very soft muddy ground, covered with a thin layer of grass, reeds and water (puddles, small lakes, canals). A sharp shaped fighter as a Me-109 or a Spitfire, Mustang or P-38 with Merlin of Allison V-12 piston engines, coming down from high altitude in a 65 - 90° angle, will penetrate deep into the ground, to at least 6 meters deep (20 ft). It is even possible that the hole in the ground did not reveal what came down and caused the hole. If the hole was noticed at all, because it will fill instantly with water to the edge, and the area is wide and has remote and silent areas. We have an eye witness statement of a man claiming that during WW2 an unidentified aircraft came down in Waterland on a particular small lake-edge and vanished completely. Another man claimed an aircraft came down in the shallow Gouwzee and was never seen again. Both claims can involve Lt. Scott's P-38. Under investigation.












































Sources:

- MACR
- Interviews on WW2 with locals
- http://www.fieldsofhonor-database.com/index.php/american-war-cemetery-margraten-s/48554-scott-james-c








© ZZairwar (Zuyder Zee Air War)