Date: 1943 Dec 16/16
A/C Type: B-17F Fortress
SN: 42-30872
Code: AW-R
A/C Nickname: Blonde Bomber
File: 782
Airforce: USAAF
Sqn/Unit: 96 BG - 337 BS
Mission/Raid: Bremen Port area (Vegesack)
1
Pilot
1Lt. Lewis M. Kerrick all 10 crew MIA
9
RWG
S/Sgt. Stanley J. Maruso
2
Co-pilot
2Lt. George V. Bleyle
10
TG
S/Sgt. Benjamin L. Haynes Jr.
3
Nav.
2Lt. Lloyd Thompson
11
4
B
2Lt. Floyd W. Eakman
12
5
E
S/Sgt. Alton B. Walker
13
6
RO
T/Sgt. Raymond W. Wright
14
7
BTG
S/Sgt. Donald R. Denmead
15
8
LWG
S/Sgt. Charles W. Wilder
16

Came back from a raid on Bremen. Collided with B-17G 42-31113 Capt. Mott. Entangled and went down in the North Sea due west of Texel Island. 20 MIA.


Website 96BG: "Fighter attacks on the B-group were much more intense. Five B-17 went down in short order. Fifteen Fw-190 came down from the sun and scattered B-group momentarily like a gaggle of hysterical geese. Suddenly there was another collision. This one was witnessed by Lt. Jim Attaway who was flying lead in the high squadron. Below him enemy fighters literally shot an engine off Captain Mott's 42-31113. Having being severed from the wing, Mott's engine plunged down onto the wing of 1Lt. Lewis Kerrick's 42-30872 Blonde Bomber of the 337 BS. Blond Bomber ascended sharply. On the other hand Mott's plane descended. Both planes tangled wings and plunged into the sea. 20 MIA".

"A witness fixed the position of colliding 42-3265 Holy Mackeral! and Schroeder's 42-30860 on 53°03N - 04°40E".

ZZAW: since it is established that 42-3265 and 42-30860 collided not on this position but west of Harlingen, the described position must be the collision of Kerrick and Mott.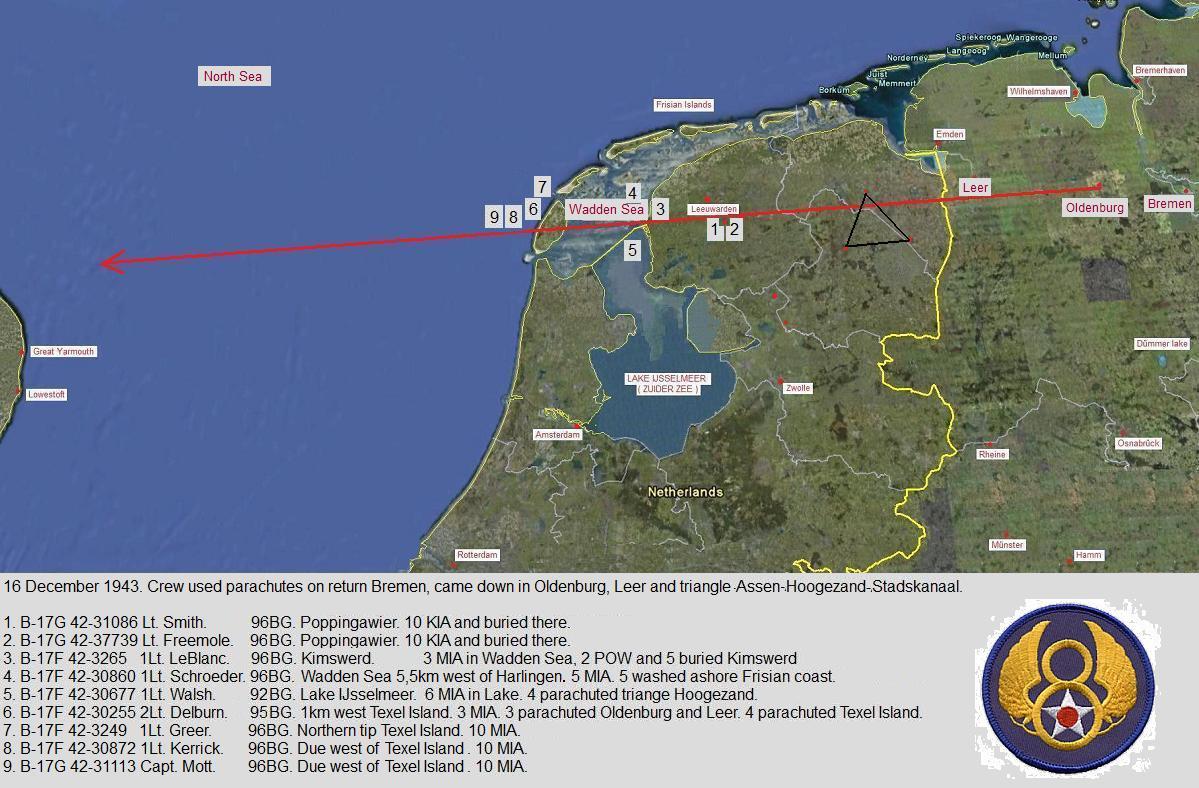 Sources:

- MACR
- Website 96BG








© ZZAirwar (Zuyder Zee Air War)