Date: 1943 Dec 22/22
A/C Type: B-24 D Liberator
SN: 42-41015
Code:
A/C Nickname:
File: 787
Airforce: USAAF
Sqn/Unit: 93 BG - 328 BS
Mission/Raid: Osnabrück
1
Pilot
Captain Herrell E. Ford 8 crew MIA
9
RWG
2Lt. Eugene H. Cantrell
2
Co-pilot
Colonel John H. Hayden CO 93BG/328BS
10
TG
S/Sgt James W. Craig w.a. Vlieland Isle
3
Nav.
1Lt. Max M. Myres
11
4
B
Captain Lawrence C. Norman
12
5
E
T/Sgt Ward H. Randles
13
6
RO
T/Sgt James K. Kobler
14
7
BTG
not carried
15
8
LWG
S/Sgt Otto Eckert
16

Return from Osnabrück was on high altitude, above a thick deck of clouds. Formation ran into intense Flak and fighter attacks on position 52°38'N-06°20'E. This is in the Netherlands, east of Staphorst. The bomber formation was scattered. Damaged aircraft lost speed and sank beneath the clouds, often again attacked by fighters. 22 bombers were lost from Osnabrück to the British coast.

We believe aircraft was lost in the North Sea WNW of Texel Island. All crew MIA, except tail gunner S/Sgt. James W. Craig. Five months later he washed ashore on the SW tip of Frisian Island Vlieland and was buried there. Today he rests in US Cemetery 'Netherlands', Margraten. Highly experienced and decorated crew, Ploesti Veterans. Colonel John H. Hayden was the 93BG/328 Sqn Commanding Officer from 31 October 1943 until 22 December 1943.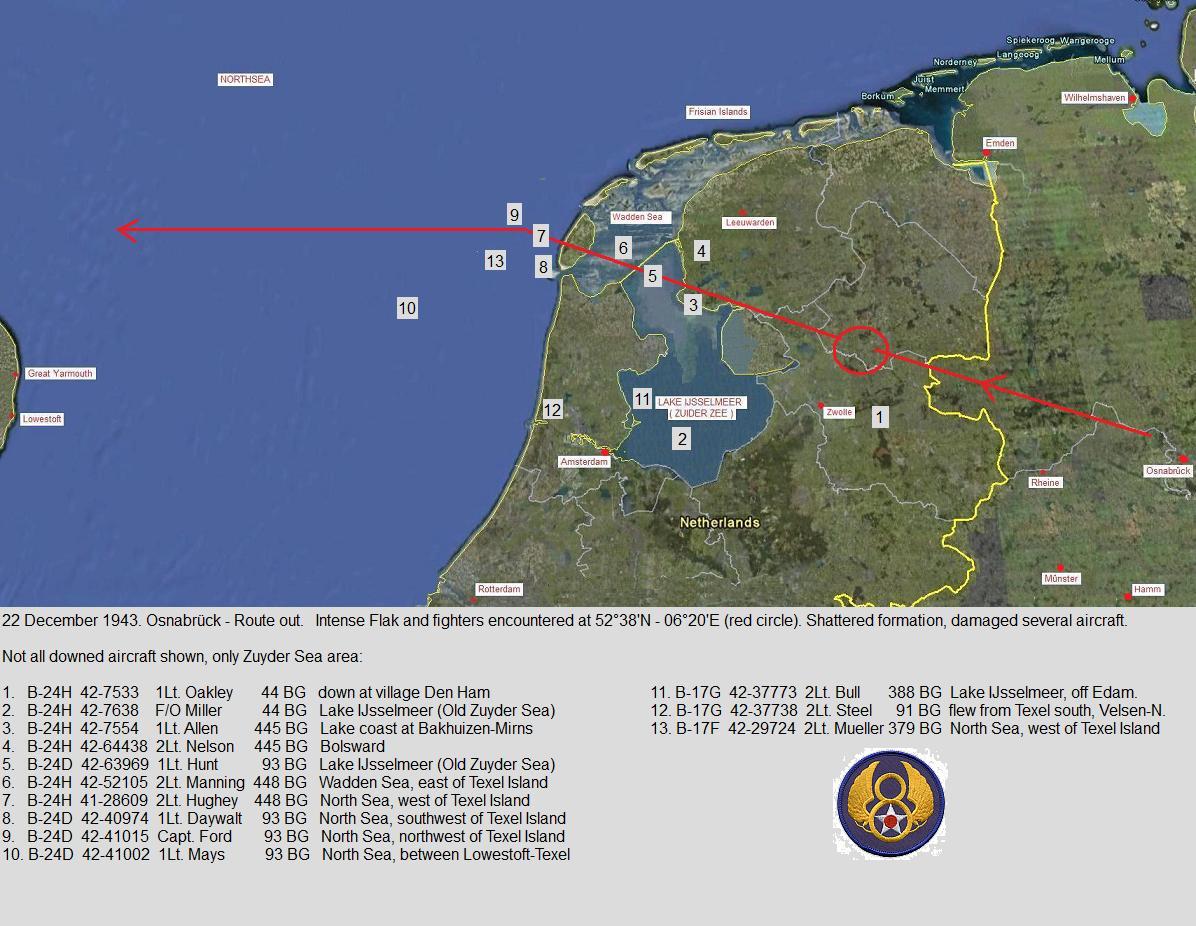 Sources/Read more:

- All MACR on raid 22 December 1943.
- Our cemetery file on Vlieland Island: http://www.zzairwar.nl/dossiers/999.html

- Craig: http://www.findagrave.com/cgi-bin/fg.cgi?page=gr&GRid=56297869
- http://www.fieldsofhonor-database.com/index.php/american-war-cemetery-margraten-c/52550-craig-james-w
- http://www.americanairmuseum.com/person/123098
- http://www.findagrave.com/cgi-bin/fg.cgi?page=gr&GRid=56289749







© ZZairwar (Zuyder Zee Air War)