Date: 1943 Dec22/22
A/C Type: B-24 D Liberator
SN: 42-41002
Code:
A/C Nickname:
File: 788
Airforce: USAAF
Sqn/Unit: 93 BG - 409 BS
Mission/Raid: Osnabrück
1
Pilot
1Lt.Richard B. Mays all crew MIA
9
RWG
S/Sgt Joseph R. Novelli
2
Co-pilot
Lt. Col. Joseph S. Tate Jr. Attack leader.
10
TG
2 Lt. Faine M. Doyal
3
Nav.
1Lt. Forrest O. Henson
11
4
B
1Lt. Sargent S. Cox
12
5
E
S/Sgt Joe Nigro
13
6
RO
T/Sgt Dale B. Mann
14
7
BTG
not carried
15
8
LWG
S/Sgt George C. Coe
16

Return from Osnabrück was on high altitude, above a thick deck of clouds. Formation ran into intense Flak and fighter attacks on position 52°38'N-06°20'E. This is in the Netherlands, east of Staphorst. The bomber formation was scattered. Damaged aircraft lost speed and sank beneath the clouds, often again attacked by fighters. 22 bombers were lost from Osnabrück to the British coast.

This bomber was formation leader. On way back, was attacked as first, east of Staphorst, in red circle. Took hits and evasive action, went under the clouds in the Netherlands. Never seen again. Crash position in lake IJsselmeer (Old Zuyder Sea) is possible, but lost without any trace makes this unlikely. Probably ditched in the North Sea, trying to get damaged back to England. Highly experienced crew. Lt. Colonel Joseph S. Tate Jr. was Acting Command Pilot. All 9 crew MIA, later declared dead.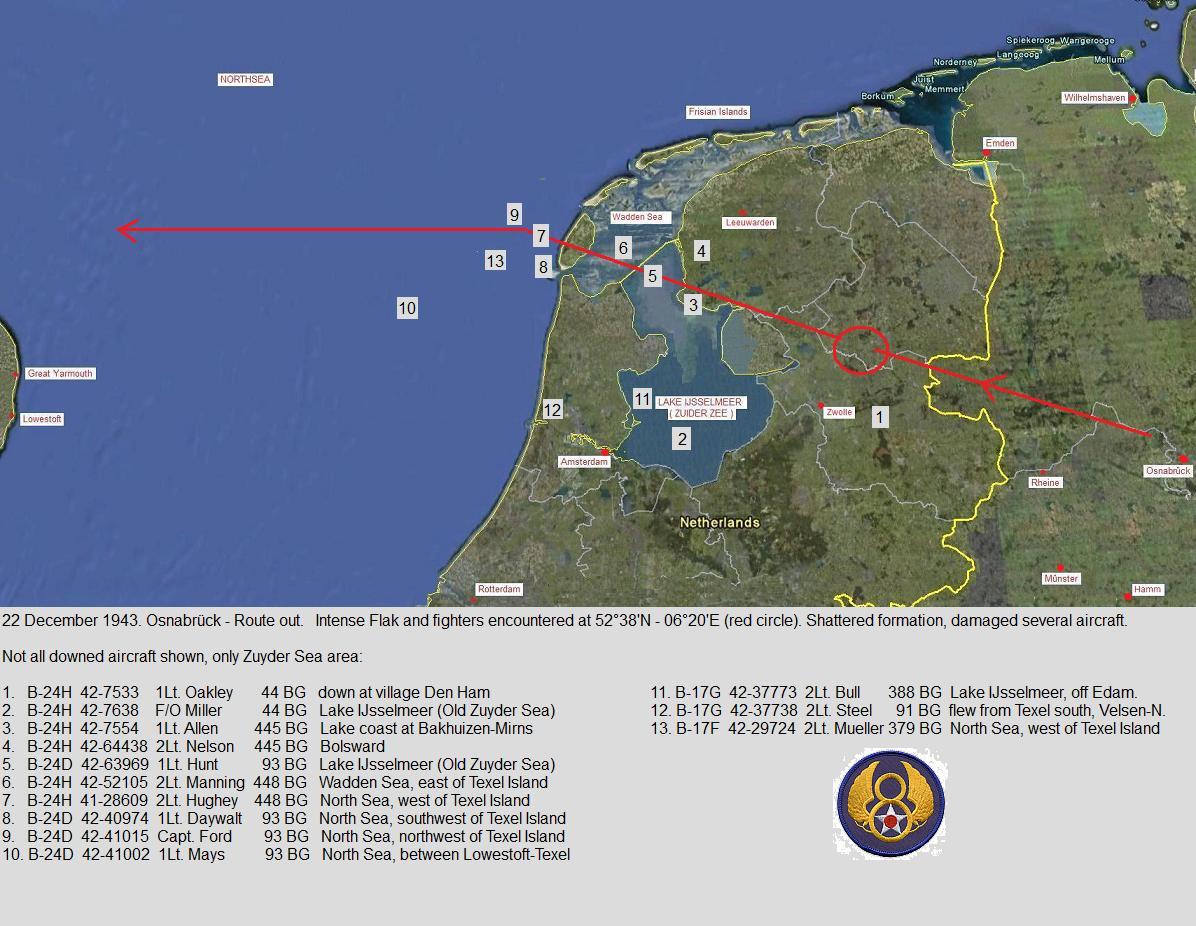 Sources/read more:

- All available MACR (all lost aircraft) on raid 22 December 1943
- Tate: https://apps.westpointaog.org/Memorials/Article/12594/
- http://www.findagrave.com/cgi-bin/fg.cgi?page=gr&GRid=56294841
- http://www.americanairmuseum.com/aircraft/7504






© ZZairwar (Zuyder Zee Air War)