Date: 1943 Dec 22/22
A/C Type: B-24 D Liberator
SN: 42-64438
Code:
A/C Nickname:
File: 789
Airforce: USAAF
Sqn/Unit: 445 BG - 702 BS
Mission/Raid: Osnabrück
1
Pilot
2Lt. Norman M. Nelson Coll. grave Kentucky
9
RWG
S/Sgt Asha P. Small Cem NL Margraten
2
Co-pilot
2Lt. George J. Clark Coll. grave Kentucky
10
TG
S/Sgt James V. King Today USA
3
Nav.
2Lt. Conrad Silverman Coll. grave Kentucky
11
4
B
2Lt. Martin P. Bulger Jr. US Cem. NL Margraten
12
5
E
T/Sgt George H. Entzminger Coll. grave Kentucky
13
6
RO
T/Sgt Charles E. Smith buried today USA
14
7
BTG
S/Sgt Walter Derdzenski buried today USA
15
8
LWG
S/Sgt Francis H. Folkner Coll. grave Kentucky
16

Return from Osnabrück was on high altitude, above a thick deck of clouds. Formation ran into intense Flak and fighter attacks on position 52°38'N-06°20'E. This is in the Netherlands, east of Staphorst. The bomber formation was scattered. Damaged aircraft lost speed and sank beneath the clouds, often again attacked by fighters. 22 bombers were lost from Osnabrück to the British coast.


It is said this aircraft could not drop its bombs on Osnabrück due to a technical malfunction. But there were more bombers that held their bombs aboard, because the target was obscured by clouds and not every squadron dropped on radar. Despite the weather and technical problems, everybody stayed together after Osnabrück in a big formation and followed the lead plane (Lt. Mays in 42-41002) that coursed to England roughly in direction Texel Island. East of Staphorst hell broke loose, and formation got scattered. Lt. Nelson's aircraft was one of the damaged ones and slowly sank under the thick deck of clouds, attacked by German fighters. Lt. Bulger was set overboard by parachute, heavily wounded, in the hope medical attention could save his life. He was dead soon after he landed and buried in Skillaerd. Aircraft flew on, crashed and exploded a few minutes later at Bolsward. What was left of the crew was buried on the Bolsward Churchyard on 24 December 1943.

After the war in 1945 the men were exhumed and with name were reburied in US Centralization War Cemetery "Netherlands", Margraten. These were Lt. Bulger, S/Sgt. Small, S/Sgt. King, S/Sgt. Smith and S/Sgt. Derdzenski. Only Lt. Bulger and Sgt. Small rest there today, Sgt. King, Smith and Derdzenski were reburied in 1949 in the USA in the war dead repatriation program. The other remains were transported to the US Identification Center in Neuville-en-Condroz, Belgium. ID was not possible and the men received a collective grave there. In 1949 they were reburied in a collective grave in the Zachary Taylor National Cemetery in Louisville, Kentucky.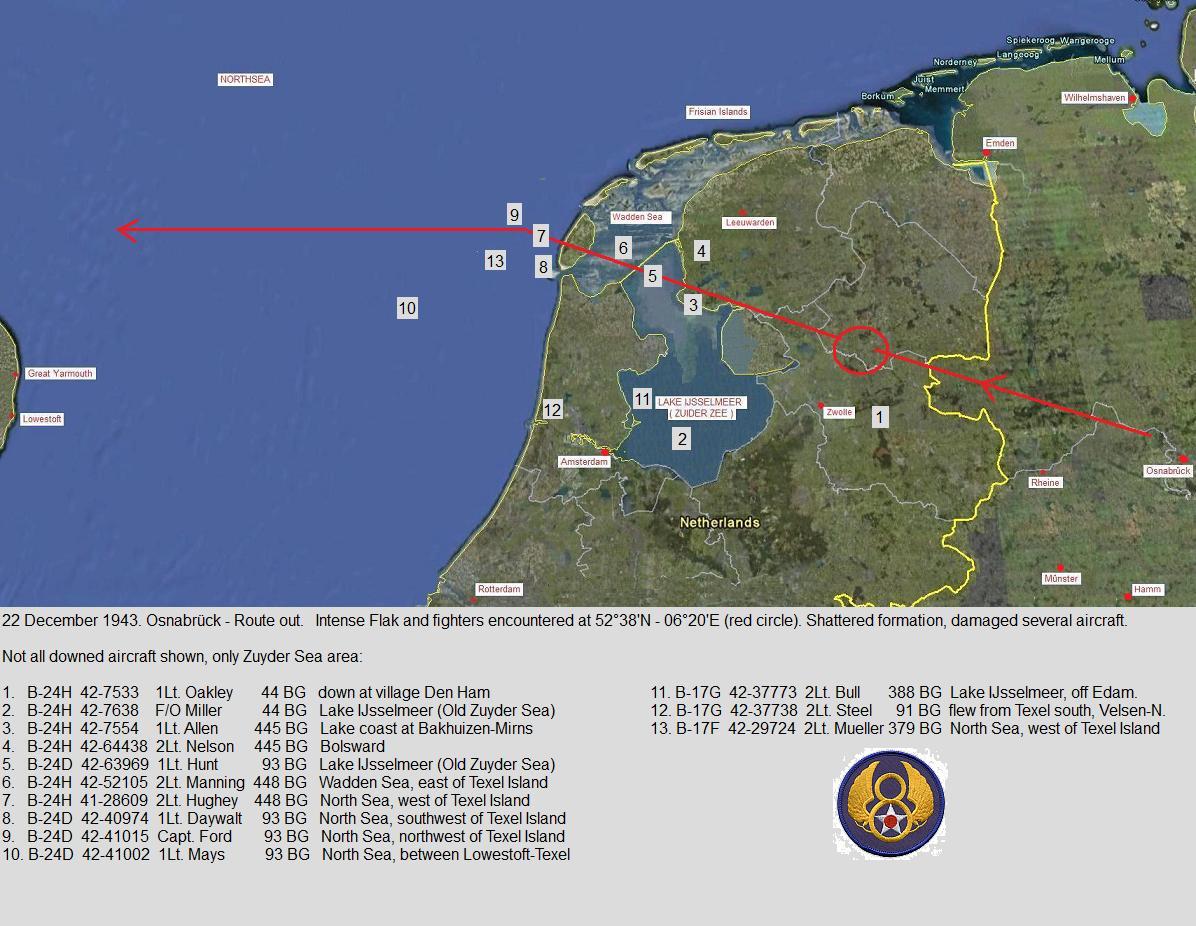 Sources/read more:

- All MACR on the 22 December 1943 raid.
- Nelson http://vetaffairs.sd.gov/sdwwiimemorial/SubPages/profiles/Display.asp?P=1377
- Recommened (Dutch with photos) http://www.wandelpaden.com/martinbulger.html
- http://www.fieldsofhonor-database.com/index.php/american-war-cemetery-margraten-b/47960-bulger-martin-p-jr
- King http://www.findagrave.com/cgi-bin/fg.cgi?page=gr&GRid=64251162
- Small http://www.fieldsofhonor-database.com/index.php/american-war-cemetery-margraten-s/48100-small-asha-p
- Derdzenski http://www.findagrave.com/cgi-bin/fg.cgi?page=gr&GRid=71579592






© ZZairwar (Zuyder Zee Air War)