Date: 1943 Dec 22/22
A/C Type: B-24 D Liberator
SN: 41-28609
Code:
A/C Nickname:
File: 790
Airforce: USAAF
Sqn/Unit: 448 BG - 714 BS
Mission/Raid: Osnabrück
1
Pilot
2Lt. Edward D. Hughey Jr. MIA
9
RWG
S/Sgt Richard B. Laing MIA
2
Co-pilot
2Lt. Charles D. Hill MIA
10
TG
S/Sgt John L. Keim POW Texel Isle
3
Nav.
2Lt. Sumner W. Stevens MIA
11
4
B
2Lt. Edwin S. Jacobsen MIA
12
5
E
S/Sgt Curtis L. Koon MIA
13
6
RO
S/Sgt James G. Hicks POW Texel Isle
14
7
BTG
S/Sgt Carl Anderson MIA
15
8
LWG
S/Sgt Homer C. Risner MIA (shot dead in a/c)
16

Return from Osnabrück was on high altitude, above a thick deck of clouds. Formation ran into intense Flak and fighter attacks on position 52°38'N-06°20'E. This is in the Netherlands, east of Staphorst. The bomber formation was scattered. Damaged aircraft lost speed and sank beneath the clouds, often again attacked by fighters. 22 bombers were lost from Osnabrück to the British coast.


Sgt. Hicks: "Over Freisen Isl. left ship through left waist window. Landed safely on island and was taken POW. Sgt. Keim was there also POW, he bailed out before explosion".

No burial record of one of the missing crew found on Texel Island (Den Burg Cemetery). We believe the bomber just passed Texel Island, exploded (under fighter attack) and the parts came down west of Texel Island in the North Sea. Eight man crew MIA in North Sea, later declared dead.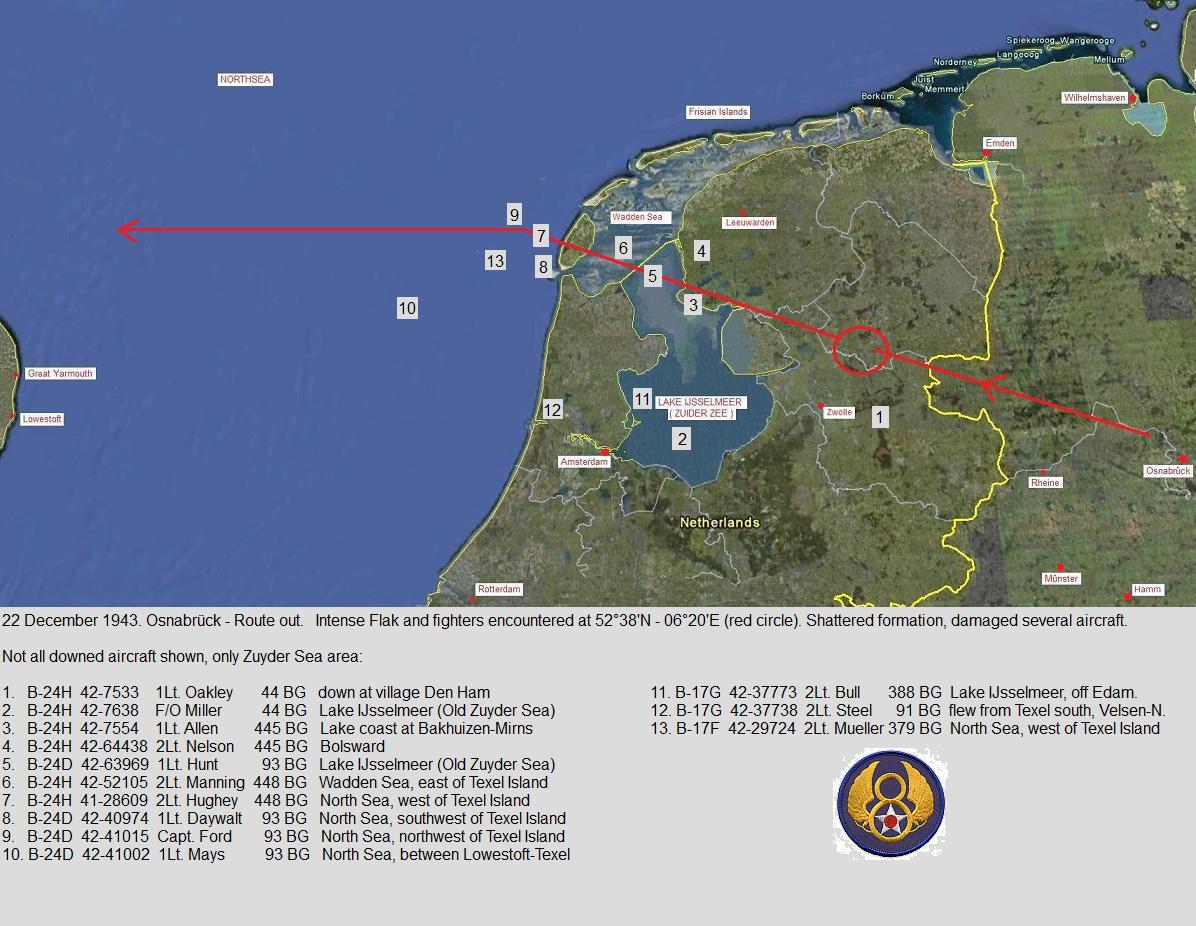 Sources:

- all MACR on the 22 December raid
- http://www.fieldsofhonor-database.com/index.php/american-war-cemetery-margraten-h/49057-hughey-edward-d-jr
- On Stevens, incl. MACR photos: http://www.etiebax.nl/adoptiegraven/20/





© ZZairwar (Zuyder Zee Air War)