Date: 1943 Dec 22/22
A/C Type: B-24 D Liberator
SN: 42-52105
Code:
A/C Nickname:
File: 791
Airforce: USAAF
Sqn/Unit: 448 BG - 714 BS
Mission/Raid: Osnabrück
1
Pilot
2Lt. David E. Manning MIA
9
RWG
S/Sgt William S. Pennypacker KIA, rec.
2
Co-pilot
2Lt. Robert F. Palicki washed a. sluice Kornwerd
10
TG
S/Sgt Joseph F. Kasprzak MIA
3
Nav.
2Lt. Jerome Slepin washed ashore at Harlingen
11
Observer
2Lt. Byrum E. Lanphear b. Terschelling
4
B
2Lt. Arne O. Bergum w.a. N Marrum, b. Westernijk.
12
5
E
S/Sgt David E. Lackey MIA
13
6
RO
S/Sgt Philip H. Klum MIA
14
7
BTG
S/Sgt Bernard W. Anderson MIA
15
8
LWG
S/Sgt Irving Mazur MIA
16

Return from Osnabrück was on high altitude, above a thick deck of clouds. Formation ran into intense Flak and fighter attacks on position 52°38'N-06°20'E. This is in the Netherlands, east of Staphorst (red circle on below map). The bomber formation was scattered. Damaged aircraft lost speed and sank beneath the clouds, often again attacked by fighters. 22 bombers were lost from Osnabrück to the British coast.

Fell out of formation, possibly as one of the many op position east of Staphorst. Was attacked by fighters and seen going under the clouds (10/10). Did not get far, because 15 minutes later the aircraft came down in the Wadden Sea, between Texel Island and city Harlingen. Six crew never found , MIA. Later declared dead. Five bodies followed the standard sea current pattern, washed ashore more east on the Wadden Sea coastline and were recovered, but this was months later between March and August 1944.

It is not impossible that some of the MIA are in the (never discovered) wreck or floated also into direction of eastern Wadden Sea, German Bight and up to the Danish West Coast. Were buried there, never identified in the post war exhumation and identification process in Neuvile-en-Condroz and are today buried as unknown USAAF Airman 'Known but to God' in the American Cemetery "Ardennes" in Neupré, Belgium.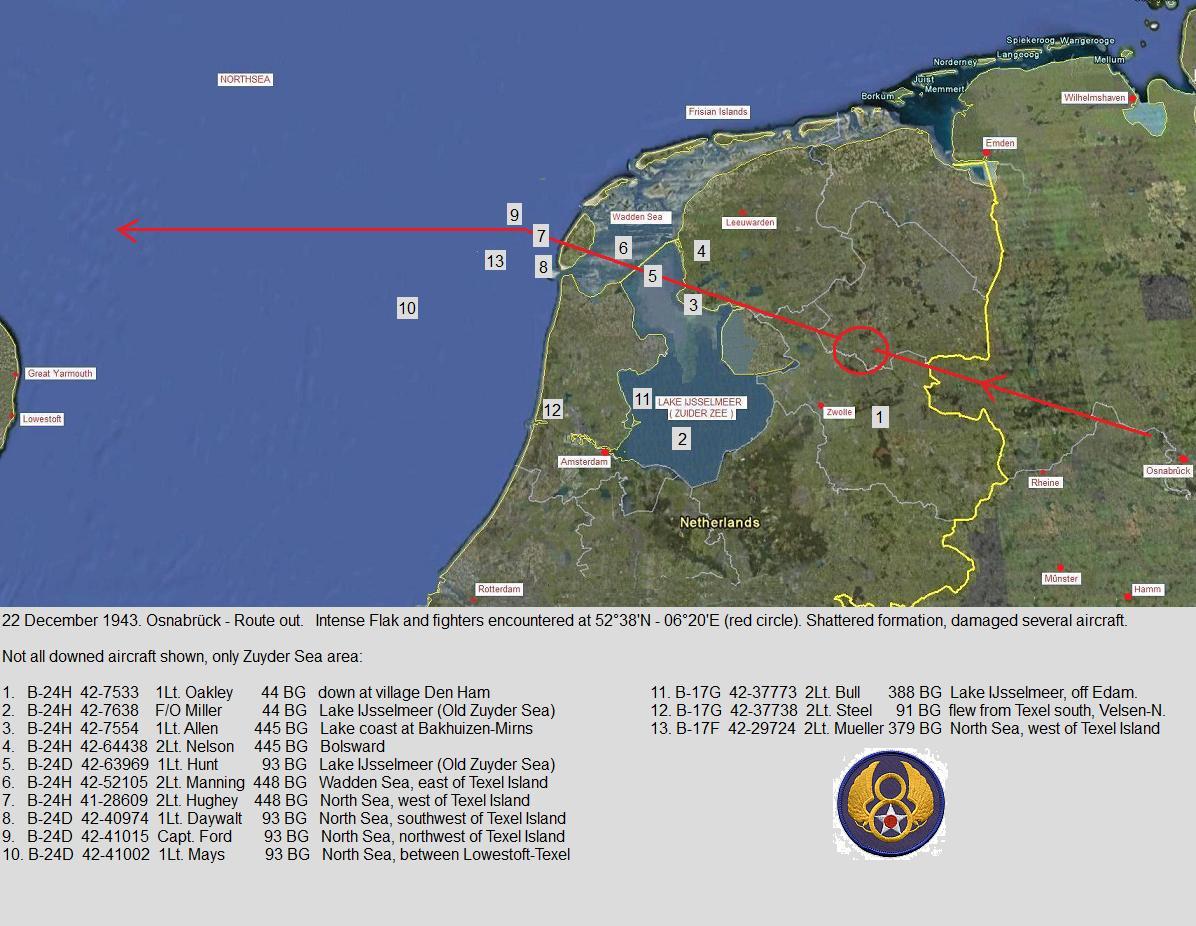 Sources/Read more:

- MACR (all MACR on the 22 December 1943 Osnabrück raid)
- Photo of co-pilot Robert F. Palicki original grave at Harlingen 1945: http://www.626-squadron.co.uk/willem5.htm
- http://fieldsofhonor-database.com/index.php/american-war-cemetery-margraten-m/51188-manning-david-e
- http://www.findagrave.com/cgi-bin/fg.cgi?page=gr&GRid=68549226

- Our files on USA War Cemetery Ardennes: http://www.zzairwar.nl/dossiers/958.html





© ZZairwar (Zuyder Zee Air War)