Date: 1943 Dec 22/22
A/C Type: B-17F Fortress
SN: 42-29724
Code:
A/C Nickname:
File: 792
Airforce: USAAF
Sqn/Unit: 379 BG - 524 BS
Mission/Raid: Osnabrück
1
Pilot
2Lt. Edward T. Mueller all 10 crew MIA
9
RWG
S/Sgt Herman C. Thomas
2
Co-pilot
2Lt. Carl Helton Jr.
10
TG
S/Sgt Robert P. Blankenship
3
Nav.
F/O Pascal C. Lynott
11
4
B
2Lt. Turley E. Bird Jr.
12
5
E
S/Sgt George G. Emery jr.
13
6
RO
S/Sgt Jesse A. Hembree
14
7
BTG
S/Sgt Joseph W. Kampf
15
8
LWG
S/Sgt Ransom S. Jacobs
16

Return from Osnabrück was on high altitude, above a thick deck of clouds. Formation ran into intense Flak and fighter attacks on position 52°38'N-06°20'E. This is in the Netherlands, east of Staphorst. The bomber formation was scattered. Damaged aircraft lost speed and sank beneath the clouds, often again attacked by fighters. 22 bombers were lost from Osnabrück to the British coast.

The bomber stream was harassed by German fighters from Staphorst until 80km over the North Sea off Texel Island. This aircraft was hit and went down into the sea. No survivors, 10 crew MIA.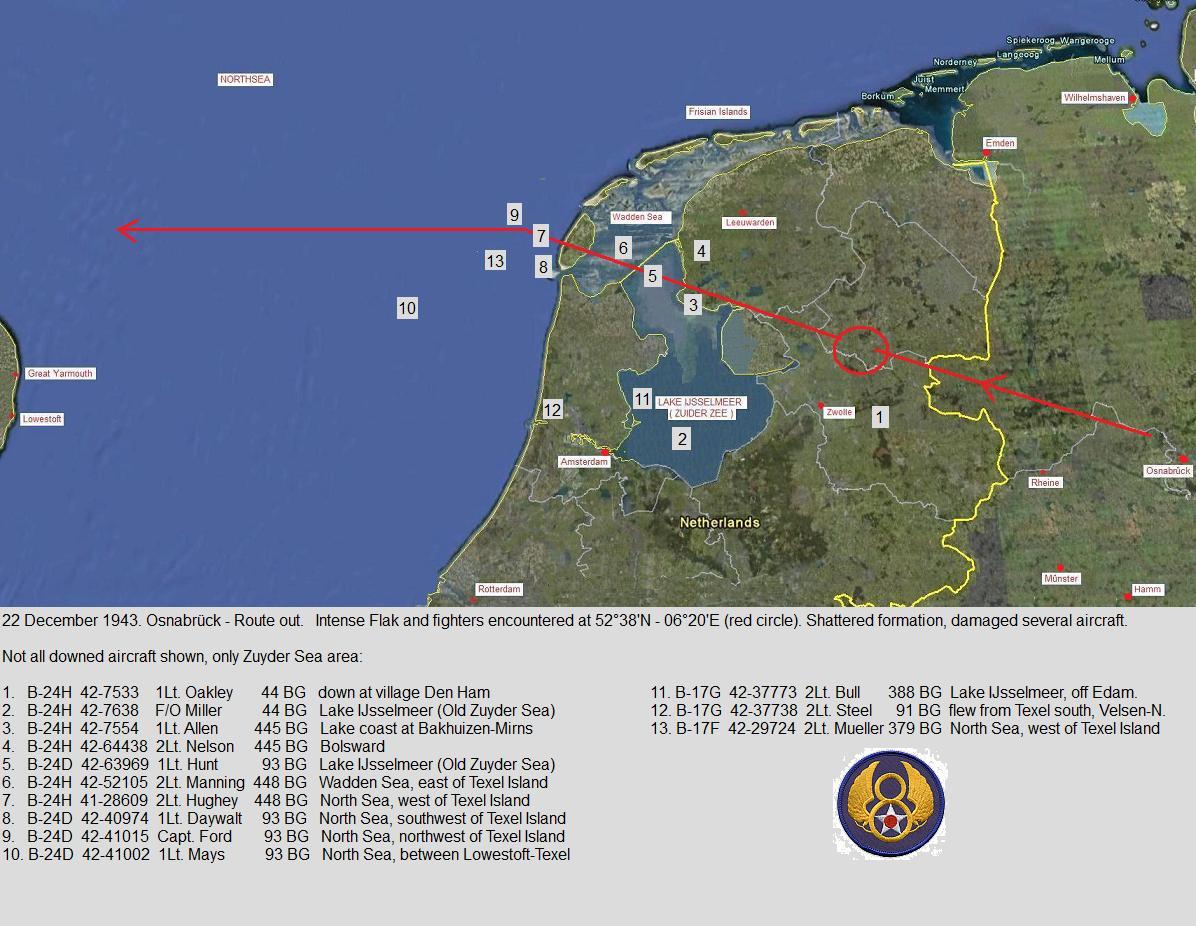 Sources:

- all MACR of the 22 December 1943 Osnabrück raid.








© ZZairwar (Zuyder Zee Air war)