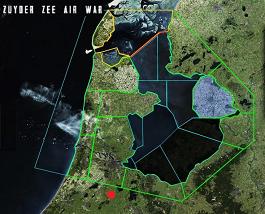 Relation with Lake (class): None. Cemetery with no Lake link.
Total nr. of casualties buried here (TC): 1 end WW2, today: 3.
Lake casualties, initially, end WW2 (LC-I): 0
Unknown today: 0
of which unknown from Lake (LC-U): 0
of which unknown from North Sea (NS-U): 0
Initial burial site in WW2: yes.
Post war burial site for collection and reburial from other sites: no
Cemetery with Lake casualties today: no.



WILNIS PROTESTANT CEMETERY

In May 1943 a Wellington bomber crashed here (HE727 of 428 Sqn RCAF). Parts of pilot W/O 1 Robert B. Moulton were recovered at the wreck site and buried here in 1943. Two men became POW. Thanks to the effort of local groups and funding, a recovery was undertaken by the RNLAF in year 2002. The wreck was found in the soft ground, last parts lay 6,5 meter deep. Remains of the 2 missing airmen, F/Sgt. Joseph Thibaudeau and F/Sgt. Joseph White and also three-quarter of the body of pilot Moulton were found and later buried in Wilnis with full ceremony. All 3 were Canadians.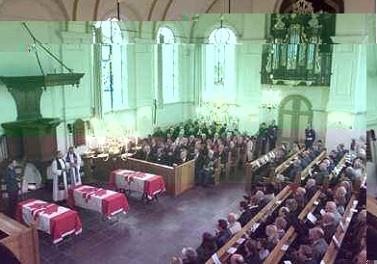 Dutch name cemetery: Wilnis Begraafplaats Hervormde Kerk.
Full name: Wilnis Protestant Churchyard
Address (usable for car navigation):
Koningin Julianastraat 23, 3648 AL - Wilnis

For reaction or comments; send us an email,
see address and info at CONTACT.
Please use as subject title: 'Wilnis'.








For more info visit these sites:

- www.rcafyorkshire.weebly.com/wilnis-connection.html and/or www.crash40-45.nl/nl/wilnis4.html

Photos of the German funeral in 1943:

- http://www.veterans.gc.ca/eng/remembrance/memorials/canadian-virtual-war-memorial/detail/2620531





© ZZairwar (Zuyder Zee Air War)