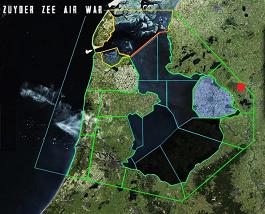 Relation with Lake (class): None. No link or relation with Lake.
Total nr. of casualties buried here (TC): 8.
Lake casualties, initially: 0
Unknown today: 0.
of which unknown from Lake (LC-U): 0
of which unknown from North Sea (NS-U): 0
Initial burial site in WW2: yes.
Post war burial site for collection and reburial from other sites: no.
Cemetery with Lake casualties today: no



WILLEMSOORD (near STEENWIJK) GENERAL CEMETERY

The Allied row on this cemetery contains 6 airwar graves. Grave 1 has three headstones above it and the grave itself is under centre headstone. Grave 2 is the 4th headstone on below photo, followed by grave 3, 4, 5 and 6. Grave 1 is a collective grave with remains of 3 airmen: the crew of RAF Blenheim R3688, 107 Sqn, crashed here 23 June 1940 (P/O Tozer, P/O Esson and Sgt. Murchinson). Two other Blenheims of 107 and 110 Sqn crashed this day in Amsterdam after returning from similar raids in Germany.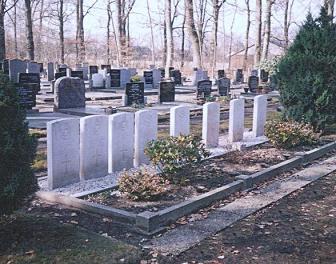 Dutch name cemetery: Willemsoord Alg. begr. plaats 'Vredenhof'
CWGC name: Steenwijkerwold (Willemsoord) Gen. Cemetery
Address (usable for car navigation):
Kerkhofslaan, Willemsoord (centre, near church).

For reaction or comments; send us an email,
see address and info at CONTACT.
Please use as subject title: 'Willemsoord'.








The 5 airmen in grave 2. 3, 4, 5 and 6 are the crew of RAF Wellington BK360 of 150 Sqn, shot down here on a raid on Emden 31 October 1942. Their names are Sgt. Patton (grave 2), F/Sgt. Makay, Sgt. Fuller, F/O Tolmie and Sgt. Cocks in grave 6.




© ZZairwar (Zuyder Zee Air War)