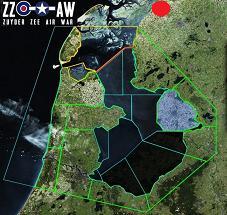 Relation with Lake (class): None. Cemetery without lake link.


Total nr. of casualties buried here (TC): end WW2 at least 10, today 9.
Lake casualties, initially, end WW2 (LC-I): 0
Unknown today: 3
of which unknown from Lake (LC-U): 0
of which unknown from North Sea (NS-U): 3
Initial burial site in WW2: yes.
Post war burial site for collection and reburial from other sites: no.
Cemetery with Lake casualties today: no.
ST. JACOBIPAROCHIE (HET BILDT)

On the far right side of the row are 4 crew members from a Whitley bomber that crashed nearby on 27/28 December 1941. The others washed ashore here. Canadian Sgt. McLachlin (fifth grave from the right) crashed in the Wadden Sea in Halifax W1179 on 19/20 July 1942. Also initially buried here was RAF Sgt. Harry Kleiner, crew member of Lancaster ED970 of 57 Sqn crashed in the North Sea on 23/24 May 1943. On request of his parents, his remains were moved to the Jewish cemetery in Leeuwarden and reburied there on 25 October 1946. For an article on the war graves of St. Jacobiparochie and Sgt. Kleiner see this site: 626-squadron.co.uk/willem18.htm.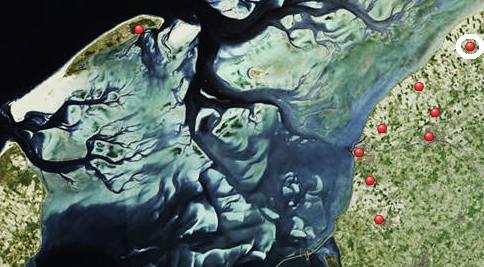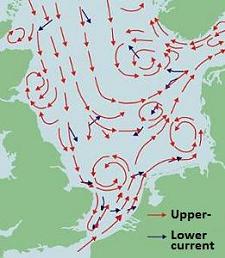 Dutch name cemetery: St. Jacobiparochie Alg. begr. pl.
Full name: Het Bildt (St. Jacobiparochie) General Cemetery
Address (usable for car navigation):
Zuiderweg 2 or Zuideinde 64.

For reaction or comments; send us an email,
see address and info at CONTACT.
Please use as subject title: 'St. Jacobi'.
The 4 headstones on the left are 3 non-identified Commonwealth airmen and a Polish Sgt.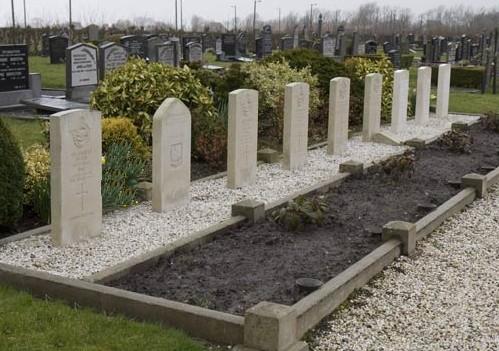 From left (nearest to the camera) to right:


Grave 36. 'An Airman, a P/O, RAF, 09 August 1943' (wash ashore date)

Grave 35. Kpl. Piotr Bednarski, PAF, 138 Sqn, 12 May 1943

Grave 34. 'An Airman, a Sgt, RAF, 01 April 1943' (wash ashore date)

Grave 33. 'An Airman, no rank, RAF, 18 March 1943' (wash ashore date)
Photo below:
grave nr. 36, 35, 34 and 33.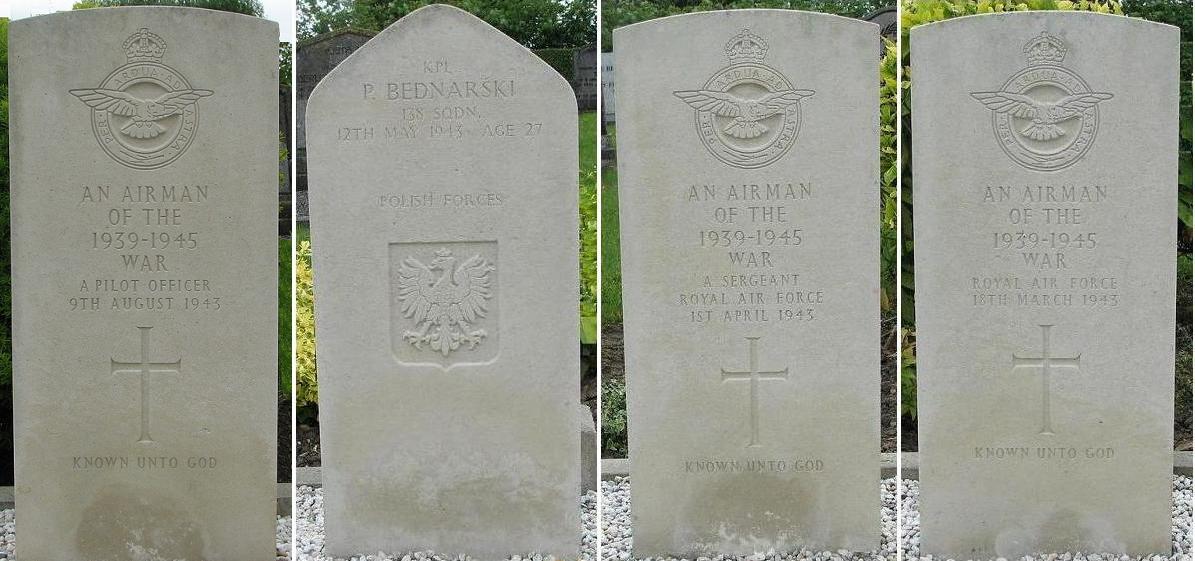 ® ZZairwar