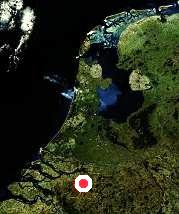 Relation with Lake (class): Lake Casualty Cemetery (LCC)


Total nr. of casualties buried here (TC): 161.
Lake casualties, initially, end WW2 (LC-I): 0. Today: 6.
Unknown today: 1
of which unknown from Lake (LC-U): 0
of which unknown from North Sea (NS-U): no info.
Initial burial site in WW2: no.
Post war burial site for collection and reburial from other sites: yes
Cemetery with Lake casualties today: yes (LCW).
BREDA, POLISH FIELD OF HONOUR CEMETERY "ETTENSEBAAN"



This war cemetery is a postwar assembly cemetery established in 1963. It contains Polish soldiers that liberated Breda and this region in October 1944. They were buried initially on several other locations in this area. Most belonged to the 1st. Polish Armoured Division. General Maczek rests here as well. In 1962 the cemetery was completed with a number of Polish airmen from lone graves in small, isolated villages in Holland. Last burial ceremony was in 2003 when the remains of 5 crew members of a Lancaster bomber (300 Sqn) from lake IJsselmeer were buried here. They were MIA until the wreck was discovered in 1998 by fishermen from Volendam (VD64) and recovered in 2003.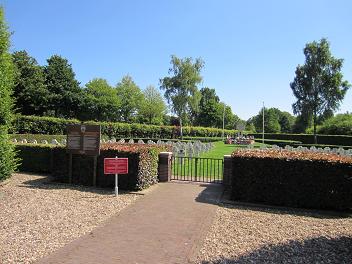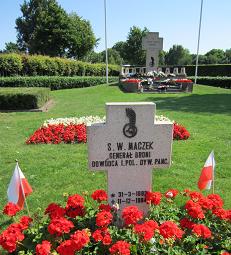 Dutch name cemetery: Poolse oorlogsbegr. pl. Ettensebaan
Full name: Polish war cemetery Breda, Ettensebaan.
Address (usable for car navigation):
Breda-West. Princenhage. Ettensebaan, between Zuilenstraat 96 and Tuinzigtlaan 11.

For reaction or comments; send us an email,
see address and info at CONTACT.
Please use as subject title: 'Breda'.
Photo below: Three Polish airmen that lay until 1962 in North Holland in the triangle Hoorn-Enkhuizen-Medemblik.
This region is known as 'West-Friesland' or 'De Streek'. These Polish airmen rest in full honour here in Breda, but their graves were also well maintained, respected and honoured in the smaller communities in North Holland, where their aircraft crashed. The forced transfer to Breda in 1962 severed these smaller communities from a part of their local war history, especially to the younger generations.

From left to right:

- Sgt. J. Pretowski. 317 Sqn. Spitfire ML421, 12/12 April 1945, crashed and was buried in Abbekerk (South west of Medemblik)

- Corporal H. Rogowski. 305 Sqn. Wellington R9620, 18/19 June 1941, crashed near and was buried in Lutjebroek (2km west of Enkhuizen)

- Sgt. F. S. Bladowski, 300 Sqn, Lancaster DV286, 12/13 June 1944, crashed 2km east off Wijdenes, washed ashore and buried Wijdenes (East of Hoorn).

- Sgt. K. Germasinski (not on this photo), RAF 138 Sqn (SOE)/300 Sqn PAF, Halifax DT627, he was buried at the Wadden Sea coast in Anjum.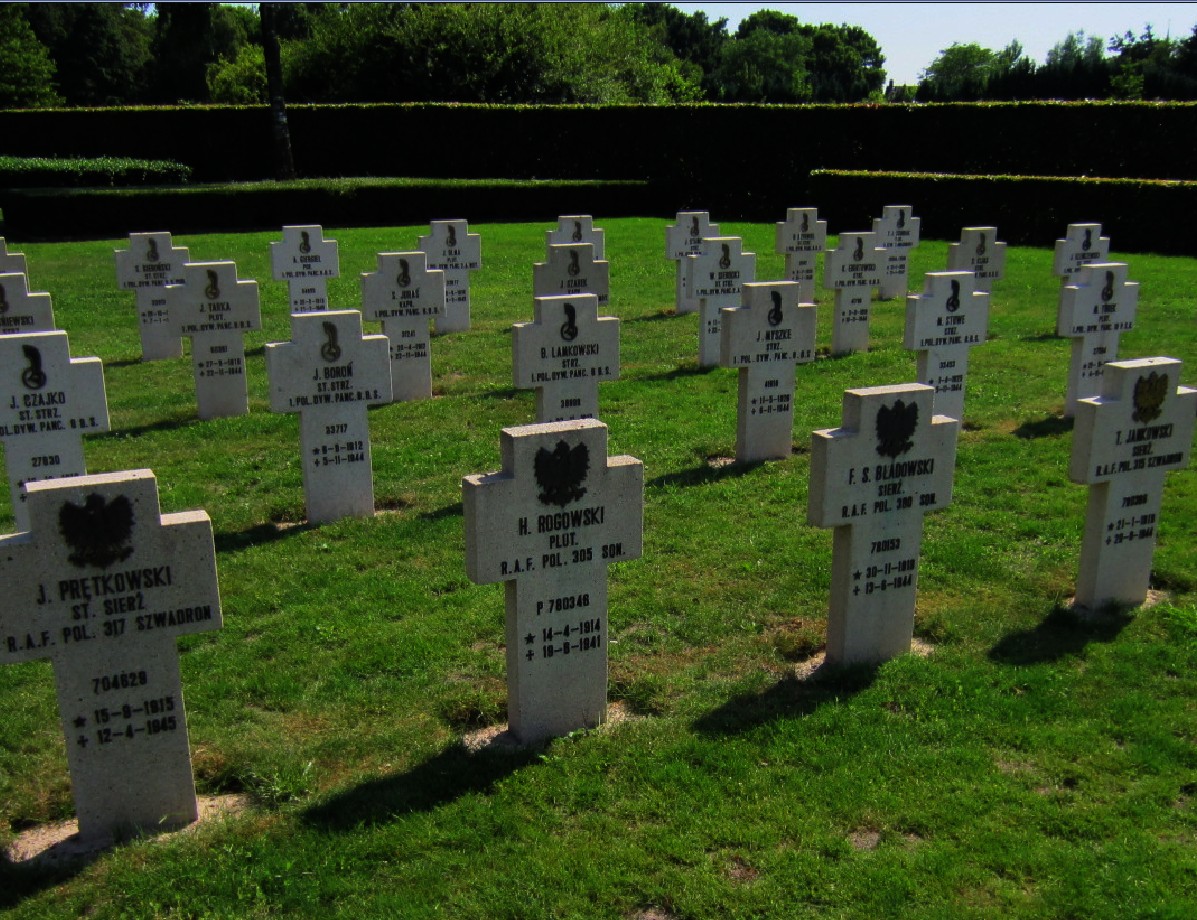 Crew Lancaster DV286. Recovered from lake IJsselmeer (old Zuyder Sea) in 2003.
Photo below: The remains of leading aircraftman Jan Bokros, pilot officer Isaak Feil, Sgt. Wladyslaw Leppert, Sgt. Stanislaw Miszturak and corporal Franciszek Rembecki were found during the recovery of their Lancaster by the Dutch Royal Navy in April 2003.

Back in 1944, Sgt. Bladowski and Lt. Boguslav Morski were able to jump by parachute in Lake IJsselmeer just before the crash (shot down by a German nightfighter). Sgt. Bladowski drowned, Mr. Morski (name meaning "from the sea") was rescued next morning by 2 men in a small row boat off Wijdenes and became POW.

Thanks to Mr. Morski's interview in (and help of) magazine Nowy Dziennik (Polish Daily News, New York, USA), his own efforts and the work of many others in the periode 1998-2003, the official recovery procedure could be set in motion successfully. Family of the 5 crew and Mr. Morski himself were present at the funeral in October 2003. Today 'Bogie' Morski lives in Boca Raton, Florida, USA. Read more here on Polish War Graves.nl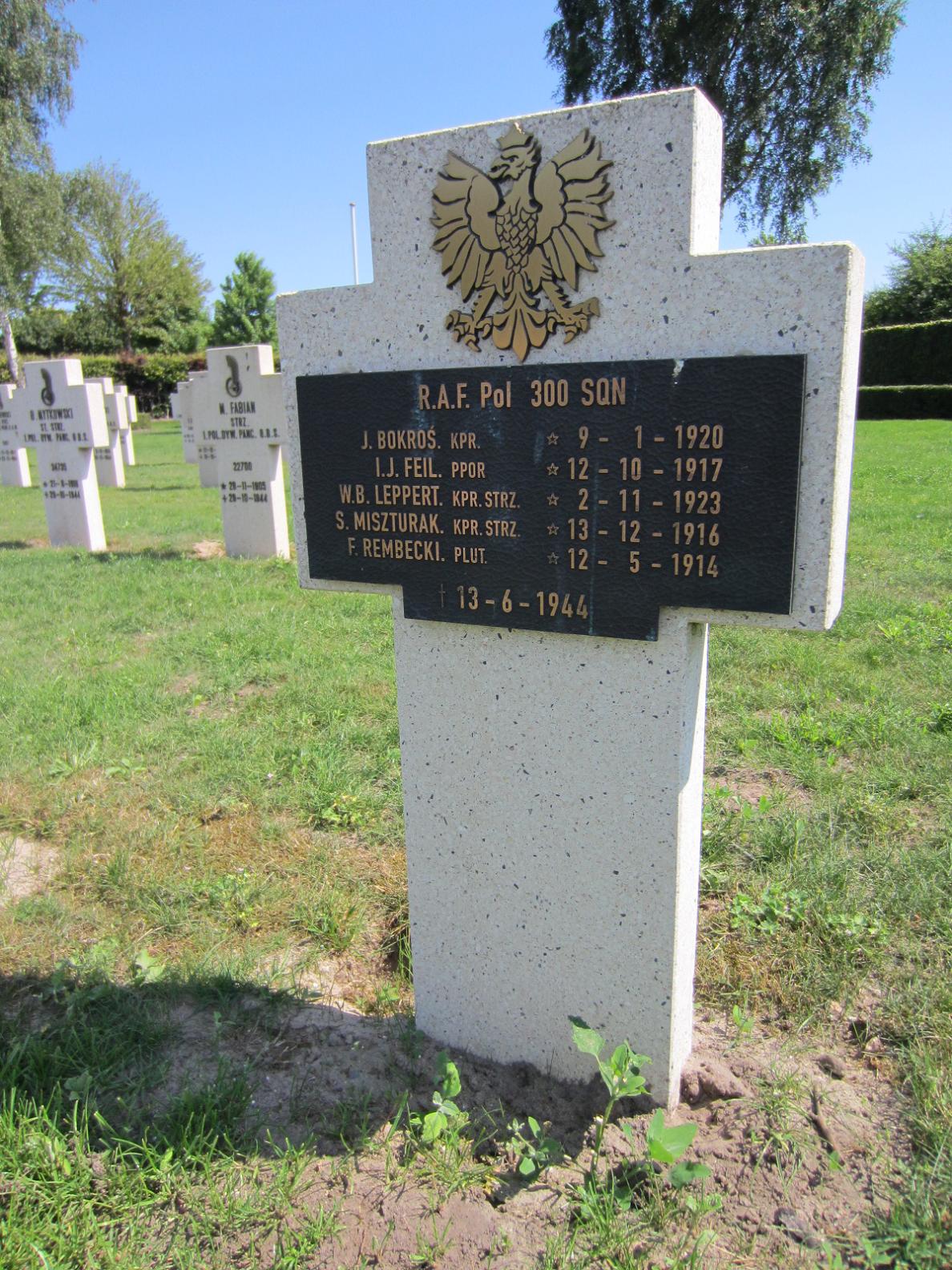 .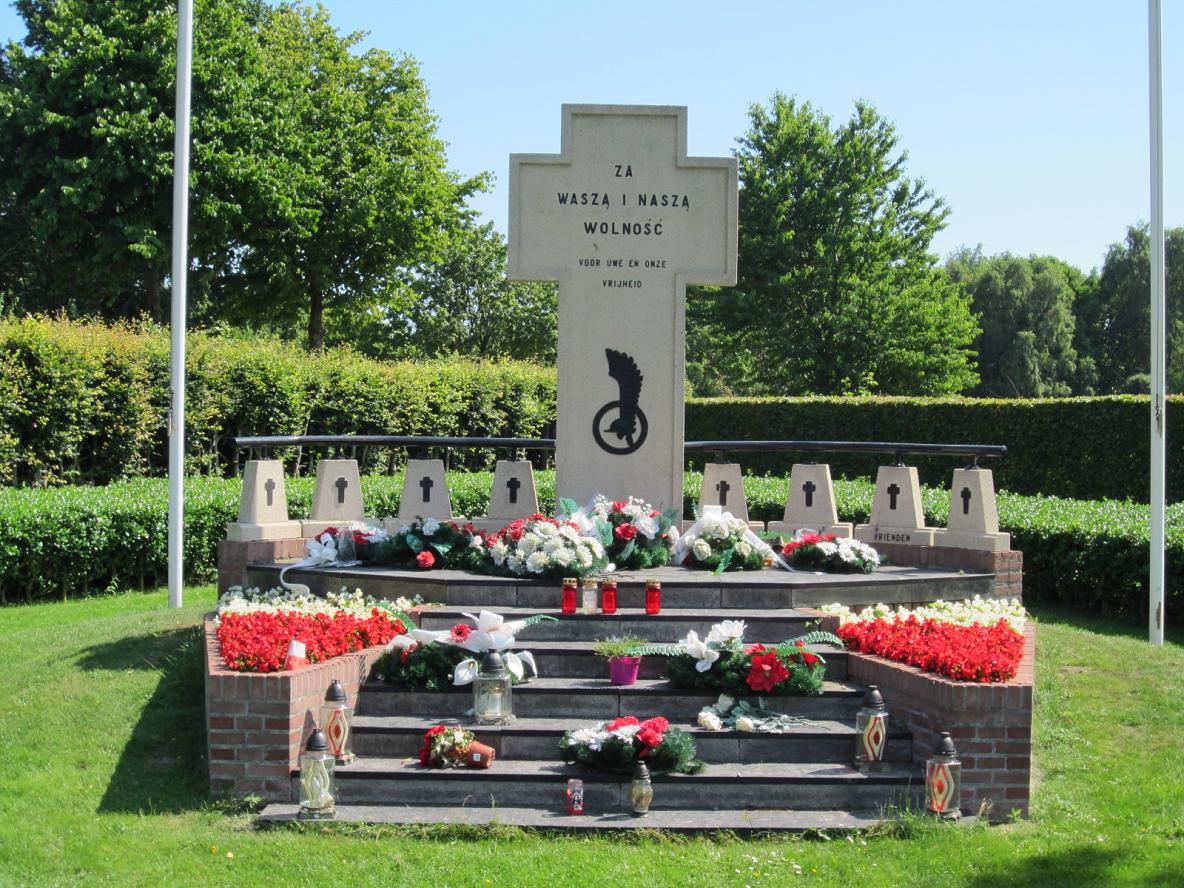 .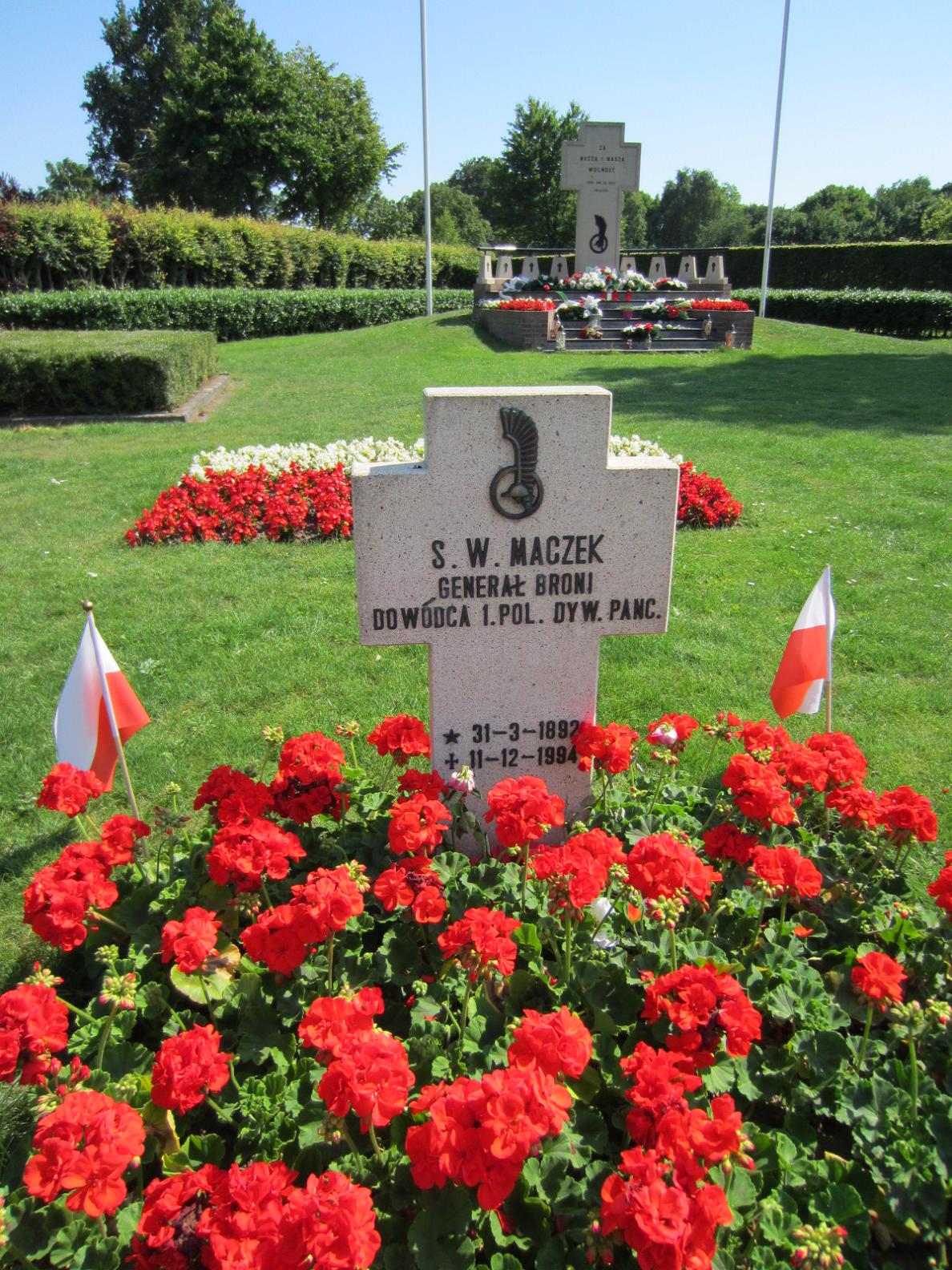 .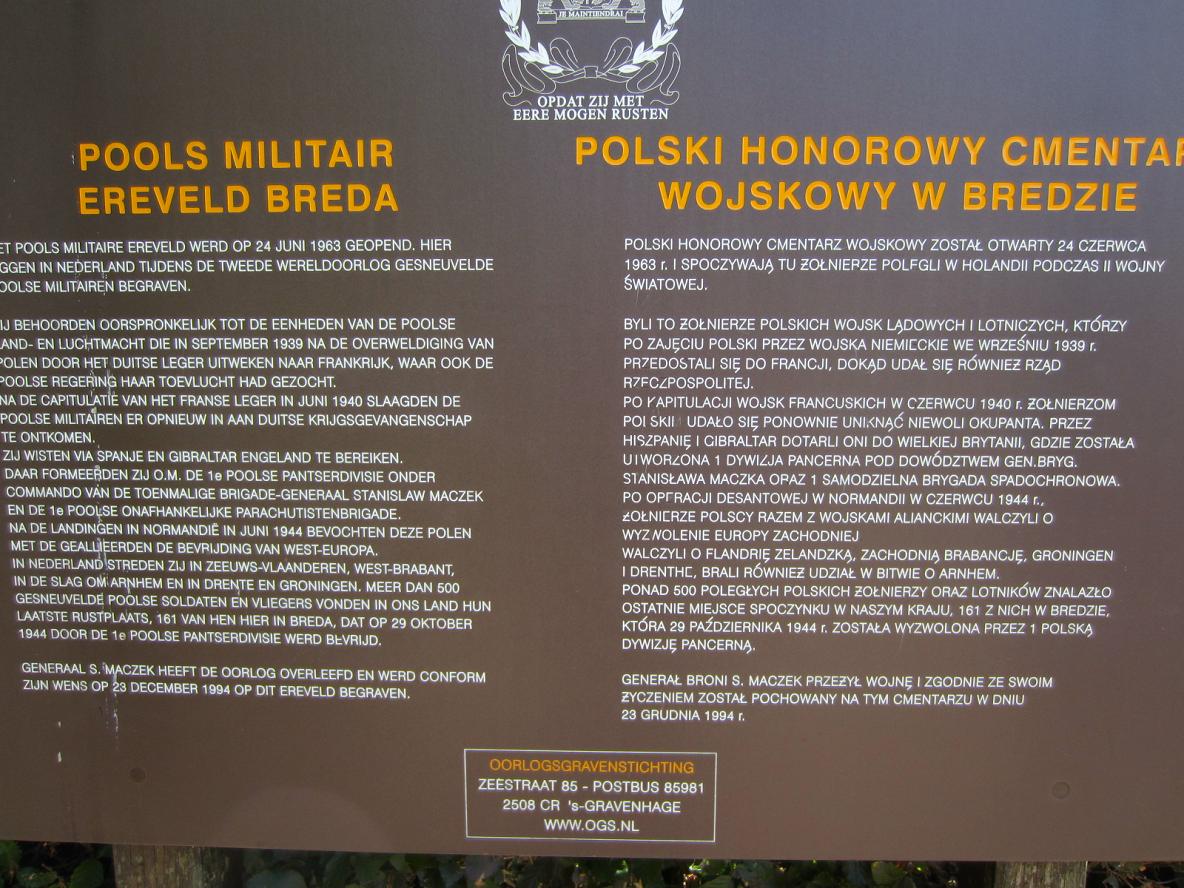 © ZZairwar (Zuyder Zee Air War).