Date: 1941 May 08/09
A/C Type: Wellington IC
SN: R1322
Code: SM-F
A/C Nickname:
File: 056
Airforce: RAF (PAF)
Sqn/Unit: 305 Sqn (Polish)
Mission/Raid: Bremen
1
Pilot
F/Sgt. Jan Piotr Dorman Buried Amsterdam
9
2
CP/Nav
Sgt. Zdzislaw Gwozdz Buried Amsterdam
10
3
BA/AG
P/O obs. Kapitan Maciej Wojciech Socharski MIA
11
4
WO/AG
Sgt. Henryk Franciszek Sikorski MIA
12
5
WO/AG
Sgt. Stanislaw Pisarski MIA
13
6
Rear gunner
Sgt. Ludwik Karcz Buried Urk, now A'foort
14
7
15
8
16

Shot down at night in the lake on route to Bremen. 13 km WSW of Lemmer. Cause: Nightfighter. 3 KIA, 3 MIA.


.
Rear gunner Sgt. Ludwik Karcz
Sgt. Ludwik Karcz washed ashore on the Northeast Polder dike north of Urk and buried there with full honour on 2 July 1941. His coffin was placed in the grave of and on top of the coffin of Sgt. Duncan McDougall (Wellington W5375, crew Blackden, 09/10 Apr 1941), buried 25 May 1941. Begin September 1941, the people of Urk placed a white stone cross on the double grave. On the foundation of the cross was engraved 'D.Mc.D. - 25-05-1941' and 'KORCZ - 02-07-1941'. For photos and more are file on Urk War Graves: http://www.zzairwar.nl/dossiers/915.html


Pilot Sgt. Jan Dorman and co-pilot/obs. Zdzislaw Gwozdz
Six weeks before Sgt. Karcz was buried on Urk-island, the bodies of pilot Sgt. Jan Dorman and co-pilot/obs. Zdzislaw Gwozdz were found in the water between 17 and 19 May 1941, by sailing cargo ships that were on route to Amsterdam. Both were buried in Amsterdam on 20 May 1941 with German military honour.

We have a remarkable and reliable report stating that a few months later, a wounded Polish RAF Sgt. Dorman and a wounded Polish RAF Sgt. Gwozdz were alive in Amsterdam hospital (Luftwaffe section), talking at the beds with wounded Allied airmen... Because we have the original Amsterdam burial documents on Dorman and Gwozdz, it can be assumed that this was a trick of the German Intelligence (Abwehr) to spy on and interrogate wounded Allied airmen. They used the names and identity of the dead Jan Dorman and Zdzislaw Gwozdz.

Headstone of Sierz. pil. (Flight Sergeant) pilot Jan Dorman: http://www.zzairwar.nl/dossiers/files/69B-5.Gr.77.jpg

Headstone of co-pilot Plt. pil ('Plutonowy = Corporal) Zdzislaw Gwozdz: http://www.zzairwar.nl/dossiers/files/69C-21.ExPlot72.jpg


The 3rd man buried with Jan Dorman & Gwozdz 20 May 1941: Polish headstone, no sgt: possible Kapitan (Polish officer rank) Maciej Wojciech Socharski
In an Amsterdam burial plot that no longer exist (plot 72 was exhumed 1947 and graves moved), Dorman was buried as 'Eng. Mil. Dorman 780672 RAF' and Gwozdz as 'Unknown Eng. Mil. RAF R.C. 780156). They were not buried alone on the 20th of May 1941: four airmen were buried in one ceremony. The third was Pilot Officer McVie who had crashed near Monnickendam (Overleek) in Hampden AD841 on 15/16 May 1941. The 4th airman also came from the lake. He was buried as "Unknown Eng. Mil. 20-05-1941". In 1947 he was identified as Polish and received a Polish type headstone, name or rank could not be established, but no sergeant.

Headstone of the above non-ID Polish airman: http://www.zzairwar.nl/dossiers/files/Unknown1.69E-21.exPlot72.jpg


The fourth man. Very probably Sgt. Sikorski or Pisarski
On 28 July 1941 again an unknown airman was recovered from the lake. He was buried next to Gwozdz on 31 July 1941. Did the Germans recovered him from the Wellington wreck with their salvage-ship BP36? This is very well possible. In 1947 he could not be identified by the RAF-MRE Missing Research Enquiry Unit, but he was not regular RAF, had an unusual name (only fragment found) and was a Sgt. He is now buried with a standard CWGC-headstone, but without RAF-emblem. Engraved: "An Airman, a Sgt, 28 July 1941". When there was any doubt on the airforce of the victim (RAF, RCAF, RAAF, RNZAF or PAF), the emblem was not put on the headstone.

Headstone of this man today: http://www.zzairwar.nl/dossiers/files/69B-22.ExPlot72.jpg

In 1941 until approx. 1947 the above men lay next to each other. See 1941 situation in Amsterdam: http://www.zzairwar.nl/dossiers/539.html

Plot 72 was emptied and the graves moved to another plot (Plot 69). McVie, Gwozdz and the two unknown were positioned each on the right hand side of a different row (row A, B, C and D), see below photo. This severed the (optical) connection between them. However, the original burial data is clear. We believe that the above two unknown are two of the missing (MIA) Polish crew members of Wellington R1322.


Lemmer

In Lemmer is buried on 09 August 1941 an unknown airman without rank (buried next to Wing Commander Blackden, pilot of Duncan McDougall aircraft W5375). This unknown airman is also a candidate for being a missing crew member of Dormans Wellington R1322. See our file on Lemmer Cemetery War Graves: http://www.zzairwar.nl/dossiers/951.html


All six crew of R1322 accounted for
Three crew buried with name, but the above research indicates that also Socharski, Sikorski and Pisarksi of R1322 were recovered and buried, but without a name.

In April 2014, the crash area of Wellington R1322 was investigated and in 2016 debris of the bomber were recovered (see News on homepage). Few human remains were found, possibly only bones of an arm or leg.




Sources:

- 2012 reconstruction of the original Amsterdam burial files 1940-1945

- Story and photos of the crew members: http://www.polishwargraves.nl/ned/r.1322.htm

- Photos of the crew members and original data: http://www.teunispats.net/t1023.htm

- ARG 1940-1945, Johan Graas.

- Stichting Urk in oorlogstijd, Pieter Hoekstra and Robert Hofman.




© ZZairwar (Zuyder Zee Air War)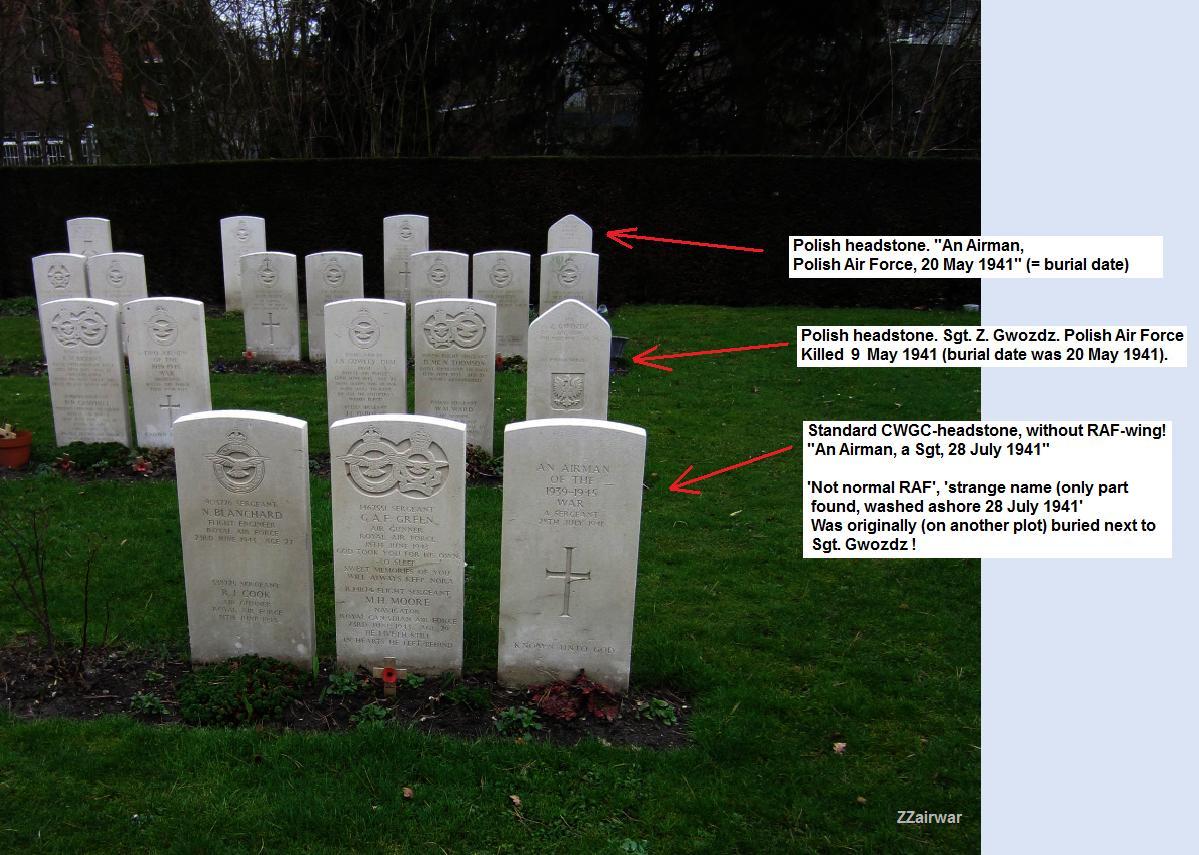 ......