.

This site researches & documents the hundreds Allied aircraft lost 1939-1945 over
Holland's central Lake IJsselmeer (Old Zuyder Sea), commemorates (missing) crews

and tells their story.
Newspaper article. Early 1960s Dutch Airforce estimated during WW2 some 500-1000 aircraft came down in Lake IJsselmeer (Old Zuyder Sea). Most locations unknown, unrecovered.
































Photo under. The London Bomber Command Memorial.

This memorial (year 2012) commemorates the 125.000 airmen who served in RAF Bomber Command during WW2. 55.573 were killed (44,5%). Of them today still 20.000 are missing. Also the American USAAF lost 48.000 men KIA 8th, 9th & 15th Air Force combined. Over NW-Europe over enemy territory and sea, 5945 American heavy bombers and some 5000 fighters were lost with 21.500 KIA and 13.000 MIA. The reason so many airmen are missing, is that thousands of aircraft had to take the deadly northern 52°-54° parallel-05° E route over NW-Holland and crashed in sea.

The English and later American bombers took off from bases in East-England, crossing the coast between Yorkshire and Ipswich in Norfolk. Targets that led to many sea crashes were German war industry and ports in northern cities as Emden, Bremerhaven, Wilhelmshaven, Bremen-Vegesack, Hamburg, Kiel, Peenemunde, Hamm, Münster/Osnabrück, Hannover, Brunswick (= Braunschweig), Halberstadt/Oschersleben, Magdeburg and Berlin. And of course the Ruhr Vally with Duisburg, Essen, Gelsenkirchen, Bochum and Dortmund. Allied bombers were shot down all the way on route to the target and back. Many came damaged in waters between these German cities and England, unseen during the night or in poor weather. Involved waters are the Southern and central North Sea, the Wadden Sea with its Frisian Isles and Lake IJsselmeer (Old Zuyder Sea), the inland sea in Holland.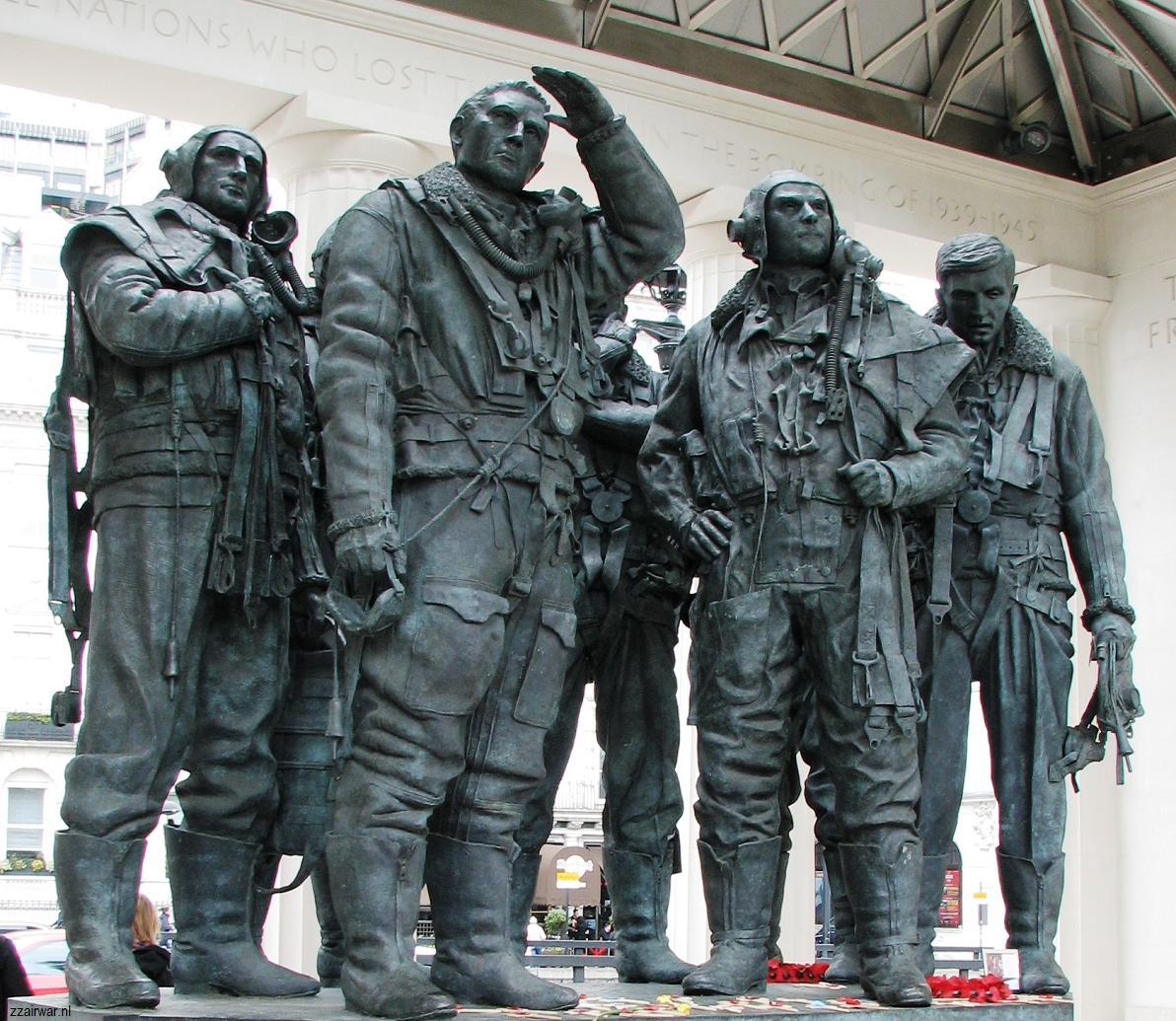 Downstream research.

Aircraft -> crash location in sea -> washing ashore location -> grave. This website has studied the outcome of hundreds of aircraft crashes in sea and sinking of ships. After an aircraft came down in water, most crew got entangled in the wreck and/or stayed on sea, a smaller percentage washed ashore. Washing ashore locations were the same every time. There is a link between crash location and where a body eventually drifts ashore. The patterns are very clear. This is because sea currents, tide and winds are standard. On a missing crew member an estimate can be made (when crash position is roughly known) where his body might have washed ashore. This is what we call 'the downstream estimate'.

Upstream research.

Grave -> washing ashore location -> crash location in sea -> aircraft. On an airman or sailor buried non-identified with finding spot and burial date known, an upstream estimate can be made on where he drowned (location in sea) and to what aircraft or ship he belonged. This can be accurate especially in cases when duration of the body in the water was established. This research has linked in many cases a buried as unknown serviceman to a specific aircraft or ship.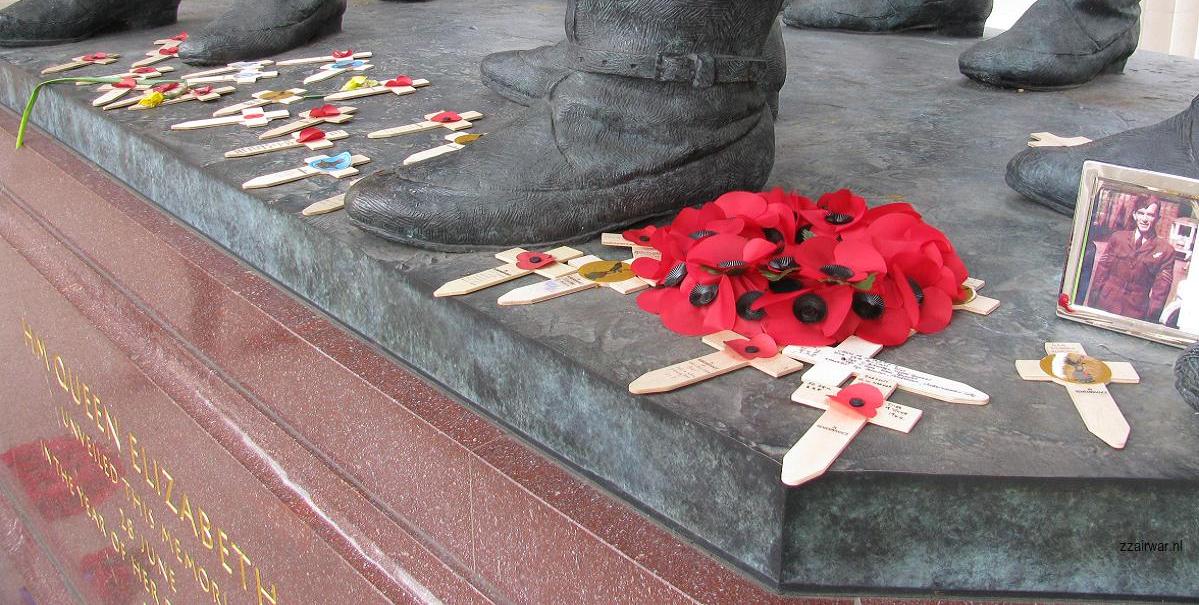 Thanks to the downstream research, family or relatives of missing airmen who want to lay flowers at a grave in one of the 150 cemeteries with air war graves in our region, can often do that in a much more specific location than they might think. The database tools in the Search Menu page give insight on this. We can also provide info or advice per email.
Believed to be



Washed ashore airmen that could not be identified during and after the war, were buried 'Known unto God'. In most cases there is some background data available on each unknown, but not enough for identification. However sometimes we encounter so much (new) information, that we can put a name on a grave with a 50% to 90% probability. On about 80 unknown casualties in our region we came very close on who they might be. In such cases family is informed. Normally there is no 100% certainty and authorities, airforces or the Commonwealth War Graves Commission can not do anything. DNA tests are not granted. Policy is that grave rest is maintained. This is standard procedure all around the world. Best case scenario so far is that paper research evidence of strong cases is submitted to specific authorities for assessment. When deemed valid and correct, the headstone of the unknown could be extended with addition 'Believed to be' plus name. Also when it does not come to this, family has learned more and can find closure because missing is worse than dead.
Our files


A list (site map) of our files can be found here: http://www.zzairwar.nl/dossiers/dossiers.html or Google 'zzairwar dossiers'.

Last 250 aircraft files will be uploaded during 2017.

To filter results, view positions on map, or search a person's name we recommend the database tool in the Search Menu. Files can also be opened from there.
It can be used without any database knowlegde. For a short manual with capabilities please see below.





=============================================================================================================




DATABASE MANUAL - USER GUIDE





Tools. Database functions:
==================================================================================================


1. SEARCH MENU. Database function no. 1: AIRCRAFT

leads to:

- AIRCRAFT INDEX IN FILTER RESULT SCREEN
with help of dropdown menus + filter button, results can be narrowed down / refined.

- AIRCRAFT CRASH POSITIONS ON MAP + AIRCRAFT FILE OPENING
a click on an aircraft-row in result screen, leads to its crash position on the map (red dot). File can be opened there.

visualized: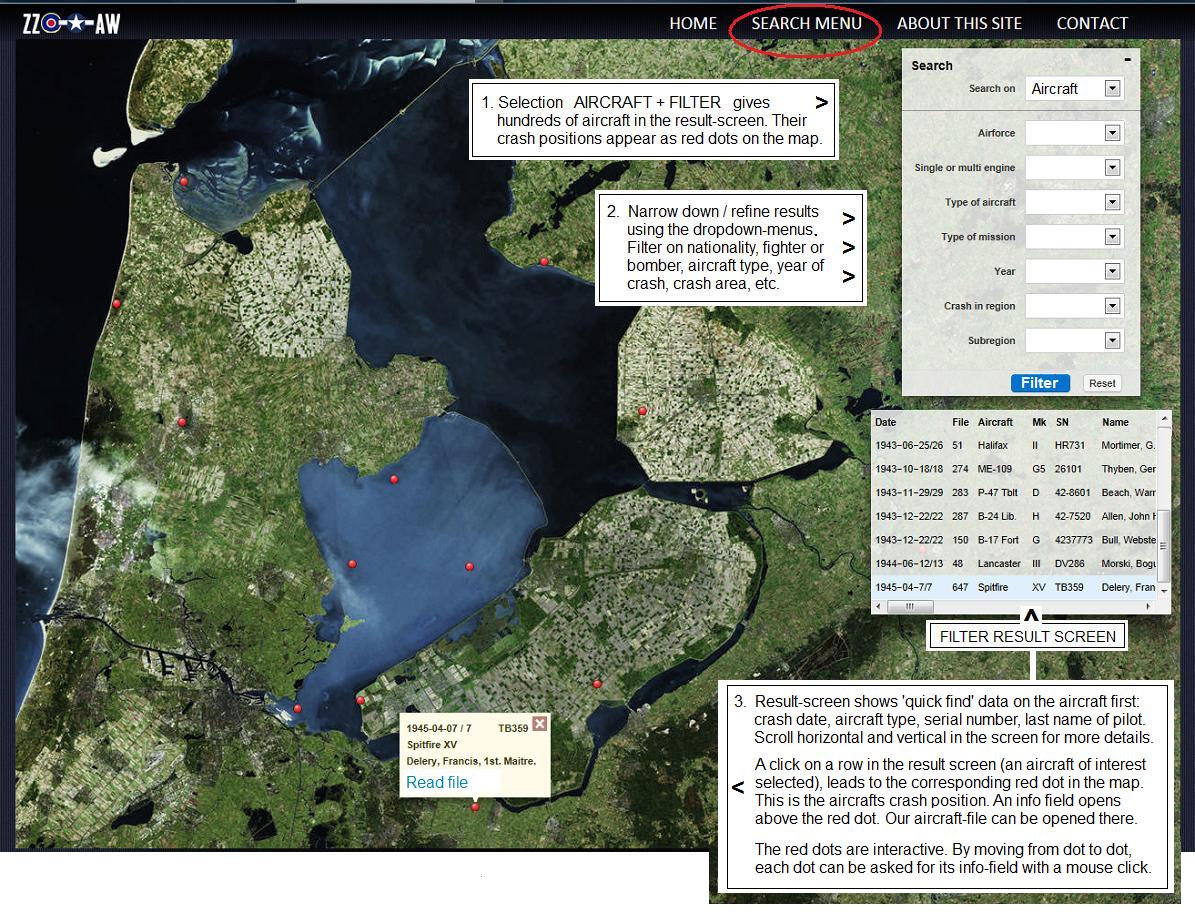 ===================================================================================================


2. SEARCH MENU. Database function no. 2: PERSONS, incl. the MIA.

leads to:

- PERSON INDEX IN FILTER RESULT SCREEN
with help of dropdown-menus + filter button, the amount of results (names) can be narrowed down / refined.

- AIRCRAFT CRASH POSITIONS ON MAP + AIRCRAFT FILE OPENING
a click on a persons name in the result screen, leads to aircrafts crash position (red dot on map). File can be opened there.

visualised: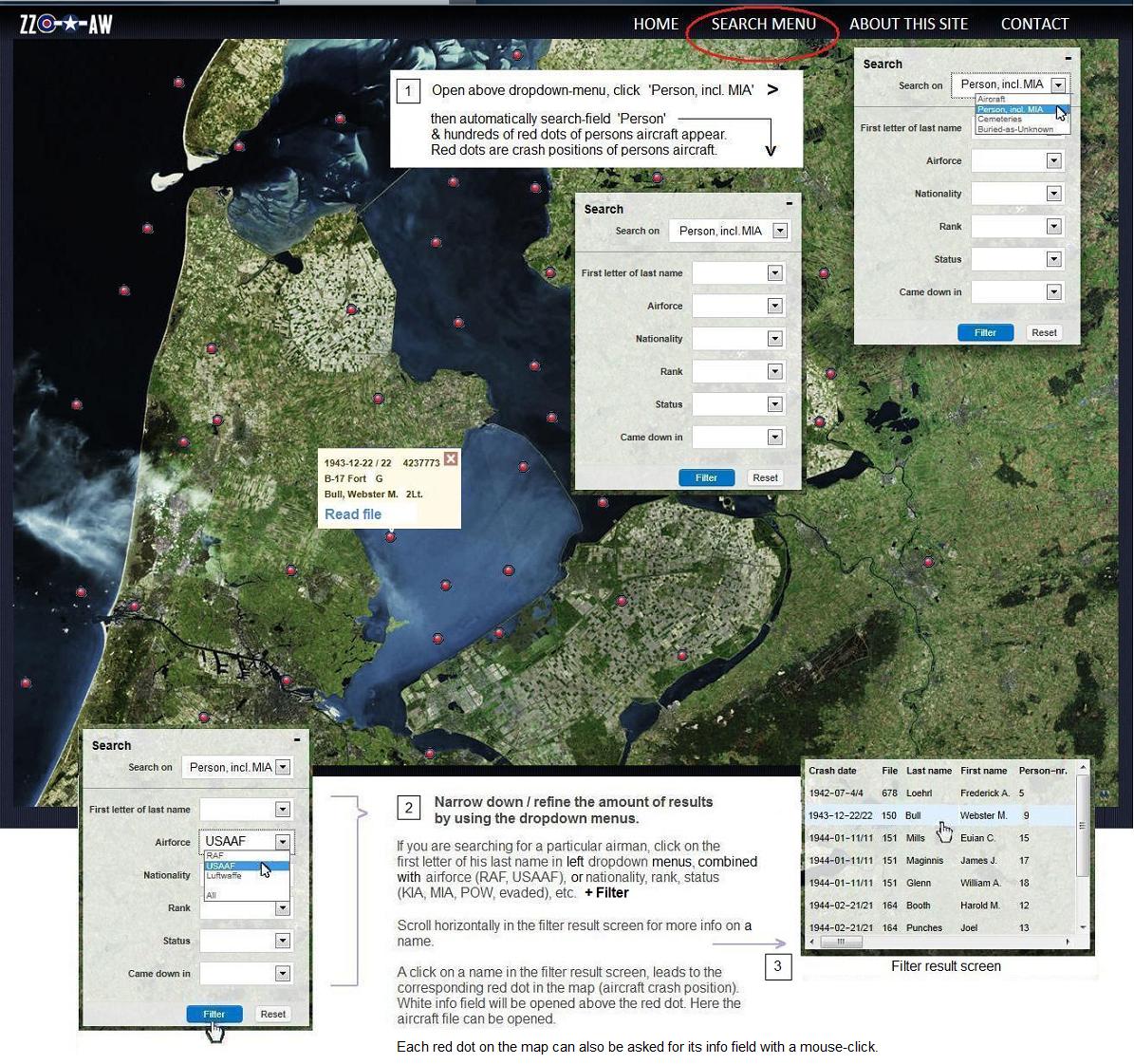 ===================================================================================================


3. SEARCH MENU. Database function no. 3: CEMETERIES

3A. Dropdown menus:

'WW2 initial burial sites' and
'Cemeteries today'

lead to these 3 results:

- CEMETERY BURIAL INDEX IN FILTER RESULT SCREEN.
name-register of servicemen buried in selected cemetery end WW2 (including American airmen), or situation today.
rows in index (result screen) show 'quick find data', to find an airman fast: crash date, name, aircraft, unit, nationality, details.

- AIRCRAFT - CEMETERY RELATION SHOWN ON MAP.
aircraft crash locations involved with a cemetery are visualised on map.

- AIRCRAFT CRASH POSITIONS ON MAP + AIRCRAFT FILE OPENING.
a click on a name in the index guides to persons crash position on the map (red dot). Aircraft file can be opened there.


3B. Dropdown menu:

'Lake Area Cemeteries'

leads to:

- INDEX OF AIR WAR CEMETERIES (VILLAGES, TOWNS) IN FILTER RESULT SCREEN
with help of dropdown menus + filter button, the most relative cemeteries to the airwar over the lake can be viewed.

- CEMETERY POSITIONS ON MAP + CEMETERY FILE OPENING
a click on a cemetery name in the filter result screen, leads to the geographical position on the map (red dot).
Cemetery file can be opened there. 150 cemeteries in our area with air war graves researched and on file, photos incl.


3A. Visualised, sheet 1: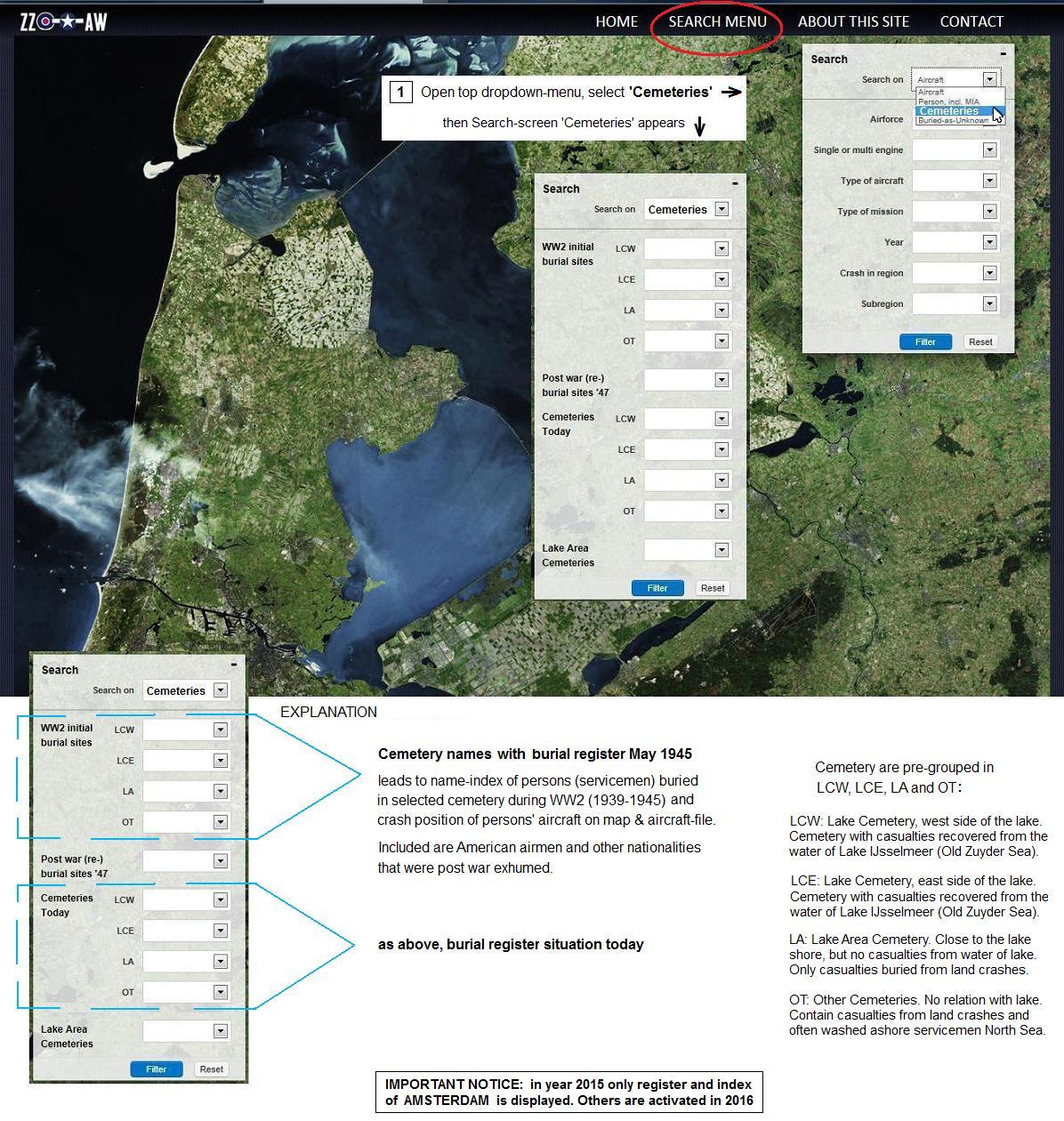 3A. Visualised, sheet 2. CEMETERIES, dropdown menus 'WW2 initial burial sites' & 'Cemeteries today':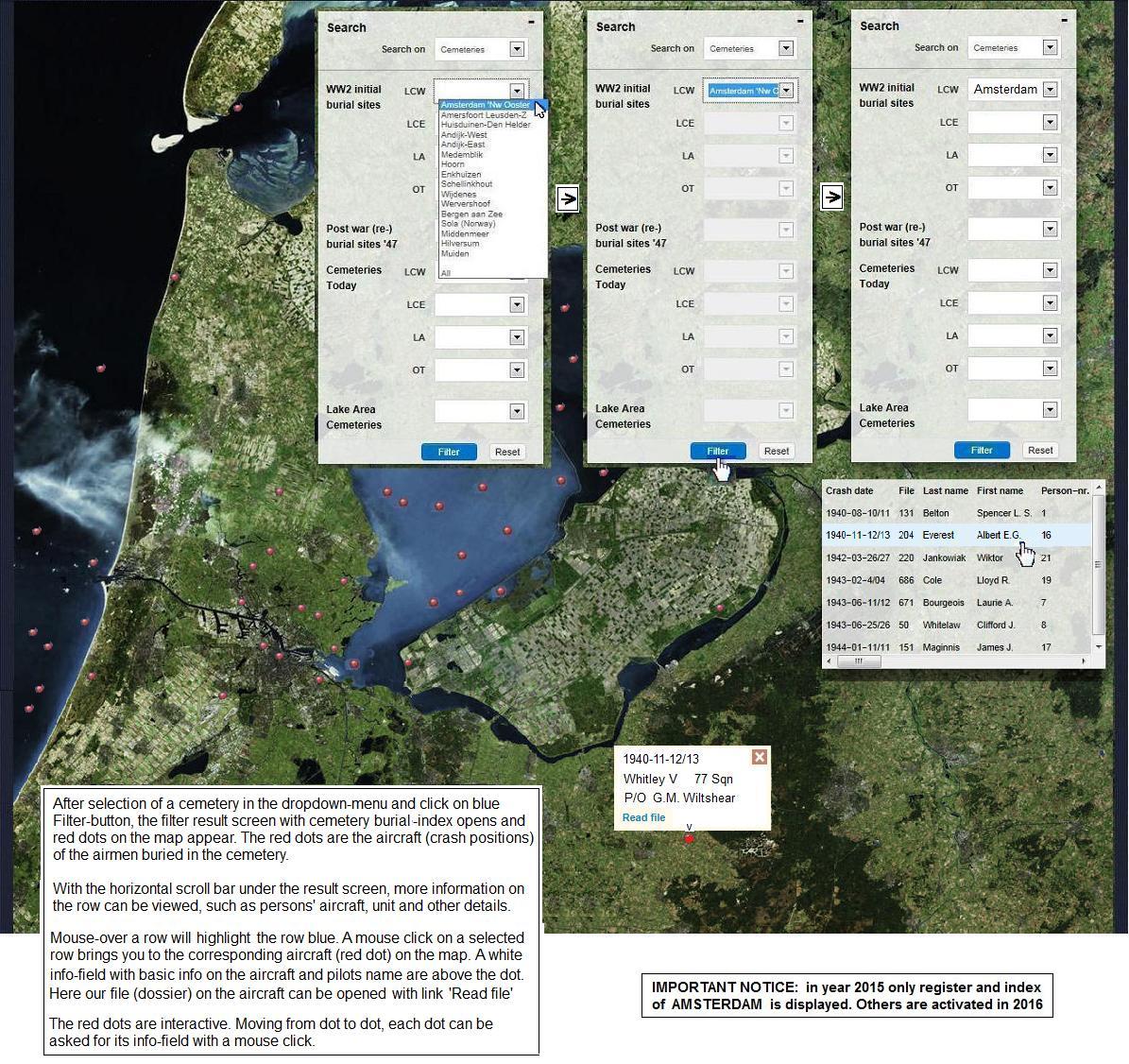 3B. Sheet 1 (below). Database CEMETERIES: geographical location cemeteries & opening cemetery-files with dropdown menu 'Lake Area Cemeteries':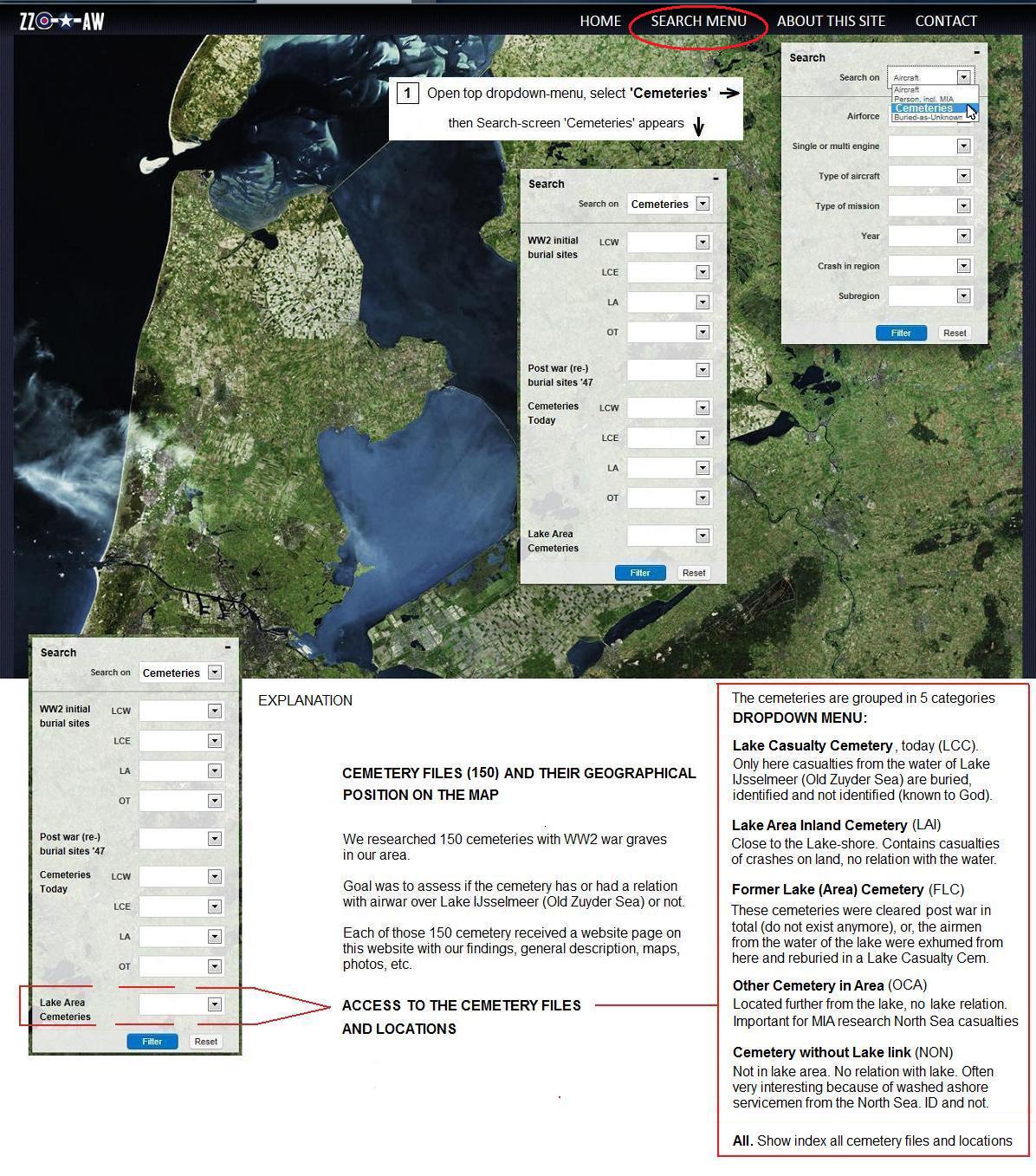 3B. Sheet 2 (below). Database CEMETERIES: geographical locations cemetery & opening cemetery-files with dropdown menu 'Lake Area Cemeteries':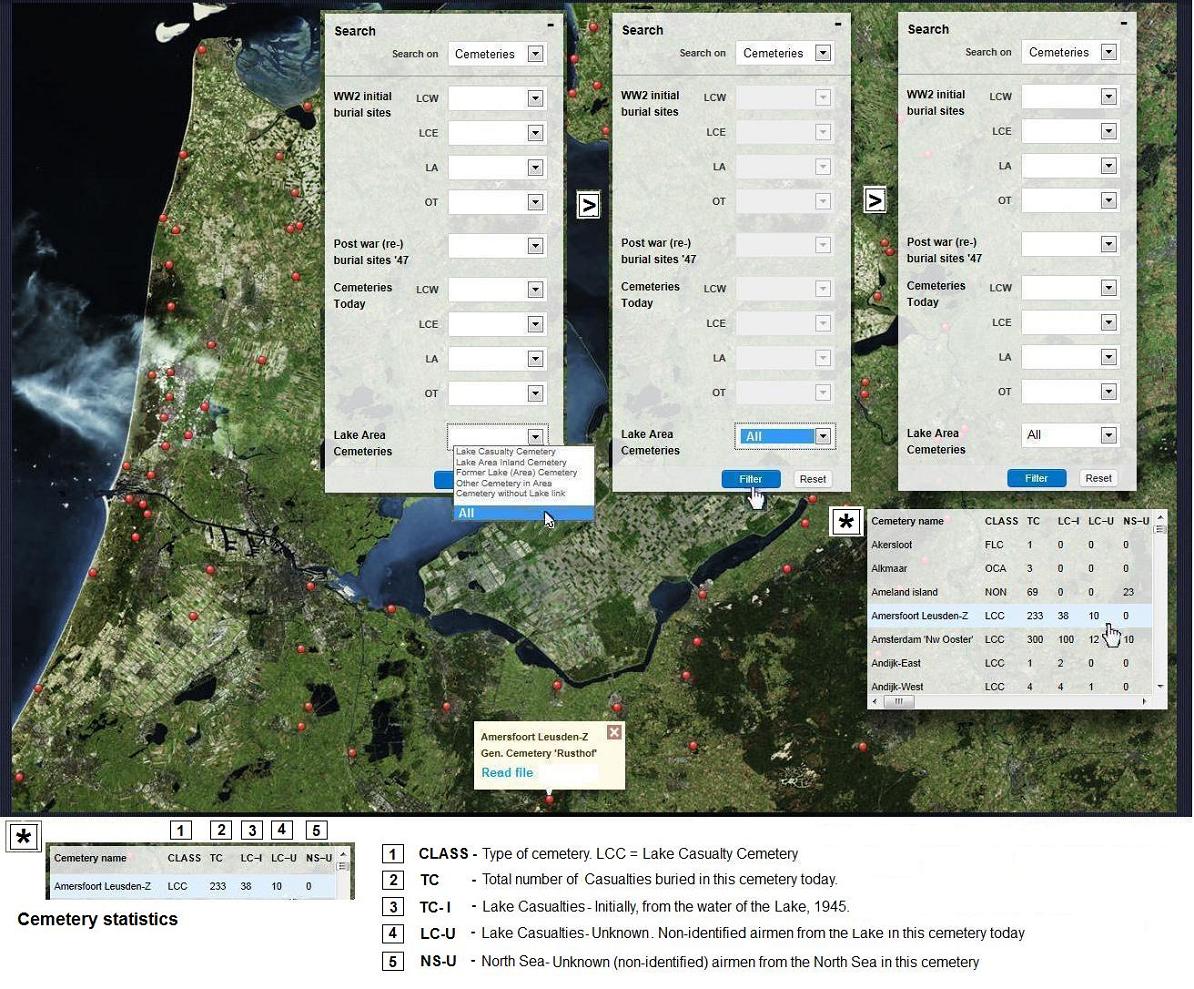 3C. Below. Example of a Cemetery-file (the top part):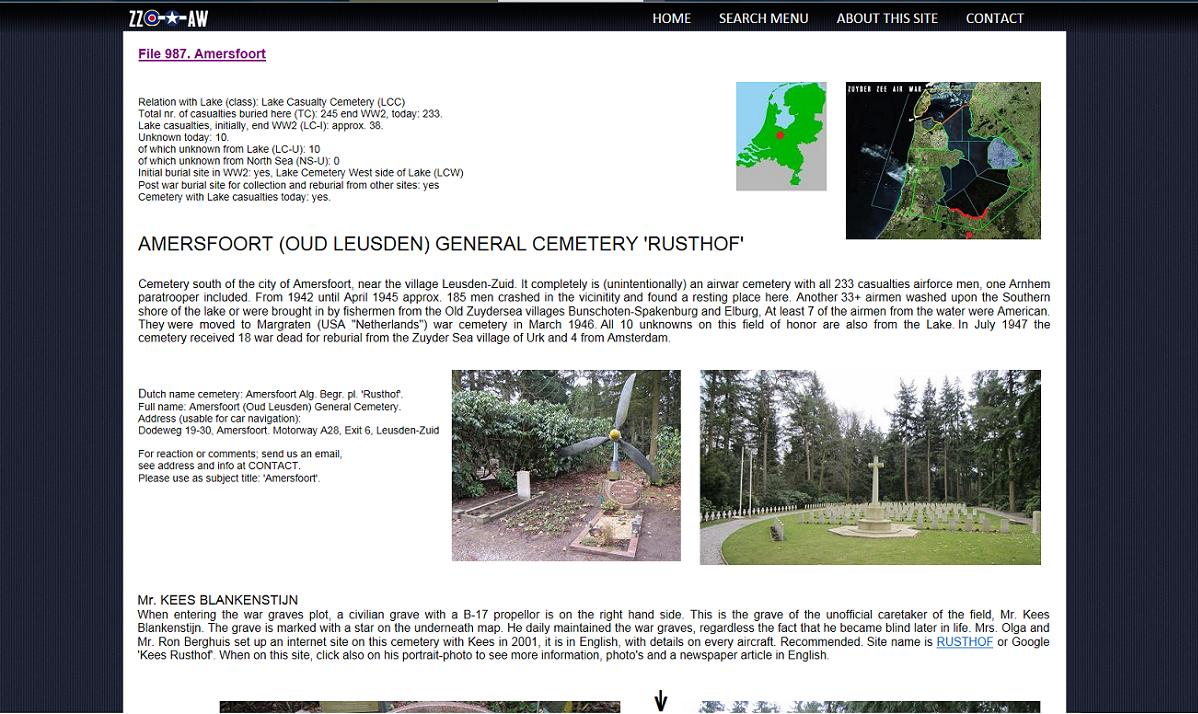 =================================================================================================

4. SEARCH MENU. Database function no. 4: Buried as Unknown

leads to:

- INDEX WITH ALL NON-IDENTIFIED ALLIED SERVICEMEN BURIED 'KNOWN UNTO GOD' IN OUR AREA
we investigated all 150 cemetery with war graves in north-west Netherlands, incl. Dutch North Sea shore & Lake IJsselmeer (Old Zuyder Sea)
and registered the headstone inscriptions (and other info when available) of each man buried as unknown. see filter result screen.

Note: a click on a row in the filter result screen does not lead to positions (red dots) in the map.

visualised:









































































































=============