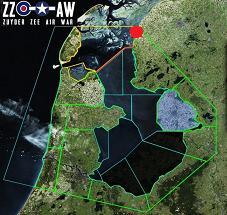 Relation with Lake (class): Lake Casualty Cemetery (LCC)


Total nr. of casualties buried here (TC): 101 end WW2, today 71.
Lake casualties, initially, end WW2 (LC-I): 2
Unknown today: 26, most washed ashore airmen.
of which unknown from Lake (LC-U): 0 or < 2.
of which unknown from North Sea (NS-U): 22 or 24.
Initial burial site in WW2: yes, Lake Cemetery East side of Lake (LCE)
Post war burial site for collection and reburial from other sites: possible.
Cemetery with Lake casualties today: yes.
HARLINGEN GENERAL CEMETERY

During high tide the North Sea presses in with great force through the gap between the North-West Holland peninsula and Texel island (first and most western Frisian island). The sea water enters here the Wadden Sea and flows against the Northern side of the Afsluitdike (closure dam of the old Zuyder Sea) and towards the Frisian mainland coast and Harlingen town. As a result, war dead from the Channel, southern North Sea and from aircraft crashed in the Wadden Sea itself, were found at Harlingen on the foot of the dike. During low tide the water retreats from the Wadden Sea. Corpses were left on the tidal flats and sandbanks and were recovered. Satellite image below-right shows the low tide situation. Of the 100 Allied buried in Harlingen during WW2, approx. 90 came from the sea.

The aircraft of 2 men interred here, crashed in the nearby Old Zuyder Sea (Lake IJsselmeer).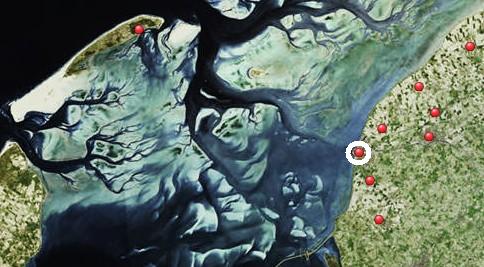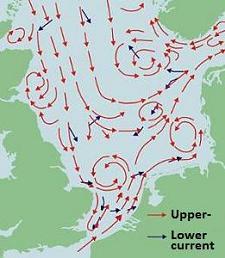 Dutch name cemetery: Harlingen Alg. Begr. Pl.
Full name: Harlingen General Cemetery.
Address (usable for car navigation):
Midlumerlaan 17 or Begraafplaatslaan 2.

For reaction or comments; send us an email,
see address and info at CONTACT.
Please use as subject title: 'Harlingen'.
DUNKIRK - DUNKERQUE, MAY 26 - JUNE 3RD 1940.
At the end of July 1940, 28 Allied soldiers washed ashore and were buried in or near Harlingen, all victims of the Dunkirk evacuation. 22 of them were French, 3 British and 3 Belgian. Underneath scheme is our rough reconstruction of the French war graves in Harlingen. They were moved to Kapelle (Central French war cemetery in the Netherlands) in August 1949. On 7 men it is estimated that they were brought back for reburial to France.


THE FRENCH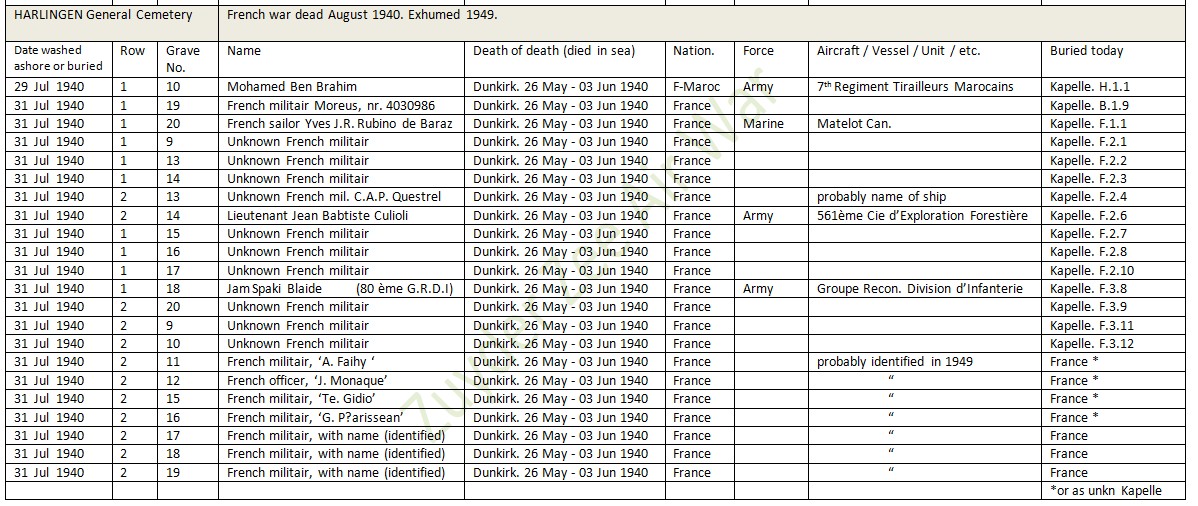 PHOTO MAY 1945 FRENCH GRAVES HARLINGEN

On the website of the Netherlands Institute of Military History (NIMH) is a good 1945 photo of the French war graves in Harlingen. This photo was taken only days after war's end. It shows Canadian soldiers and Dutch resistance fighters saluting the fallen Allied on Harlingen cemetery, May 10th 1945. The crosses are the original black crosses with German text. Click here. If the link is severed, try site: nimh-beeldbank.defensie.nl. Loggin is not necessary. When on this page click on 'meer opties' ('more options') and enter in the field 'Objectnummer' this number: 2155_001374 . Click 'zoek' for enter (search).
Image below:
The grave markers of 5 French soldiers once buried in Harlingen, today in Kapelle (near Goes, NL). They were brought over to Kapelle in 1949.

CEMETERY PLAN HARLINGEN TODAY
Below colored cemetery plan shows the situation on the cemetery today. Marked blue are the washed ashore non-identified airmen. With Belgian flag are the 3 non-identified Belgian Dunkirk victims. Polish flag are the 2 washed ashore Polish airmen. Marked with 'D' are the 3 English Dunkirk victims.


CEMETERY PLAN HARLINGEN 1945

Originally the cross of sacrifice was not there and there were 3 rows of graves in stead of 4. Graves were relocated and the cemetery was reorganized after the American and French casualties were moved. The original situation is best visible on a photo on the website of the Netherlands Institute of Military History (NIMH), made on 10 May 1945. Canadian soldiers and Dutch resistance fighters commemorate the fallen on the cemetery, only a few days after the German surrender. On this photo, the grave on row 1, grave 1 is of F/Lt. R.J. Dunlop-MacKenzie. He crashed in Lake IJsselmeer (Old Zuyder Sea) on 25/26 March 1942. His grave is still on this position. On row 2 is the first grave of RAF Sgt. Oliver, also his grave was not moved after the war. Click here for the 1945 photo. When link is severed, view the site itself: nimh-beeldbank.defensie.nl, search (zoek, more options), objectnumber 2155_001375.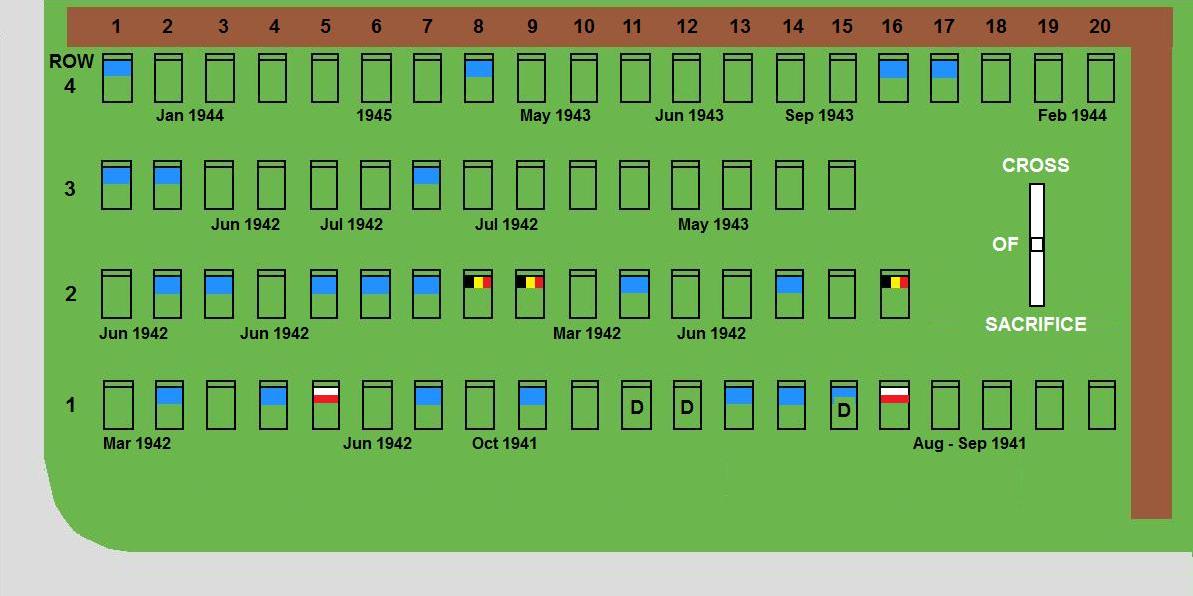 THE FRENCH
GRAVE LOCATIONS
The 22 French Dunkirk victims were buried on the right side of row 1 (grave nr. 9 to 20) and row 2 (grave nr. 9 to 20). After the war the French were exhumed (1949). Other graves were repositioned to the former French locations and so room was made to place the cross of cross of sacrifice. Above colored cemetery plan shows situation of today.

Also in coastal village Zurich (6km south of Harlingen) was at least 1 non-identified French soldier buried (now Kapelle grave F.3.10)
THE ENGLISH DUNKIRK VICTIMS (D)
Row 1, grave 12. Royal Navy Lieutenant Thomas E. Brooker, age 52.

He washed ashore here together with the French soldiers, two months after Dunkirk. His date of death on the headstone is 1st June 1940. This was in the midst of the Dunkirk evacuation. His ship, the Royal Navy tugboat HMS 'St. Abbs' took over off Dunkirk more than 100 evacuees (soldiers) from a Royal Navy destroyer that was hit by German bombs. Unfortunately, this gallant act proved futile because also the St. Abbs was later hit by an aircraft bomb and sunk in the Channel. More than 100 men lost their lives. It is not impossible that some of the French soldiers were on board the St. Abbs.


Row 1, grave 11. British Army soldier/driver Malcolm C.F. Matthews (Royal Army Service Corps).

On his headstone is engraved the time frame in which he was killed: '20 May 1940 - 27 July 1940'. A time frame on a headstone is very unusual. However, it is clear that he was killed during the Dunkirk evacuation between May 26 and June 3rd 1940. He washed ashore here on 27 July 1940. The CWGC database shows his date of death on 20 May 1940, which is not entirely correct. We believe he is the Englishman on the photo of 27 July 1940 (see the Belgians).


Row 1, grave 15. "A Soldier", no date. Commonwealth type headstone.

On the cemetery plan the Unknown ('Known unto God') are marked with blue colour. All are airmen. We however believe this is an unidentified British soldier killed during the Dunkirk evacuation and washed ashore here end of July 1940.

The original grave markers of above 3 men are visible on the photo May 1945 French graves Harlingen.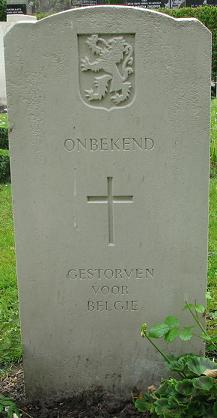 THE BELGIANS
In row 2 are 3 not identified Belgian (Onbekend - Unknown). On their headstone is engraved: 'GESTORVEN VOOR BELGIE' ('DIED FOR BELGIUM'). See photo right.

This photo shows the moment of first Harlingen burial of 2 of the Belgians, with German military honour, on Saturday
July 27, 1940. Also buried at the same moment were 1 German pilot and 1 Englishman. All 4 washed ashore here and were Dunkirk victims. We believe the Englishman on the photo involved soldier Malcolm C.F. Matthews (see above alinea).
THE POLISH

There are 2 Polish airman on Harlingen cemetery, both not identified.

Row 1, grave 16. Here is buried an unknown Polish Airman, PAF, 28 Aug 1941.
He is the only Unknown in Harlingen with wash ashore/burial date engraved on the headstone.

Row 1, grave 5. "An Airman". No date or other inscriptions on headstone, no RAF emblem (wings).
No Polish stone or other Polish features, but we have reason to believe this is an unidentified Polish airman.
Washed ashore here. Burial date (estimate) May/June 1942.
THE AMERICANS
Sgt. Robert L. Whitham was one of the first 8th AF casualties in Europe. His unit was the 27 BG, 15 BS (Light). On the 4th of July 1942 he was member of the crew of 2Lt. Frederick A. Loehrl, in a Boston III, borrowed from RAF 226 Sqn. Six American crews and six RAF crew attacked 4 airfields in Holland. Read more on this attack in our article on cemetery Huisduinen (Den Helder). Lt. Loehrl and his crew were hit by the Flak at airfield the Kooy, Den Helder. Their Boston crashed on the nearby Balgzand sandbank at high tide. Lt. Marshall Draper was made POW, but Loehrl, Cpl. James W. Wright and Robert Whitman were killed or drowned. Lt. Loehrl was never found and is still MIA. Sgt. Robert Whitham's body was recovered from the sea in front of Harlingen a week later and buried in the general cemetery.
5 American airman washed ashore here in 1944 and 1 crashed here in 1944. They were buried on this cemetery. Four of them were officers, on one man rank could not be established. Their B-17 and B-24 crashed in December 1943 in the North Sea and near the Frisian Islands. Lt. G. Choate was shot down by Flak-ships that were moored in Harlingen harbor.

In October 1945 a US grave recovery unit exhumed the men and they were reburied in the US war cemetery 'Netherlands' in Margraten (NL).


More on 2Lt. Choate on the site Harlingen during WW2, 1944 Thunderbolt
THE UNKNOWN ON HARLINGEN GENERAL CEMETERY
The CWGC mentions on Harlingen that "there are 67 casualties here, of which 22 are not identified. There are also 4 not-identified war graves of other nationalities". All nationalities included there are in total 71 war graves in Harlingen, of which 22 are not identified Commonwealth, 3 unknown are Belgian and 1 unknown is Polish. This brings the total not identified men on 26. All are recovered from the Wadden Sea, less than 2 can be recovered from Lake IJsselmeer.

The high number of 'Known unto God' war graves in Harlingen is not unusual for a coastal cemetery. What is very unusual is that in Harlingen the wash ashore/burial date is not engraved on any of the headstones of the unknown, except for the Polish unknown airman on row 1, grave 16. Why this is not taken over from the original German crosses or administration is not known at this time. For this Harlingen is different compared to other airwar cemeteries in the area.
In our database 'buried as unknown' on this site (in Search Menu), we estimated the wash ashore/burial date of each of the not identified airmen in Harlingen and connected this with the grave number and other details on the unknown in this grave.
THE LAKE IJSSELMEER VICTIMS BURIED IN HARLINGEN.
Row 1, grave 1. F/Lt. R.J. Dunlop-MacKenzie. 25/26 March 1942.

106 Sqn. Manchester I L7390. In March 1942 Guy Gibson came to 106 Sqn to take over command. The squadron was not operational yet because they were transferring from Hampden to Manchester bombers. He run into his old friend pilot Lt. Robert Dunlop-MacKenzie, who told Gibson: "you have made the wrong choice coming to 106: the Manchesters airframe is good but the engines are terrible, they fail and caused numerous accidents. It doesn't look good". On the squadron's first operational flight to Essen, Lt. Dunlop-MacKenzie's aircraft crashed in the North-Eastern corner of lake IJsselmeer. 6 of his crew are MIA. Next to Dunlop-MacKenzie (buried begin May 1942), in grave 2 is buried an Unknown RAF Pilot Officer. This could be crew member P/O Peter N. Cann, but this is pure speculation.


Row 1, grave 19. Sgt. R.G. Boswell. 19 Aug 1941.

218 Sqn. Wellington 1C, N2844. Duisburg. Shot down by nightfighter and crashed in Lake IJsselmeer.
DAMBUSTER
Row 4, grave 11. F/Sgt. J. McDowell, RCAF. 16 May 1943.

617 Sqn. Lancaster ED934, AJ-K. Pilot Byers. Second wave. Northern attack group to the Sorpe dam. After passing the North Sea came too close to the Northern part of Texel island (first Frisian) and was shot down by Flak. Probably crashed in the Southern Wadden Sea. Aircraft or Upkeep-bomb have never been recovered, which indicates the wreck is in the deeper parts of this Sea. Tailgunner McDowell washed ashore at Harlingen after 5 weeks. Other 6 crew are MIA.

Read more on:
- http://aircrewremembered.com/byers-vernon.html or;
- http://www.thedambusters.org.uk/aj-k.html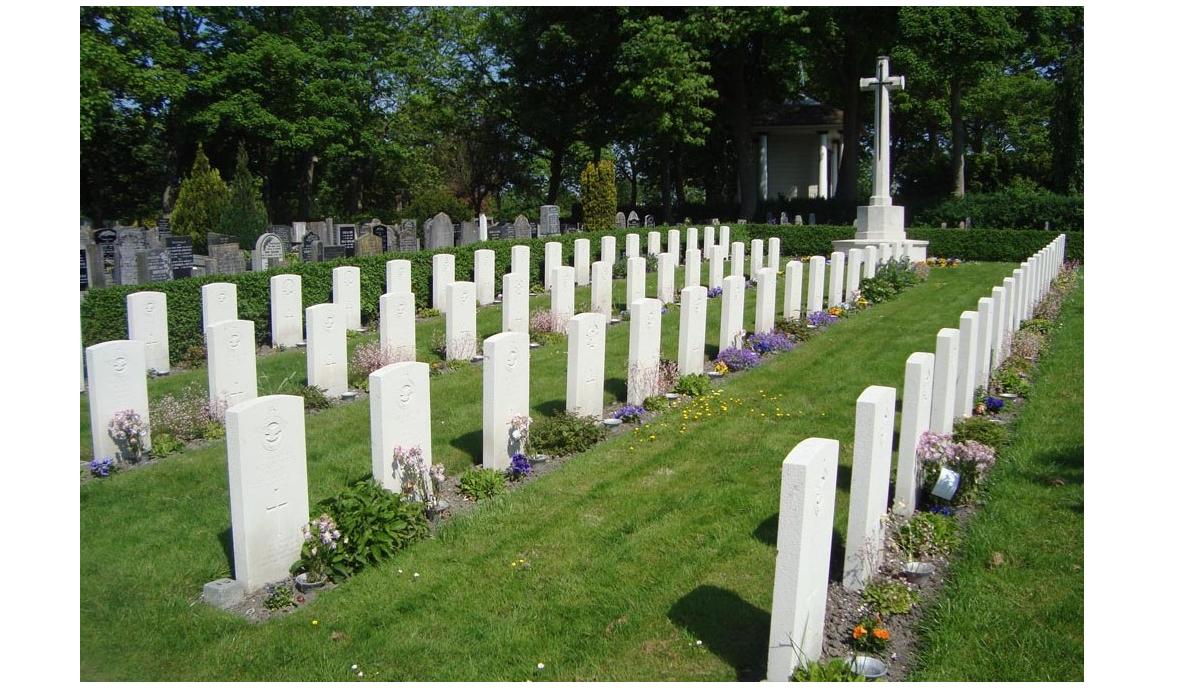 For other and more info and photo's on Harlingen cemetery, visit site 626 Sqn - Willem de Jong page 5.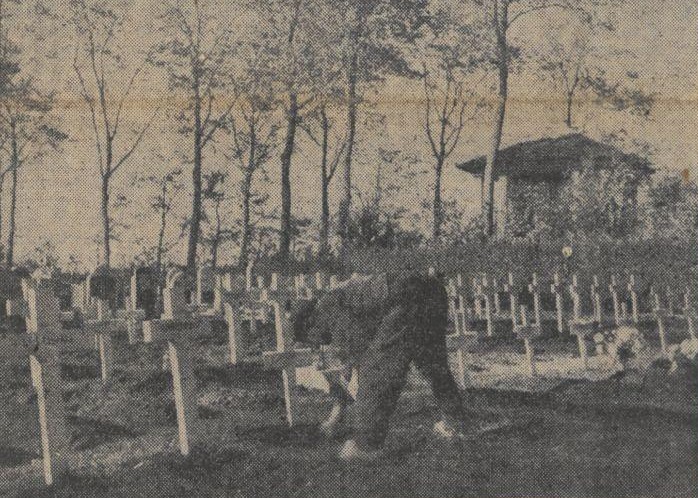 Sources:

- ZZairwar research files on Harlingen cemetery 2007.
- Site CWGC
- Site ABMC
- Bevrijdingsmuseum Zeeland
- Book 'Harlingen in oorlogstijd' by H. Drost, 1946.
- Site Harlingen tijdens de tweede Wereldoorlog
- Site:
http://www.626-squadron.co.uk/willem5.htm
Photo right: The original black German crosses were replaced by white crosses with English text in 1946. In the 1950's todays headstones were placed.
© ZZairwar (Zuyder Zee Air War) 2013.