Date: 1943 Mar04/04
A/C Type: B-17F Fortress
SN: 42-5370
Code:
A/C Nickname: -
File: 687
Airforce: USAAF
Sqn/Unit: 91 BG - 324 BS
Mission/Raid: Train yards Hamm, Germany.
1
Pilot
1Lt. Harold H. Henderson Borkum Island
9
Gunner
Sgt. Hymen Phillips MIA
2
CP
2Lt. Leslie B. Zubiri Esbjerg (Denmark)
10
Gunner
Sgt. John F. Howorusz MIA
3
Nav
2Lt. James S. La Rock Ameland Island
11
4
B
1Lt. William J.B. Simpson Wijnaldum/Pietersbierum
12
5
RO
T/Sgt. Edward Corrigan Sylt Island, List village
13
6
Gunner
S/Sgt. James D. Burton Jr. Texel Island
14
7
Tail Gunner
S/Sgt. Donald L. Marx Den Helder
15
8
E
T/Sgt. Randle E. Nettles POW, parachuted Texel
16

On the return from Hamm, this aircraft was damaged by fighters and crashed in the North Sea northwest of Den Helder. The eastern pattern of washing ashore locations of the KIA crew is very representative for a crash in this area. All drowned, 1 POW.

The excellent book "Opgegraven Verleden" by Jan Carsjens & Piet Riteco mentions that S/Sgt. Marx body was brought in by German boat in Den Helder port and possibly was inside recovered tail-section of this aircraft. This indicates that crash position was near edge sandbank Noorderhaaks, otherwise recovery would not have been possible.

2Lt. James S. LaRock washed ashore and buried on Ameland island (Nes General Cemetery) as "English Airman Larock". When after the war the American dead were exhumed from this island, he stayed behind. It took some time to determine he was not English. Later he was reburied in American Centralization War Cemetery "Ardennes" (Belgium). See a photo of his original grave and grave marker (cross with name) in our file on Ameland Island: http://www.zzairwar.nl/dossiers/899.html

S/Sgt. James D. Burton Jr. (14037299) is listed as MIA on the ABMC-website and his name is on the Wall of Missing US Netherlands Cemetery (Margraten), but we found his burial entry in the original Texel Island burial files (see image below). He was exhumed post-war (his grave 58 between the British airmen is now empty) by a US Quarter Master team and believed to be moved to Strassbourg (US Cem. "Lorraine") on 19 Nov. 1946. More likely however seems transport to the US ID-centre in Neuville ("Ardennes").
















Map with known washing ashore positions of the crew.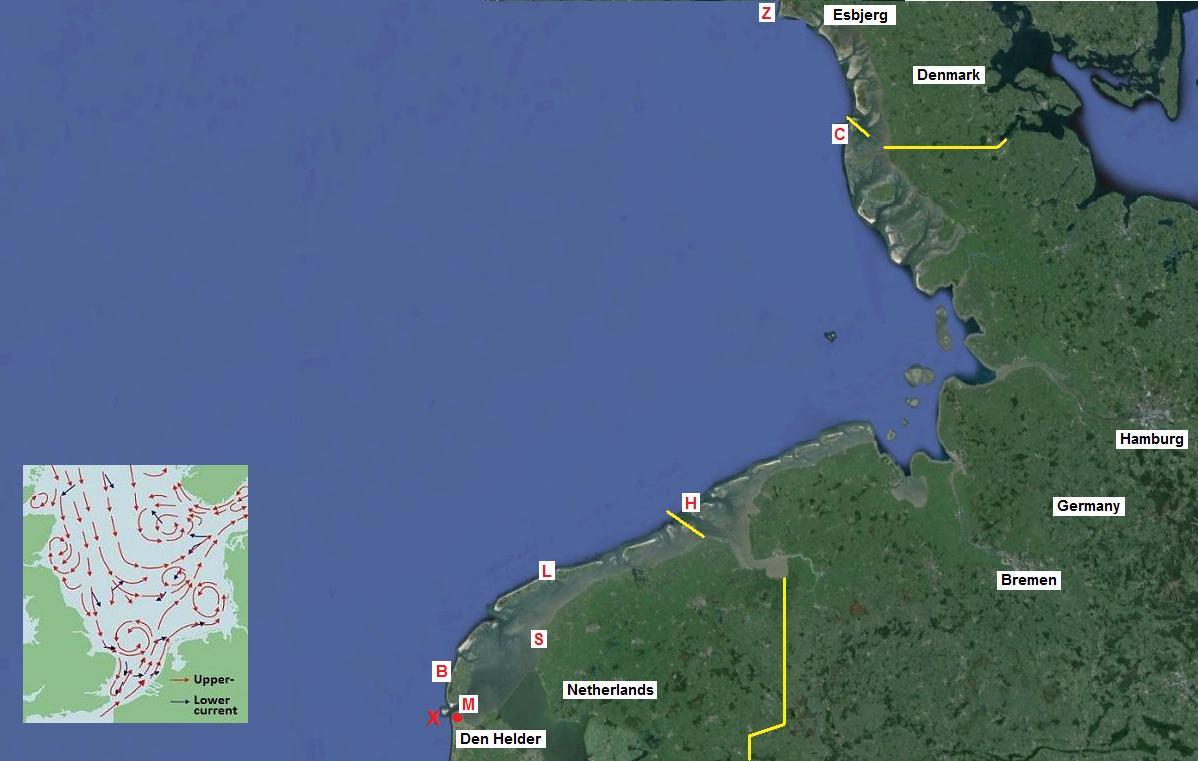 Sources:

- Texel LOMT airwar museum, thanks to Jan Nieuwenhuis.
- Book war graves Ameland by Gerlof Molenaar
- website Airwar over Denmark www.Flensted.eu.com
- ABMC
- MACR
- Book "Opgegraven Verleden" by Jan Carsjens & Piet Riteco, Den Helder 2005.

- Our file on Texel Cemetery: http://www.zzairwar.nl/dossiers/971.html










© ZZairwar (Zuyder Zee Air War)